Date: November 11, 2019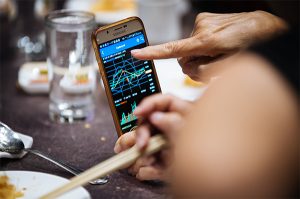 The Straits Times Index rose 1.08% to 3,264.3 over the week;
China's announcement that a Phase One agreement is to be signed was main reason;
US Treasury yield curve is no longer inverted, recession fears have receded;
Trump on Friday said nothing has been agreed yet;
Eagle Hospitality Trust in focus after steep plunge;
SGX RegCo for second time warned of trading in Mirach Energy
China announced a deal might be signed soon
US-China trade tensions have dictated the direction for global markets for most of the past year and so it was again the case last week when signs of a proper breakthrough.
We use the word "proper'' because the past 24 months have seen numerous false dawns – announcements that good progress was being made only for a fresh round of tariffs from either side to be introduced, sending stock prices diving.
Last week, China said that it and the US have agreed to roll back tariffs on each other's goods in phases as they work towards a lasting deal. According to some reports, the shift in US stance towards greater accommodation has come as President Trump shifts his focus to his re-election campaign amidst rising concerns of the impact the trade was is having on US consumers.
Michael Metcalfe, global head of macro strategy at State Street Global Markets, was quoted in the Business Times on Wednesday as saying that manufacturing sentiment indicated that trade war escalation has caused greater distress in the US than China.
"If economic rationale was the key driver, the pressure to agree a trade truce soon is growing. The only question now is when the economic rationale will coincide with the immediate political need''.
Whatever the case, the Straits Times Index benefited from Wall Street's new all-time highs that were built on hopes that global growth, which has stagnated for many months now because of the trade war, would start to improve. Despite Friday's 21.42 points loss, the index still managed a 1.08% gain over the week at 3,264.30.
US Treasury yield curve has corrected
US Treasury yields in the meantime, are no longer signalling an impending recession and instead, are signalling growth. On Thursday, the 14 basis points rise in the 10-year yield to 1.97% was the biggest since Trump was elected president, although it closed at 1.928%.
CNBC quoted Jon Hill, senior rate strategist at Bank of Montreal as saying one way to interpret the flattened or inverted yield curve earlier this year is an indicator of monetary policy error.
"We're seeing the probability of that getting significantly reduced. You had the Fed cut three times despite a tight labor market and a near high in equities'' said Mr Hill. "Economic momentum might have hit a trough. The concern about the manufacturing slowdown, the global synchronized recession seems to have been over blown."
The problem is that on Friday, US President Trump said that the US has not agreed to any rollbacks. White House officials also said more work needs to be done before any deal can be signed.
Eagle Hospitality Trust in focus
Eagle Hospitality Trust (EHT) was in the news, its shares plunging on news that three stakeholders who bought a combined 33.4% through a placement at the IPO in May also run a family office that sold six hotels to EHT's sponsor two months before the IPO prospectus was published. There also doubts over the condition of EHT's Queen Mary floating hotel in the US. EHT listed at US$0.78 and ended on Friday at US$0.455.
Bank earnings – what to expect
DBS Group Research said in its 23 Oct report on Singapore banks that it thinks net interest margins or NIMs are likely to see downside risks largely on the back of lower interest rates as both average LIBOR and SIBOR have come down by 20bps and 5bps respectively during the quarter compared to 2Q19.
"According to our channel checks, competitive mortgage rates offered across Singapore banks for purchase or refinancing have also declined by 20-30bps during the quarter. At the same time, upward repricing of existing mortgages on higher base rates has largely been completed…''.
DBS said it remains neutral on Singapore banks and thinks that share prices are likely to remain range bound, supported by dividend yields and current benign asset quality, as NIM pressure kicks in. It added that its sector pick is UOB, partly because of a lower China exposure and a more defensive wealth management franchise.
SGX RegCo issued second warning on trading in Mirach
For the second time in about six weeks, the Singapore Exchange's regulatory arm known as SGX RegCo urged caution when dealing in the shares of Mirach Energy. In a 5 Nov announcement, it said the stock price had continued to climb despite SGX RegCo's 24 Sep warning.
"In our review of trading in Mirach's shares, SGX RegCo determined that a single omnibus trading account accounted for 88.7% of the buy volume in Mirach between 7 Oct and 5 Nov. SGX RegCo understands that 4 individual trading accounts were behind the omnibus trading account''.
"SGX RegCo has directed the relevant trading member to place trading restrictions on these accounts in respect of shares in Mirach'' said the regulator, adding that the matter has been referred to the relevant authorities. Mirach on Friday ended unchanged at 20.5 cents with 30 lots done.