Date: August 5, 2019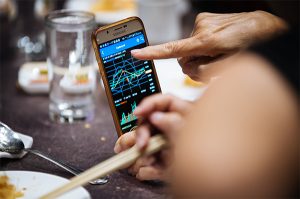 The Straits Times Index lost 102.65 points or 3.05% at 3,261.11;
Renewed US-China trade tensions were the main reason;
China has threatened to retaliate after US announced new tariffs;
US jobs came within expectations, but Wall St suffered worst week of the year;
Hyflux has until 16 Aug to sign deal with Utico;
Singtel's outlook cut to "negative'' by S&P
US rates were at the forefront, US-China trade was on the backburner
Until the start of the week, markets had for the best part of a month focused on the amount by which US interest rates would be lowered at the July Federal Open Markets Committee meeting. This came after US Fed chairman Jerome Powell signaled that rates would be cut in July and after other Fed officials weighed in with similar signals.
In the meantime, US-China trade tensions were pushed to the back-burner, though there was optimism that a breakthrough could come because the US sent a trade team to China for renewed talks last week.
Trade makes a storming comeback
As it turned out, that optimism was misplaced. Last week, US President Trump announced fresh tariffs on US$300b worth of Chinese goods, reminding markets that despite all the truces and claims of positive developments over the past two years, there has really been nothing of note to cling on to. On top of that he ratcheted up the rhetoric when he said China continues to "rip off'' the US. China in the meantime, had pledged to retaliate.
So it was that markets were hit by a double whammy last week – the first coming from disappointment over the rate cut being only 25 points instead of the 50 markets had wanted, and the second being the latest US tariffs which can only add to global economic concerns.
Bond yields everywhere slide to new lows
The result was that Wall Street suffered its worst week this year with the S&P 500 falling for five consecutive days whilst in Singapore, the Straits Times Index lost 102.65 points or 3.05% at 3,261.11. Daily volume hovered close to the S$1b mark.
Over the US bond market, the 10-year yield fell 4 basis points to 1.85%, the lowest since 2016, whilst the 2-year yield closed at 1.72%. Germany's 10-year yield dropped 5 points, closing at -0.495%, an all-time low. The US July jobs figure came in within expectations at 164,000, a number that did little to alter views about the economy or the path for future interest rate policy.
The latest on Hyflux
Troubled water treatment firm Hyflux has until 16 August to sign a definitive deal with its potential "white knight'' Utico, a deadline imposed by Utico itself. This was what emerged after a court hearing on Friday when Hyflux applied for a 4-month extension to its debt moratorium but was only granted two.
According to a Business Times report on Saturday "Utico gives Hyflux up to Aug 16 to ink a definitive deal'', the lawyer representing Hyflux said various stakeholder groups are engaging directly with Utico. "While the definitive agreement is being negotiated, the allocation is being negotiated simultaneously in terms of what goes to creditors and what goes to capital needs'' Mr Manoj Sandrasegara was quoted as saying.
S&P joins Moody's and Fitch in lowering Singtel's outlook
Ratings agency Standard & Poor's last week cut its outlook for Singtel to "negative'', one week before the telco is due to release its first quarter results. Moody's and Fitch lowered their ratings on Singtel in March. "We revised the outlook to reflect increasing competition in the company's major operating markets and the concurrent elevated cash needs for capital expenditure and dividend payouts'' said S&P. Singtel had previously pledged to maintain its annual dividend at 17.5 cents per share.