Date: August 27, 2018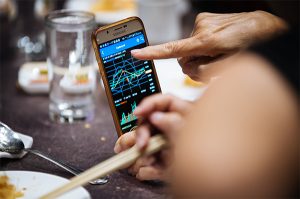 Straits Times Index rose 4 points in generally quiet week;
SGX's head of equities predicts good times ahead;
Local firms' 2Q earnings were broadly disappointing;
US-China trade tit-for-tat moves continued;
US Federal Reserve's minutes suggested it is poised to raise rates in Sep;
US Fed chief Jerome Powell delivered dovish speech at Jackson Hole;
Noble in play on news that Deutsche offered to buy Noble's bonds;
Singtel benefited from news of rivals possibly merging Down Under.
The ongoing US-China trade war
China and US escalated their trade war last week, with both sides implementing 25% tariffs on US$16 billion worth of the other's goods. This means that the tit-for-tat tariffs have now been levied on a combined US$100 billion worth of goods since early last month. China in the meantime, filed a complaint with the World Trade Organization against the latest tariffs and said it will "continue to take necessary countermeasures''.
How the STI fared
The STI was largely driven by banks, Singtel and Jardine and gained just 4 points over the week at 3,213. The largest move came on Thursday when the index jumped 50 points, but this was very likely due to short-covering after 9 consecutive falls during which the index lost 141 points or 4.2%. After the short-covering was completed, the STI on Friday then fell 35 points.
Noble
News that Deutsche Bank is offering to buy Noble's senior unsecured bonds for 45% of face value helped send Noble's shares surging. On Tuesday when Bloomberg reported the news, the stock jumped $0.027 or about 23% to S$0.145 on volume of 64 million, which made it that day's most active stock. Noble's stakeholders will vote on Monday on a US$3.5 billion restructuring proposal.
Singtel
The telco's shares on Thursday shot up S$0.20 or 6.6% to S$3.28, reportedly on news that two of its rivals in Australia, Vodafone Hutchison and TPG Telecom are in merger talks. If the merger goes through, there is speculation that Singtel would have less competition Down Under and perhaps even here as TPG, which is set to be the 4th mobile operator in Singapore, could find itself having to focus more in Australia.
SGX is optimistic
The Singapore Exchange's (SGX's) head of equities and fixed income Chew Sutat was reported in Business Times last week as saying global trends, particularly in the US where trading has become more "crowded'', bode well for the local market. According to Mr Chew, institutional funds, benchmark folks, exchange traded funds and private bank customers are beginning to realize that they are all chasing the same stocks, and that such a strategy can be dangerous when a correction hits.
"These are very crowded trades'' said Mr Chew in a Business Times story published on Thursday. "We expect fund managers will be looking more to generating alpha, rather than tracking beta''. When that happens, Singapore which has many mid- to small-value companies will benefit.
Second quarter earnings were not great
The Business Times on Friday reported that as at 15 August, 422 firms had released their interim results for the six months ended 30 June, and that 284 were in the black whilst 138 reported losses. The combined earnings of all firms amounted to S$21.1 billion, down 8.8% from a year ago. The Q2 figures were described as "unimpressive'' and with trade wars likely to stunt global economic growth, projections for the months ahead have been cut.
BT also quoted DBS's head of equities research at DBS Bank Janice Chua as saying she prefers to "go defensive'' this quarter with stocks that have high recurrent cash flows and dividend yields. "These include ComfortDelgro, Sheng Siong, STE, SATS, UOB and SIA which has been sold down and looks to have bottomed out to below book value now'' said Ms Chua.
US Fed in the spotlight again
Over in the US, the US Federal Reserve was again in the spotlight last week. Early on, it was because a criticism by President Trump that the Fed should be doing more to help the economy by not raising rates, and later it was after release of the minutes of its latest meeting which showed that the central bank will almost certainly raise interest rates at its September meeting.
At the end of the week however, a dovish speech by Fed chief Jerome Powell that indicated no rush to accelerate the pace of rate hikes helped push the S&P 500 and Nasdaq to all-time highs.
According to various news agencies, the probability of a Sep rate hike is now 92%. However, perhaps more interesting is that the Fed referred to ongoing concerns about an inverted yield curve which traditionally preceded recessions. It said that in an environment where central banks have been buying bonds and where demand for safe assets has risen, "an inversion of the yield curve might not have the significance that the historical record would suggest''.
Rest of world to decouple from Wall Street?
According to a CNBC news report, JP  Morgan last week told its clients that the strange uncorrelated relative performances between U.S. and international stocks will not last and that international stocks will outperform the domestic market the rest of the year.
"The recent divergence in the performance of US Equities vs. the rest of the world is unprecedented in history. For instance, if one looks at price momentum – it is positive for US stocks and negative for Europe and Emerging markets across all relevant lookback windows [one month, three months, six months and 12 months]. This has never happened before," quantitative and derivative strategist Marko Kolanovic in a report by the news agency.