Date: May 13, 2019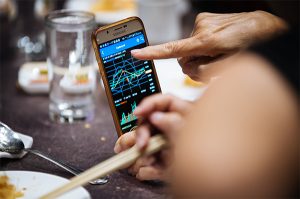 The Straits Times Index dropped 119 points or 3.5% to 3,273.5;
Main incentive to sell was a revival of trade war fears as US imposed tariffs on China;
Investors still hopeful a deal can be reached in next month;
Banks provided the main drag on the index;
ARA US Hospitality Trust debuted on mainboard;
Best World came under scrutiny again, short sellers and SGX involved;
Markets sell off on US-China trade worries, hopes are a deal can still be reached
Since the start of the year stock markets around the world have performed well as investors switched to "risk-on'' mode largely because of high hopes that the US and China would reach an amicable settlement to their trade differences.
Of course, also helping has been a US Federal Reserve that has recently leaned towards greater dovishness than hawkishness, largely because bafflingly low inflation and a primary need to keep the economic expansion gong.
The main driver of markets however, has been the assumption that US and China were on track to reach an agreement, an assumption that came about largely because of positive overtures from the US camp from February onwards, tweets from US President Trump that claimed good progress was being made and both sides hinting that a deal was imminent.
Last week, markets were jolted when it became clear that the assumption of a happy US-China trade outcome was flawed. This came at the start of the week when Trump threatened to slap additional tariffs on US$200b of China goods, thus escalating tensions between the two countries and sending investors into "risk-off'' mode.
He said tariffs on those goods would be increased from 10 to 25%, reversing a decision in February to keep it at 10% thanks to progress in talks at the time. Trump also said he would target a further US$325b of China goods with 25% tariffs, essentially covering all products imported into the US from China. The 10 to 25% increase kicked in on Friday at 12 noon local time, with China responding that it would retaliate. There are still hopes that some kind of compromise can be reached in the days ahead and these hopes helped provide some support for stocks on Friday.
According to the US Retail Industry Leaders Association spokesperson, "raising tariffs means raising taxes on millions of American families and inviting further retaliation on American farmers''.
Whatever the case, the news sent markets reeling, led by Wall Street. Over the course of the five days, the Straits Times Index lost 119 points or 3.5% at 3,273.5, the largest loss coming on Monday when the index collapsed almost 102 points or 3%. Not surprisingly, banks provided the main drag.
Local stocks in focus: Best World, mainboard debutant ARA US Hospitality Trust
Beauty products firm Best World has been in focus over the past few months following a February report in Business Times that questioned the company's franchise model in China. The same model was also challenged by a short-selling firm named Bonitas Research in a 24 April report in which it said it doubted that Best World's main customer in China in 2017 that Bonitas named as Changsha Best was an independent party.
In between the two reports the stock came under some pressure but recovered after the company said it would appoint PricewaterhouseCoopers to conduct an independent review of its China operations.
Best World last week replied to Bonitas's claims with a firm denial in a 9 May clarification and has said it will be taking legal action against Bonitas for defamation. However, soon after trading in the stock resumed on Thursday, another short-selling report was released, this time by a group that calls itself Valiant Varriors, linking Changsha Best to the brother-in-law of Best World's co-founder Dora Hoan.
Not surprisingly, the counter then collapsed. SGX's regulatory unit then intervened by suspending trading in Best World's shares pending investigations into the latter's clarification. The exchange's regulatory unit has also asked the company whether Changsha Best's main shareholder is indeed Ms Hoan's brother-in-law.
Last week saw the debut of ARA US Hospitality Trust, which is a hospitality stapled group that comprises ARA H-REIT, a real estate investment trust constituted in Singapore, and ARA H-BT, a registered business trust constituted in Singapore. The trust manages a portfolio of 38 hotels, consisting of 27 Hyatt Place hotels and 11 Hyatt House hotels located across 21 states in the US, and a total portfolio valuation of US$719.5 million.
According to the SGX Research, the trust offers investors the opportunity to invest in an initial portfolio of 38 upscale select-service hotels located across 21 states in the US.
"Positive and continued economic growth outlook in the US as well as favourable demand and supply dynamics in the hospitality market are some industry drivers. The hospitality industry in the US is also supported by its macroeconomic outlook given its positive correlation with the country's real GDP growth and lodging demand'' said SGX Research. The IPO was priced at US$0.88 per unit and the counter ended the week at US$0.875.