Date: October 18, 2021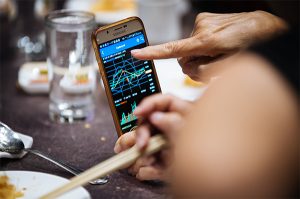 The Straits Times Index gained 2% last week at 3,173.91
Travel and hospitality stocks in play as new travel lanes announced
Early Wall St jitters because of oil spike were replaced by optimism from corporate earnings
US FOMC minutes: tapering might start in Nov or Dec
SGX: Interest rate expectations underpinned banks outperformance
Bitcoin surged above US$61,000 on ETF optimism
October is shaping up to be much better than Sep
September was not a great month for local stocks, but October is shaping up to be better, judging by the performance over the first two weeks. After gaining 2% in the first week to settle above 3,100, the Straits Times Index last week added another 2% with a 61-points rise to 3,173.91, thanks mainly to more signs of economic reopening as well as a benign Wall Street that took news of impending monetary tightening in its stride and instead focused on better-than-expected bank earnings.
Oil prices spiked, Wall St wobbled – then regained its poise after release of FOMC minutes
It wasn't all plain sailing though, there were some concerns early in the week when oil prices spiked upwards, leading to inflation worries in the US and Wall St wobbling on Monday and Tuesday.
The price of WTI crude oil rose as much as 1.3% Tuesday, before that gain moderated, with oil ending the day at just over US$80 a barrel. Oil has gained more than 65% year to date. The price of natural gas rose 2.3%.
Some of those inflationary fears were eased after release on Wednesday of the minutes of the Federal Reserve's September Open Markets Committee meeting which showed that officials discussed a plan to start to slow down emergency support for the economy in either mid-November or mid-December.
For most of this year the market has been concerned as to when the Fed will slow down or "taper'' the current pace of US$120 billion per month in purchases of Treasury and mortgage-backed securities that has been underway since June 2020. These purchases have kept bond prices high and yields low, and in turn helped keep overall interest rates down while boosting stocks.
The minutes showed that several Fed officials said they preferred to proceed tapering at a more rapid pace; however, Wall St's bounce that day and comments by market watchers suggested that nothing the Fed minutes showed was new to the market.
No decision was made but "participants generally assessed that, provided that the economic recovery remained broadly on track, a gradual tapering process that concluded around the middle of next year would likely be appropriate," the minutes said.
US corporate earnings brought the buyers back
Wall St's strength on Thursday and Friday was because companies in the S&P 500 have been beating earnings estimates by a decent margin this earnings season. Third-quarter earnings had been coming in at about 14% higher than expectations by Friday morning.
Those beats have been driven by impressive profits from banks, which have benefited from higher bond yields and the release of billions of dollars that were previously reserved to absorb potential loan losses.
However, the majority of S&P 500 companies have not reported earnings yet, but supply chain constraints, higher product costs, and rising wages are likely to have pressured sales volumes and profit margins. Investors will be paying close attention to non-bank earnings next week.
Travel and hospitality stocks in play after VTL announcements
Perhaps not surprisingly, shares of aviation and hospitality companies surged after the Government announced that Singapore will launch eight Vaccinated Travel Lanes (VTLs) with countries in Europe and North America.
Singapore Airlines led the charge, jumping S$0.39 or 7.6% last Monday to S$5.52 after earlier rising as much as 9%. The stock ended the week at $5.55. Other aviation stocks like SIA Engineering and SATS also closed sharply higher that day whilst in the hospitality sector, Genting Singapore stood out.
In an 11 Oct report DBS Group Research highlighted that the total of 11 countries under the VTL scheme contribute 16.5% of Singapore's normalised tourist count and that these countries accounted for more than 6.7 million passengers at Changi airport in 2019 or about 10% of total passenger traffic.
DBS maintained its "neutral'' recommendation for SIA, noting that the present reopening plan has largely been discounted already and that it might be difficult to control operating costs because of the spike in oil prices.
Genting Singapore gained 4.8%, while three stapled trusts – Ascott Residence Trust, CDL Hospitality Trust and Far East Hospitality Trust gained 5.9%, 6.3% and 3.2% respectively on 11 Oct.
Interest rate expectations underpinned outperformance of banks
In a report last week, SGX's investor education portal My Gateway said DBS, OCBC and UOB, which have ranked amongst the 10 largest ASEAN bank stocks over the past 20 years, have averaged 23% total returns this year.
"The trio of DBS, OCBC and UOB also make up 20% of the total market cap of all stocks listed on SGX, in addition to 20% of the day-to-day turnover, the three banks make up more than 40% of the STI'' said My Gateway.

It added that interest rate expectations have been a key driver of international bank stocks in 2021. "From the 22 Sep FOMC through to 13 October, the 2/10 US yield curve steepened 17 bps while, with the Bloomberg World Banks Index gaining 4.4% in SGD terms, and DBS gaining 4.1%, OCBC gaining 4.0% and UOB gaining 4.9%''.
Bitcoin surged above US$61,000
Fund sponsor ProShares appeared to have won regulatory approval late Friday for its Bitcoin Strategy Exchange Traded Fund (ETF). The company filed a "post-effective" registration statement with the Securities and Exchange Commission, and the New York Stock Exchange approved the listing, according to securities filings. The fund is expected to start trading on Tuesday.
The ETF's pending launch helped spark a rally in the coin. It was up 7% on Friday, trading above US$61,600 for the first time since April. It's now up nearly 50% since Sept. 30, when it traded around US$41,500.