Date: August 22, 2022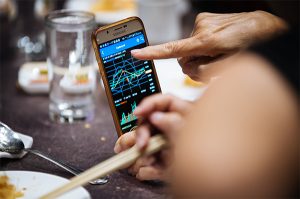 The Straits Times Index fell 23 points or 0.7% to 3,246.51
Traders spent the week trying to figure our what the US Fed might do next
Minutes of FOMC meeting provided no clarity
Probability of 75 points hike in Sep now 42.5%
Singapore's NODX in July grew 7% but exports to China down 21.3%
China surprised with rate cuts to stimulate flagging economy
US Treasury yield curve remained inverted
Traders spent the week trying to figure out the Fed's next move
Release of the minutes of the US Federal Reserve's Open Markets Committee (FOMC) July meeting on Wednesday last week provided some food for thought for markets that had plunged in the wake of Fed rate hikes since earlier this year but had since regained some of the ground that had been lost.
If however, markets had expected more clarity as to the direction of interest rates they were to be disappointed. It was unclear from a reading of the minutes as to how much rates will be raised in the near future, the only consensus being that the Fed plans to continue raising interest rates into so-called "restrictive territory'' to cool inflation and anchor consumers' inflation expectations, and then it hopes to take a breather.
Immediately after release of the minutes the federal funds futures market priced in a 64.5% probability that rates will be raised by 50 basis points at the September FOMC meeting, with the chance of the hike being 75 points coming in at 35.5%.
On Thursday St. Louis Fed President said that he favoured a three-quarters point hike at the Fed's September meeting. The probability of the hike being 75 points then rose to 41% on Thursday. Investors may have a clearer picture when Fed Chair Jerome Powell speaks at the Jackson Hole Symposium on Friday.
By the end of the week, the probabilities of a 50 points versus 75-points hike were 57.5% and 42.5% respectively.
The minutes also showed that the Fed plans to double the pace of balance sheet shrinkage in September as they had laid out in May, with a rundown of US$60 billion in Treasuries and US$35 billion in mortgage-backed securities. They didn't indicate plans to actively sell mortgage bonds.
The trio of local banks were the main drivers of the Straits Times Index last week during which it recorded a net loss of 23 points or 0.7% at 3246.51. Volume has been slowly improving, from the sub-S$1b daily averages of July to S$1.1b last week. Other than the banks, other index stocks in play included Wilmar International, Singtel, Keppel Corp and SembCorp Industries.
Singapore's NODX grew 7% in July, exports to China down 21.3%
Singapore's non-oil domestic exports (NODX) in July grew 7% year-on-year versus 8.5% in June. However, NODX to China contracted sharply by 21.3% versus growth of 2.1% in June.
China surprised with rate cuts; move seen as negative
The People's Bank of China last week reduced the main rate at which it provides short-term liquidity to banks, from 2.1% to 2%. The central bank also cut the rate of its one-year lending facility from 2.85% to 2.75% in order to "maintain reasonable and sufficient liquidity in the banking system," it said in a statement.
It was the first time since January that those rates had been cut and the move has been interpreted by most analysts as "bearish'' and negative for the economy.
Retail sales, industrial output and investment all slowed and missed economists' estimates in July. The surveyed jobless rate for those aged 16-24 climbed to 19.9%, a record high.
Bloomberg quoted Australia & New Zealand Bank's Greater China economist Raymond Yeung saying "July's economic data is very alarming. Authorities need to deliver a full-fledged support from property to Covid policy in order to arrest further economic decline."
Earnings in brief
The Singapore Exchange on Thursday reported a 13.2% increase in net profit for its second half ended 30 June to S$232.7m. Operating revenue rose 7.9% to S$577.4m, helping full-year revenue reach S$1.1b, 4% higher than last year.
SGX chief executive office Loh Boon Chye said the record-high revenue was driven by higher derivatives volume across equities, currencies and commodities. SGX saw revenue in fixed income, currencies and commodities grow 23.3% to S$138.8m. The exchange has proposed a final dividend of S$0.08 per share, payable on 21 Oct if approved. This would bring its total dividend for the year to S$0.32 per share.
SGX's shares rose S$0.06 on Thursday to S$10 and added a further S$0.01 to end the week at S$10.01.
CGS-CIMB on Friday downgraded SGX from "add'' to "hold'' whilst maintaining its S$10.40 target price. "While we expect treasury income to drive sequential earnings growth in FY2023 given higher interest rates, we believe this has been priced in…'' said the broker.
RHB lowered its target price from S$10.70 to S$10.30, maintaining a "neutral'' call on SGX. "Our expectation is that while derivatives daily average volume will move higher, FY2023 securities daily average value will remain muted'' said RHB.
NetLink Trust posted an 11.3% rise in profit for its first quarter ended 30 June to S$27.6m. Revenue for the quarter grew 4.8% to S$97.9m. Earnings before earnings, interest, taxes, depreciation and amortisation or EBITDA grew 5% to S$73m. Its shares ended unchanged at S$0.935 with 15.7m traded on Friday.
Oxley Holdings posted a S$20.3m loss attributable to shareholders for its second half ended 30 June due to a decline in revenue, lower profit margins and continued losses from discontinued operations. For the full year, profit attributable to shareholders was S$3.2m, 75% less than FY2021. Oxley said it is in the midst of selling its assets in Vietnam and believes this will contribute positively to its cash flows in FY2023. Oxley's shares fell S$0.006 to S$0.168 with 1.8m done on Friday.
The US Treasury yield curve remained inverted
The yield on the benchmark 10-year Treasury note rose 9 basis points at 2.974% whilst the yield on the short-term 2-year Treasury note also traded marginally higher at 3.238%.
When short rates are higher than longer rates, the yield curve is said to be inverted. Yield curve inversion is traditionally thought to precede a recession.