Date: May 26, 2020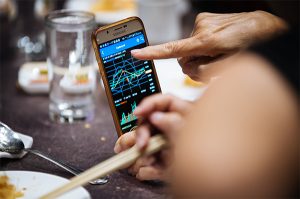 Increasing US-China tensions drag STI down to 0.9% loss for week;
An early boost from virus vaccine hopes were wiped out later;
China's proposed HK security law expected to draw flak from US;
US passed Bill aimed at China companies listed in US;
SPH said it has enough funds to withstand virus impact;
ComfortDelgro's 1Q profit drops by almost half
Early vaccine hopes dashed, US-China tensions take over
There was little change last week to the pattern of the past two months as stock prices gyrated in tandem with news on the COVID-19 front.  However, an added complication emerged during the week in the form of increased US-China tensions after Beijing proposed a new security law for Hong Kong.
On Monday, biotech company Moderna announced in a press release that "positive data'' was collected from an early-stage human trial of a coronavirus vaccine, sending its stock valuation and Wall Street surging.
On Wednesday however, doubts emerged when experts pointed out that the company has yet to publish its studies in scientific journals, and that the company disclosed results from only eight of the 45 subjects, meaning the majority of the outcomes remains unknown.
US Senate passed Bill widely seen as targeting US-listed China companies
As the week drew to a close, the negative rhetoric between the US and China escalated after the US Senate passed a bill requiring overseas firms to follow US standards for audits and other financial regulations. The planned legislation would also require publicly traded companies to reveal whether they are owned or controlled by a foreign government.
The bill applies to all foreign companies, but is targeted at China, and follows intense criticism of Beijing by Mr Trump and other US politicians. Wall Street fell on Thursday, placing pressure on the local market on Friday.
On Thursday, China moved to impose a new national security law on Hong Kong, which could spark further anti-government protests. Beijing's control over the city is widely expected to evoke the ire of the US and other Western powers which supported pro-democracy protesters.
Market watchers therefore expect more volatility ahead, depending on the response from the White House.
The Straits Times Index, which rose in the first half of the week in tandem with Wall Street, fell back during the second half. Friday's 55.51 points or 2.2% slide to 2,499.83 meant that the index recorded a loss of 24 points or 0.9% for the week.
SPH said it has the resources to see it through the crisis
SPH last week said its finances can withstand the impact of COVID-19. The media and property company, whose shares were earlier in the month dropped from the MSCI Singapore Index, said it has a strong balance sheet with a cash buffer of S$800m, whilst gearing ratios have been improved by cost management.
SPH made the announcement on the same day that it announced that two subsidiaries, infotech firms StreetSine Technology Group and StreetSine Singapore, have applied for judicial management. SPH said the combined revenue and pre-tax losses of the two subsidiaries account for less than one per cent of the group's overall net tangible assets and consolidated revenue and pre-tax profits.
ComfortDelgro's 1Q profit down almost 49%
Transport company ComfortDelgro on Friday said its net profit for the first quarter ended 31 March fell 48.9% to S$36m, hit by weak ridership amid the COVID-19-induced lockdowns in the markets in which it operates. It added that the lockdowns in Singapore, Australia and the UK will significantly hurt its business for the first half.
SGX Research highlighted active stocks with good ROE trading below price/book
In a 15 May Market Update, Singapore Exchange's Research said 16 of Singapore's 20 most traded stocks with double-digit return on equity (ROE) ratios are trading at discounts to their 5 year price/book (P/B) ratios.
"These 16 stocks maintain P/B ratios that are on average 25% below respective 5 year averages, while most ROEs are inline or higher than 5 year averages'' said SGX Research. "The five stocks that were at the biggest discount to their 5 year average P/B ratios on 13 May were Jardine Cycle & Carriage, SATS, ComfortDelGro Corporation, Dairy Farm International and Jardine Matheson Holdings. These five stocks averaged 27% declines in the 2020 year to 13 May''.
What next for US-China relations?
US Secretary of State Michael Pompeo indicated on Friday that the US would reconsider exemptions that shield Hong Kong exports from tariffs that apply to Chinese goods if Beijing moves forward with "its disastrous proposal" to impose new restrictions on the island.
As for the Bill passed last week, US-listed Chinese companies have already come under increasing scrutiny in recent weeks after Luckin Coffee revealed that an internal investigation found hundreds of millions of dollars of its sales last year were "fabricated".
The company said its own investigation had found that fabricated sales from the second quarter of last year to the fourth quarter amounted to about 2.2bn yuan ($310m; £254m). That equates to about 40% of its estimated annual sales.
The Chinese coffee chain has since sacked its chief executive and chief operating officer, while six other employees who were alleged to have been involved in or known about the transactions have been suspended or put on leave.