Date: July 19, 2021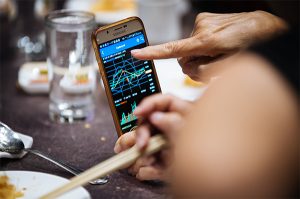 The STI added 21 points or 0.7% at 3,152.30;
On one hand, US inflation and growth concerns capped gains;
On the other hand, there was positive domestic economic news;
US Fed chief Jerome Powell's testimony was within expectations;
US Treasury market signaled slower long-term growth;
Mm2 Asia – no need to suspend trading despite auditor's concerns;
Offer price for Dutech raised to S$0.435 from S$0.40;
Analysts positive on Parkway Life Reit;
SIAS issued detailed questions on Sembmarine's proposed rights issue.
It was a marginally firm week for the local stock market, with the Straits Times Index enjoying a 21-points or 0.7% rise over the five days at 3,152.30, albeit in relatively subdued volume.
There were two reasons for the overall cautious trading witnessed here as well as in the US – unsureness displayed by Wall Street where inflation indicators were higher-than-expected, and news of a large local surge in Covid-19 infections.
All of this against a backdrop where the Delta variant of the virus is fast spreading thus leading to concerns that it will take much longer for economies to reopen.
On the upside was good news on the domestic economic front in terms of first half GDP growth and June's non-oil domestic exports (NODX).
US inflation and growth continued to occupy Wall Street's attention
Over in the US, government data released on Thursday showed that the producer-price index rose 7.3% on a yearly basis in June, beating estimates of 6.8%. Companies have been passing along those price increases; consumer-price index also beat estimates earlier in the week. These rises have continued to fuel the inflation debate and have caused some pullback in stocks and bond yields.
Powell's Congressional testimony went as expected
There was also some hesitancy because of the two-day Congressional testimony by US Federal Reserve chairman Jerome Powell on the state of the US economy. Prior to the sessions, most observers did not an overly hawkish message and expected Mr Powell to stick to the same script the Fed has delivered for many months now – that it will continue to support the economic recovery whilst keeping a close watch on inflation.
As it turned out, Mr Powell said he is confident recent price hikes are associated with the country's post-pandemic reopening and will fade, and that the Fed should stay focused on getting as many people back to work as possible.
Friday's US slide – was the retail sales report better than expected?
On Friday, US stocks dropped after news that retail sales for June rose 0.6% from May, while economists had expected a decline of 0.4%. Although the figure was higher than expected, reports suggested that the growth was not impressive beneath the surface and that the weakness in stocks was because of concerns that growth momentum may have slowed.
US Treasury market signalled slower long-term growth
This was the signal from the US bond market, where the yield curve flattened, meaning longer-dated bond yields did not move much, while short-term yields rose—meaning that the market envisions slower long-term economic growth and Federal Reserve interest rate hikes in the next year or two. The 10-year Treasury yield fell to 1.3%, while the 2-year yield rose to 0.24%.
Singapore's 2Q GDP grew 14.3% year-on-year, NODX for June up 15.9%
Closer to home, the first bit of economic news was that second quarter GDP growth was 14.3% year-on-year, albeit because Q2 2020 provided a low base. The numbers came below private sector expectations of a 14.8% rise. However, the data places Singapore's economic growth in the first half at 7.4%, and economists believe this paves the way for an official upgrade to the full-year forecast of 4-6%.
Later in the week, news that June's non-oil domestic exports rose 15.9% year-on-year prompted analysts to upgrade Singapore's trade outlook. The Business Times quoted OCBC's chief economist Selena Ling saying Singapore may be on track for "the best year of NODX growth since 2018''.
UOB and OCBC raised 2021's NODX forecasts to 8%, while Maybank Kim Eng's figure is 9%.
mm2Asia – no need to suspend trading, no issues of concern
Entertainment company mm2 Asia last week swung into focus after a 13 July announcement that its independent auditor noted a material uncertainty "that may cast significant doubt'' on the mainboard firm's ability to continue as a going concern.
The company's board later said there are "no issues and/or concern" with its ability to operate as a going concern despite what the auditor and that since all the information addressing the going concern issue has been disclosed, there is no need to suspend trading of its shares.
mm2 Asia shares closed 11.1 per cent or 0.9 Singapore cent lower at 7.2 cents on Wednesday, with 142.2 million shares changing hands and they ended the week at S$0.068.
Offer price for Dutech Holdings raised
The offer price in the mainboard's Dutech Holdings' privatization bid has been raised from S$0.40 to S$0.435 per share, with the closing date extended by two weeks to 5.30pm on 2 Aug. The offeror is Dutech's chief executive officer Johnny Liu via his investment holding company TSI Metals HK.
Analysts positive on Parkway Life Reit
Brokers have raised their target prices for Parkway Life Reit following its master lease renewals with sponsor IHH Healthcare and a S$150m renewal capital injection to revamp three hospitals.
The Reit is also receiving the right of first refusal for Mount Elizabeth Novena Hospital for 10 years. According to analysts, these moves are expected to boost its distribution per unit and net asset value as well as raise the valuation of its properties – research teams from CGS-CIMB, DBS and UOB-Kay Hian have raised their target prices for the Reit to S$5.05, S$5.75 and S$4.72 respectively.  The counter closed at $4.80 on Friday.
SIAS queried Sembmarine's latest proposed rights issue
The Securities Investors Association (Singapore) on Thursday issued a detailed press statement on Sembmarine's S$1.5b proposed rights issue, saying the proposal has created "great concern'' among minorities.
Among other questions, Sias asked for the group's oil price assumptions, if and under what circumstances would further fund-raising be needed and risks which have given rise to the rights issue.
In June, Sembmarine announced a renounceable rights issue of up to 18.83b new shares on the basis of three shares for every two existing shares at S$0.08 per share. The stock ended at S$0.115 on Friday versus S$0.191 just before announcement of the proposed rights.