Date: June 7, 2021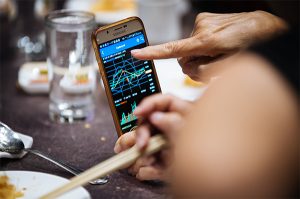 The STI lost 27 points or 0.8% at 3,151.04 last week;
Trading was cautious as the market waited for Friday's May US jobs report;
The Fed mid-week said it will start selling off corporate bonds;
The lower-than-expected jobs figure eased inflation concerns;
In the local market, CFM's shares more than doubled after purchase announcement that drew SGX query;
CDL sprang into play on Thurs – but fell back on Friday;
MKE said it's positive on the tech sector;
Hyflux to be liquidated.
US jobs, inflation concerns and the Fed
The US May jobs report played a key role in an otherwise uneventful week during which the Straits Times Index fell 27 points or 0.8% to 3,151.04. Up till Friday when the report was actually released markets traded cautiously, the chief concern being whether a stronger-than-expected report would prompt the US Federal Reserve to consider starting to tighten its currently loose monetary policy.
As it turned out, the 559,000 rise in nonfarm payrolls last month, while not an insignificant gain, was short of the increase of 671,000 that economists expected. This eased inflation concerns and pushed 10-year Treasury yield down to 1.55% from 1.63% on Thursday. As a result, US stocks rose sharply and on Friday closed on the brink of new all-time highs.
Some observers, however, do not believe that the weaker number will prompt the Fed into a major rethink of its easy money policies mainly because the figure may have been disappointing, but it wasn't exactly weak.
Furthermore, the US central bank last week said it will begin selling more than US$13 billion of corporate bonds, a sign that it is becoming less accommodative. The central bank had bought bonds to help keep corporate borrowing costs down so companies could access capital during the pandemic.
The move comes shortly after the Fed said it may soon begin discussing a larger reduction to its bond-purchasing program.
The Fed's bond sales are small, but its message that it is altering policy is strong. "The announcement today to wind down the Secondary Market Corporate Credit Facility portfolio is very negative for risk assets," wrote Hans Mikkelsen, credit strategist at Bank of America. "It should take very little selling to convince investors the tightening cycle is under way." 
CFM's shares gain 129% after news of purchase, draws detailed SGX query
CFM Holdings's shares jumped at total of S$0.089 or 129% on Thursday and Friday to S$0.158 on heavy volume after it announced it is acquiring a 51% stake in SING-SWEMM Biotechnology, a company that distributes and sells pharmaceutical products, for up to S$6.1m via the issuance of up to 120m new shares at S$0.051 cents each to the vendors.
CFM said SING-SWE MM Biotechnology owns exclusive distribution rights to certain viral test kits in Europe, Africa, South Asia, South-east Asia and the Middle East, and intends to invest in and develop its own products in related fields.
On Friday, SGX issued a detailed query to CFM. In its reply the company said a mutual business associate had introduced the vendors Fang Huasheng and Gao Hong to CFM's chief executive Janet Lim, that SING-SWE MM is a startup, and that no formal due diligence has yet been conducted.
On the subject of how the purchase consideration of S$6.1m was derived, the company said businesses that generated income from COVID-19 related activities have done well since early 2020 including those who distribute testing kits and vaccines and pointed out SING-SWE MM's exclusive distribution rights.
CDL rose sharply on Thurs – but fell back on Friday
City Developments (CDL) shares rose S$0.12 or 1.56% to S$7.83 on Thursday. DBS Group Research released a note that day in which it said CDL, which is a prime beneficiary of the current buoyant local residential property market, trades at an attractive valuation of 0.8 times price/net asset value which is even lower than the low seen during the global financial crisis.
On Friday however, the push ended when the stock fell S$0.11 to S$7.72.
Maybank Kim Eng positive on tech sector
Maybank Kim Eng last week said it remains positive on the tech sector and prefers companies with wafer fabrication equipment exposure as these are beneficiaries of current chip shortages.
"Barring material extension/ incremental restrictions of the tightened MCO (movement control order) in Malaysia, we see immaterial impact on companies in our coverage. Positive read-across from Applied Materials infers demand sustainability for this semicon equipment spending cycle''.
The broker also raised its target price for diversified semiconductor firm Frencken Group to S$2 on unchanged 14.5x FY21E P/E, factoring in better- than-expected earnings momentum. Frencken's shares on Friday closed at S$1.72.
Hyflux to be liquidated
Failed water treatment firm Hyflux's judicial managers Borelli Walsh (BW) on Friday filed an application with the court to wind up the company. BW said a restructuring is not possible and Hyflux's remaining value is best realized in a liquidation.
BW had previously been granted an extension for their terms of office until 14 July to see if a restructuring was possible.
The news puts an end to the Hyflux saga which started in May 2018 when the company applied for court protection while it sought a viable debt restructuring plan.