Date: March 15, 2021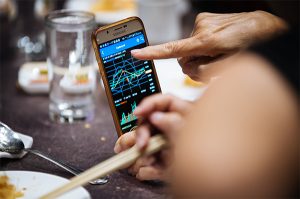 The STI rose 82 points or 2.7% to 3,095.22;
On Thursday, the index closed at 3,106;
The main driver was the US's US$1.9 trillion stimulus;
Wall St continued to rise to new heights despite rising bond yields;
ECB has pledged to buy government debt to try and contain yields;
In local news, CDL refuted blame by China unit Sincere Property;
Aztech Global ended its debut at S$1.29 versus S$1.28 IPO price;
Oceanus rejected negative online rumours
STI crossed 3,100 briefly, driven by US stimulus optimism
The main theme last week that drove markets higher was the passing of the long-awaited US stimulus package by Congress, the Biden's administration's first major legislative victory. It passed by a narrow margin but there was a sense of relief that after around 6 months of negotiations, the US economy will finally receive government assistance to combat the COVID-19-wrought slowdown.
As far as markets were concerned, the US$1.9 trillion injection that it will give to the US economy sent Wall Street to new all-time highs and pushed markets up around the world.
This included the Straits Times Index (STI), which for several weeks since early January had difficulty breaking through the 3,000 mark.  Thanks to the US market's performance which have confidence to investors to plough money into equities, the STI last week not only managed to climb above 3,000 but also  3,100, the latter occurring on Thursday when the index jumped 26 points to 3,106.
On Friday however, the STI fell back to end the week at 3,095.22. Still, the gain for the five days was a healthy 82 points or 2.7%.
Market analysts and economists said the US stimulus should benefit local exports and lift cyclical stocks. CIMB Private Banking economist Song Seng Wun for instance, was quoted by The Business Times saying there will be upside to Singapore's growth estimates for 2021 and 2022 whilst Maybank Kim Eng economist Chua Hak Bin said the US fiscal handouts will likely lift demand for tech gadgets which would help Singapore's electronics exports.
Furthermore, the massive amount of money being handed out could add to inflationary pressures, which in turn would cause a steepening of the yield curve as long rates rise. This would mean better net interest margins for banks.
US 10-yr Treasury yield at one-year high, ECB ramping up debt buying to try and contain the rise
The US 10-year Treasury yield shot up by 10 basis points to the highest level in over a year on Friday at 1.626%, a sign of optimism in an economic comeback but also a reflection of heightened inflation fears after the enactment of the stimulus package. The 30-year yield also advanced by 10 basis points and ended at 2.388%.
The yield spread between the 2-year yield and the 10-year hit a high of 1.486%, its widest since September 2015.
Over in Europe, the European Central Bank last week pledged to increase its buying of government debt to contain rising bond yields. Policymakers expect purchases in the next quarter "to be conducted at a significantly higher pace than during the first months of this year'' according to a Thursday statement.
Discord between CDL and Sincere
City Developments Ltd (CDL), which controls China property company Sincere Property, said on Thursday that the latter had misrepresented their relationship by saying earlier in the week that CDL was responsible for severely affecting Sincere's ability to use financing and asset disposals to improve operations and cash flow.
Sincere had posted a statement in Chinese on its website on Wed that its corporate governance structure and approval processes have undergone major changes since CDL took control, with key matters now requiring the approval of CDL's management in Singapore.
CDL said on the occasions it could not support Sincere it was because the proposals "contravened CDL's corporate governance as a listed company and the recommended use of funds was not in the best interests of all shareholders''.
CDL also noted that the legal structure of Sincere's board does not accord CDL majority control of board decisions and that the liquidity issue was inherent even before it invested in Sincere.
Aztech Global's debut
Tech products firm Aztech Global on Friday ended its mainboard debut at S$1.29, one cent above its IPO price after earlier trading at an intraday high of S$1.42. Turnover was 57.62m, making it the day's fifth most actively traded stock. The company makes smart lights, GPS-enabled pet collars and other Internet of Things devices.
Oceanus refuted negative online rumours
Seafood supplier Oceanus on Friday refuted rumours circulating on online forums and instant messaging platforms that it is looking to move from the mainboard to Catalist, that there is an investigation into its financials and that its management is involved in a "pump and dump'' scheme. The company described these as "untrue and misleading information''.
Oceanus's shares spiked up earlier this year because the company's fortunes are improving but have recently come under selling pressure. On Wednesday the price slumped to a new intraday low of S$0.019 though it ended at S$0.036 on Friday.