Date: August 11, 2020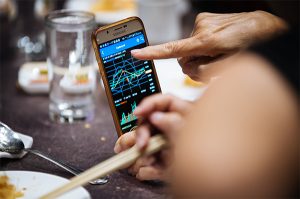 The STI rose 16 points or 0.6% to 2,545.41;
Main support came from firm Wall St, where hopes were high of a new stimulus package;
Worries came from heightened US-China tensions;
Local banks reported their earnings – down but not out;
Sembcorp Marine reiterated its need to recapitalise;
Wither Temasek's Keppel offer?;
SGX RegCo to get stronger disciplinary powers;
Gold shoots past US$2,000 on safe haven buying.
US COVID-19 stimulus – deal or no deal?
It was another topsy-turvy week for the local stock market, as news surrounding the COVID-19 virus pandemic once again provided the main focus, just as has been the case for the past 5 months.
The Straits Times Index last week rose 16 points or 0.6% to 2,545.41, supported mainly by a firm Wall Street, where stocks stayed firm because of hopes that a new US coronavirus stimulus package would be unveiled at the end of the week. As of the end of business on Friday, a package had still not been finalised, with negotiations ending at a stalemate.
US-China tensions on the rise
Bringing prices down on Friday – the Straits Times Index fell 13.39 points – were worries over the escalating tensions between the US and China after US president Trump ramped up sanctions against Chinese tech companies. The US on Friday also imposed sanctions on Hong Kong leader Carrie Lam and 10 other senior figures in response to China's clampdown on the former British colony.
Bank earnings were down but not out
DBS and UOB reported their second quarter results on Thursday – DBS said its net profit for the three months ended 30 June fell 22% to S$1.25b, slightly under the market's S$1.31b expectation, whilst UOB posted a 40% fall for the same period to S$703m, weaker than the S$815m that analysts had expected.
DBS's total general provisions as at 30 June stood at S$3.8b, up from S$3.23b a quarter ago, with the bank's chief Piyush Gupta saying that the bank is building up a "substantial'' general provision cushion because "nobody really knows what is going to be extent of the damage once the relief programmes run out''.
On Friday, OCBC announced a larger-than-expected 40% drop in profit to S$730m for its second quarter, largely because it set aside S$350m in provisions for offshore support vehicles that corresponding impaired loans. The market had expected a figure of around S$930m. OCBC's shares fell S$0.08 on Friday to S$8.72 with 8.14m traded.
Sembcorp Marine on its need to recapitalise
Sembcorp Marine on Thursday reiterated that it desperately needs the funds from a proposed S$2.1b recapitalisation, saying that "if shareholders do not approve the transaction, SMM's strenuous efforts to recapitalise and strengthen its balance sheet will be negated and the critical need to address (its) liquidity requirements will fail''.
The company also warned that shareholders who opt not to take up their entitlements from a proposed rights issue which is part of the recapitalisation will see their shareholders diluted after completion of the exercise.
What will happen to Temasek's offer for Keppel?
Keppel Corp's shares sustained a beating on Monday after news a few days earlier that its posted a record loss of S$697m for the quarter ended 30 June, thus breaching a material change (MAC) clause in Temasek's takeover plans for Keppel.
Keppel's shares on Monday plunged S$0.22 or 4.1% to S$5.18, though they did manage to regain all this loss, finishing at S$5.40 on Friday. Temasek has said it will make a decision by the end of the month on whether to go ahead with its offer.
Under the MAC, Keppel's after-tax profit cannot fall by more than 20% or about S$557m over the cumulative four quarters from Q3 2019.
In a Monday note, UOB-Kay Hian said it is "reasonably confident'' that Temasek will continue with the offer. This is considering that Keppel's price to net asset value was 1.3 times at the end of June 2020, which is higher than the 1.2 times at the end of Sep 2019 when the offer was announced, said the broker.
The Business Times in its 4 Aug report "Temasek's offer for Keppel may stay but at a lower price: analysts'' quoted KGI Securities' research head as saying "we still believe that Temasek will drive the consolidation of Singapore's offshore and marine sector and that the deal will likely go through''.
SGX RegCo gets stronger disciplinary powers
The Singapore Exchange's (SGX's) regulatory arm SGX RegCo last week announced it will soon be given greater regulatory powers. It will essentially take on some of the disciplinary powers that previously resided in the Listings Disciplinary Committee (LDC), which has been criticised as having been ineffective, possibly because it comprises members from the financial industry.
"SGX RegCo is acutely aware of the perception that only a few public enforcement actions have taken place in recent years. We are proposing to widen the scope of direct disciplinary actions available to us so as to speed up the disciplinary process'' said SGX RegCo's chief executive Tan Boon Gin.
Although the LDC will continue to have the capacity to levy fines, SGX RegCo will, among other powers, be able to issue public reprimands, require the resignation of a director or executive officer from a listed company and require companies to suspend a director or executive officer for a period of up to 3 years.
Gold roars to all-time high above US$2,000
The price of gold last week hit an all-time high of US$2,075 per ounce on safe haven buying, but closed at around US$2,040 on Friday.