Date: August 13, 2018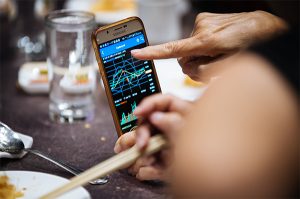 Strong start but weak finish saw the STI's gain for the week cut to 19 points or 0.6%;
Banks, Jardine group, Singtel were again the main index drivers;
US-China trade tensions erupted again;
US-Russia and US-Turkey relations were also strained by fresh sanctions;
US, German bond yields fall as investors sought safe havens;
Morgan Stanley warned of looming large correction.

STI still trapped within a trading range
There are three recurring themes which have been prominent over the past few months – banks, the Jardine group, Singtel and occasionally property stocks have been the main drivers of the Straits Times Index, US-China trade tensions have provided the main backdrop and the STI has appeared unable to break out of a trading range that spans 3,250-3,350.
This week however, saw a fourth – the US's sanctions on Russia following the latter's nerve agent attack in the UK earlier this year and an economic crisis in Turkey, which was aggravated on Friday by US tariffs and tweets from US President Trump.
Over the course of the past holiday-shortened week, the push-and-shove continued between the US and China, thus ensuring there were no signs of any radical change to the pattern of trading in the local market – banks were the STI's primary movers, whilst the index traded within a range that started at 3,265 but then falling from its highest close for the week on Tuesday at 3,340 to end at 3,284.78. Still, thanks to a large push on the banks on Tuesday, the STI still managed to register a 19-points or 0.6% gain for the four trading days.
Turnover has not been great, averaging S$1.3 billion daily. The Singapore Exchange (SGX) in its latest market statistics announcement said that in July, total securities market turnover value was at S$24.6 billion, up 1% month-on-month (m-o-m) and down 4% year-on-year (y-o-y), over 22 trading days. There were 20 trading days in June 2018 and 21 in July 2017.
It also said securities daily average value was S$1.12 billion, down 8% m-o-m and down 8% y-o-y and that 4 lPOs in July raised S$143.3 million, the highest number of listings in a month in 2018.
On Wednesday, homegrown e-commerce solutions provider Synagie Corporation made its debut on Catalist. It had priced its IPO at S$0.27 per share, to raise net proceeds of S$9.8 million via a placement tranche of 39.2 million shares and a public offer of 3.8 million shares. It finished its debut at S$0.275 on volume of 15.4 million.
US-China trade tensions; Russia and Turkey also enter the picture
On Thursday, China accused the US of having a "mobster mentality'' stating that the US's tariffs amount to "protection money'' which means that China will have to retaliate. On Wednesday, Beijing said it would impose additional tariffs of 25% on US$16 billion worth of US imports to mirror Washington's latest move that takes effect on 23 Aug.
Also, on Thursday, the US announced new sanctions on Russia as punishment for a March chemical attack on an ex-Russian agent living in the UK, a move which Russia has denounced as illegal.
On Friday, an unfolding economic crisis in Turkey was deepened further after Mr Trump announced he was doubling US import tariffs on Turkish steel and aluminium, stoking the country's currency freefall and rattling financial markets.
The Turkish lira plunged by more than 20% against the dollar after the president announced the move, amid a widening dispute between Washington and Ankara over the imprisonment of a US pastor for terrorism charges.
Investors sought safe havens in bonds
The upshot of rising geopolitical tensions was that money was moved into US and German bonds – the former's 10-year yield dropped 5 basis points to 2.87% whilst the latter's fell 4 basis points to 0.33%. In contrast, Turkey's 10-year yield jumped 15 basis points to 20.34%.
Over on Wall Street- Morgan Stanley's warning, Tesla's possible privatisation
At the start of the week, US investment bank Morgan Stanley said it thinks a correction is on the horizon which will the biggest since February.
"The weaker earnings beat from several tech leaders and outright misses from Netflix and Facebook were simply additional support for our defensive call'' said MS's chief equity strategist Michael Wilson. "The average portfolio will suffer more because the selling will be concentrated in tech, consumer and small cap shares''.
Also at the start of the week, JP Morgan Chase's boss Jamie Dimon said the market should prepare for 5% bond yields. "I think rates should be 4% today'' said Mr Dimon. "You better be prepared to deal with rates of 5% or higher – it's a higher probability than most people think''.
The big news however, was a Tuesday tweet from Tesla owner Elon Musk that he is considering taking his company private at US$420 per share. This sent Tesla's shares shooting up 11 per cent that day; however, it has since fallen back on scepticism that Musk has secured the necessary funding.