Date: March 30, 2020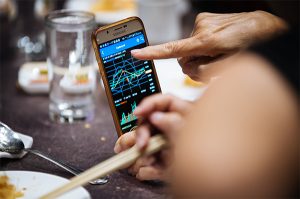 The STI bounced almost 5% to 2,528.76 over the week;
Main drivers were government stimulus packages;
US government pledged US$2 trillion to fight virus-led slowdown;
Singapore government pledged further S$48.4b;
US Treasury yields drop below zero;
SIA announced S$8.8b rights issue of shares and bonds
Local market gets some reprieve after massive stimulus announcements
At the end of yet another volatile week the Straits Times Index stood 118 points or 4.9% higher over the five days at 2,528.76. Providing the main fuel for the bounce were government rescue-cum-stimulus packages, from the US$2 trillion in the US to the S$48.4b supplementary budget announced here on Thursday.
At the start of the week, the STI had dropped to the lowest in 11 years when markets thought that central banks were not doing enough to shore up markets and the global economy that are being battered by the Covid-19 outbreak; this position changed mid-week when the US unveiled a US$2 trillion package aimed at trying to boost its flagging economy and push its stock market higher after it had fallen deep into bear territory.
As the days passed however, caution returned, with Asian investors taking their cues from the Dow futures to try and anticipate how Wall Street might perform after Asian trading hours.
Wall Street's volatility spilled over to the rest of the world
Last Monday the major US indices crashed 10% but on Tuesday after news that a US$2 trillion package was in the works, prices rebounded sharply with the Dow Jones Industrial Average ending up 2,093 points, or 11.3%, to close above 20,000. It was its largest one-day point gain ever, and among its greatest percentage rises.
On Friday however, Wall Street closed sharply lower, with the Dow dropping almost 1,000 points or about 4% to 21,636. Still, the index gained about 13% for the five days, its best week since 1938.
A US$2 trillion rescue package – will it work?
The rescue plan in the US would direct payments of US$1,200 to most American adults and US$500 to most children, create a US$500 billion lending program for companies, states, and cities, and extend an additional US$367 billion to help small companies deal with payroll problems. It would bolster the unemployment insurance system and pump US$150 billion into U.S. hospitals. The bill more than doubled in size in just a few days.
Goldman Sachs is sceptical that the stimulus will work. The bank analysed 27 bear markets since 1880 to estimate how long and deep the latest downturn will last.
According to Market Insider, Goldman's chief global equities strategist Peter Oppenheimer described the latest plunges as "unprecedented'' and added that this is an "event-driven'' bear market as opposed to structural and cyclical declines seen throughout history.
This lack of precedent leaves markets with few sources of optimism. Most downturns were prompted by market-specific events, allowing monetary policy to respond and directly ease stresses.
The coronavirus outbreak's economic fallout can't be patched as simply, and the rapid jump in quarantine activity dulls the effects of governments' usual stimulus measures, Goldman said.
"Interest rate cuts may not be effective in an environment of fear where consumers are required, or simply inclined, to stay at home," Oppenheimer wrote.
US Treasury yields drop below zero, jobless claims at record high
On Wednesday, the yields on the US one-month and 3-month Treasury bills dropped below zero for the first time in just under 5 years. Countries such as Japan, Germany, Denmark, France, and Sweden have had negative-yielding government debt for some time.
On Thursday came news that US jobless claims surged to a record high of 3.3m for the week, up from 282,000 the previous week.
Singapore unveils second budget
Five weeks after the annual Budget was announced in which S$6b was set aside for virus relief, the Singapore government on Thursday pledged an additional S$48.4b to help citizens weather the current economic slowdown.
Some $20b of the new Resilience Budget is set aside as loan capital, whilst other measures are property tax rebates, an aviation support package, deferment of corporate income tax for April-June, wage offsets and money to help the self-employed.
SIA announced an $8.8b rights issue of shares and bonds
Battered national carrier Singapore Airlines on Thursday announced a 3-for-2 rights issue of shares priced at S$3 per share to raise S$5.3b. The price was a 53.8% discount to the market price of $6.50 at the time. The current theoretical ex-rights price at the time of the announcement was S$4.30.
It also proposed a 10-year mandatory convertible zero-coupon bond (MCB) issue, based on 295 bonds for every 100 shares, to raise S$3.5b.
If not redeemed before the conversion date in 10 years, the bonds will be converted to new shares based on a price of S$4.84, which is a 10% premium to the theoretical ex-rights price.
The entire rights issue will be underwritten by Temasek Holdings, which owns 55.4% of SIA.
The airline said S$3.7 will be used for operating cash flow, S$3.3b for aircraft purchases and rest for debt servicing and other payments.
SIA's shares on Friday dropped 42 cents to S$6.08.