Date: February 7, 2022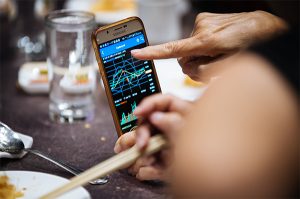 In the US, earnings took over as the main driver
All Wall St's major indices registered gains for the week
Banks led by UOB helped STI rise 2.5% to 30-week high of 3,331.41
STI's January market cap rose 3.8%
Strong January US jobs report sent bond yields spiking up
A firm Wall St where investors focused on earnings
Wall Street's strong rebound from the steep correction it suffered in January was the main reason the Straits Times Index last week posted an 82-points or 2.5% per cent gain at 3,331.41, the highest in more than 30 months. The rise over the two-and-a-half trading days in a holiday-shortened week meant that the index recouped all of its 48-points loss in the final week of January.
Average daily turnover amounted to S$1.44b. On Monday, which was Chinese New Year's Eve, the market managed an impressive 762.7m units worth S$1.03b in a half-day session.
Banks were the main index movers, led by UOB which rose S$1.34 or 4.5% to S$31.30. DBS gained S$0.75 or 2.1% at S$35.95 and OCBC added S$0.33 or 2.6% to finish the week at S$12.80.
Market cap flat in January; banks and Singtel push STI's market cap up 3.8%
The market capitalisation of the 665 listed companies in January amounted to S$857.6b, about S$0.5b less than in December 2021. However, the value of the 30 STI stocks rose S$19.6b or 3.8% to S$534.2b, thanks mainly to gains in the banks and Singtel which make up 50% of the index by weight.
In January, DBS's market cap rose by S$6.56b, UOB's by S$5.16b and OCBC's by S$4.83b. DBS remained as the market's biggest stock with a value of S$90.88b.
SGX strategist Geoff Howie was reported saying DBS's purchase of Citi's Taiwan consumer banking business and UOB buying Citi's consumer business in a handful of Asean countries reduce their Common Equity Tier 1 by only 0.7% or 70 basis points, which is not material from a regulatory viewpoint and does not affect DBS's and UOB's ability to pay dividends.
US stocks undergo another volatile week
Over on Wall Street, earnings took over from inflation and interest rate worries, at least in the early part of the week when stocks rose sharply. Reports were that the mood was finally improving after a difficult January during which the main concern was the number of interest rate hikes investors would have to contend with this year in the face of rising inflation.
The only major blip the US market suffered came on Thursday when Meta Platforms, the company formerly known as Facebook, reported poor earnings and saw its shares take a hammering.
Meta's shares crashed 26% after the company reported a profit on Wednesday evening of US$3.67 a share, missing estimates of US$3.84 a share.
Still, the Dow gained 1.1% on the week, while the S&P 500 rose 1.6% and the Nasdaq rose 2.4%. Those indexes are up for the second consecutive week.
Strong US jobs report sent bond yields rising again
The U.S. economy created 467,000 jobs last month, the Labor Department reported on Friday, beating economists' expectations and suggesting the Omicron coronavirus variant may have caused less damage to the labor market than anticipated.
The positive report came as somewhat of a surprise to the upside, given that economists had expected the U.S. economy gained just 150,000 jobs in January.
The positive report could mean that the Federal Reserve may raise interest rates by 50 basis points—equivalent to two hikes—in March, instead of the current expectation of 25 basis points.
The bond market appears to agree. The 2-year Treasury yield rose to 1.31% from 1.22% just before the jobs report, while the 10-year Treasury yield rose to 1.92%, from 1.82%.