Date: March 7, 2022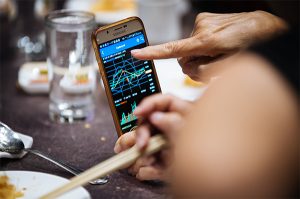 The Straits Times Index lost 68 points or 2% at 3,226.78
Russia's attack on Ukraine, the West's sanctions on Russia and surging oil prices were the main worries
US Federal Reserve chief Jerome Powell's testimony helped temporarily calm markets
GIC and Temasek have very small Russian exposure
February PMI recorded sharpest fall in 2 years
Strong US Feb jobs report strengthens case for rate hike
Another volatile week because of war in Ukraine
The war in Ukraine continued to occupy centre stage last week, with the Straits Times Index gyrating in tandem with overnight moves on Wall St as well as the futures market for US indices.
With no clear picture emerging as to when the conflict would end, the net outcome in what was a hugely uncertain and volatile week was that the Straits Times Index fell 68 points over the five days or 2% to 3,226.78.
Powell's testimony helped stabilise markets temporarily
Helping Wall St and by extension the local market stabilise was mid-week testimony by US Federal Reserve chairman Jerome Powell to the House Financial Services Committee.
Mr Powell told lawmakers that he is leaning toward a quarter-point rate increase at this month's Federal Open Markets Committee meeting to cool inflation, but that the Ukraine War is clouding the outlook on rate changes.
He also said the US economy could withstand "the rate increases we're going to be making." He said "the labour market is extremely strong. From that standpoint, we're in a good place…workers are still going to be getting good jobs and pay increases for some time. The economy can take the rate increases we're going to be making."
The market interpreted that to mean that the Fed will not be hiking rates by 50 basis points and so pushed US stocks up on Wednesday. The recovery did not last long though, news on Thursday that Russian troops had captured a nuclear power plant and that the plant had caught fire sent stocks tumbling again.
Markets still on edge as far as Russia is concerned
To be sure, markets are still monitoring key risks. Russian markets are reflecting economic disaster in their country following widespread sanctions by the West.
The pain could spread to Europe, especially if the sanctions on Russian banks make it difficult for them to make payments to European businesses. Meanwhile, sanctions on Russian oil remain a possibility, which would reduce the global supply, lift the price and cause even more inflation, which has already burdened consumers.
Washington and its Western allies have imposed sanctions on Russia, but the measures have so far stopped short of targeting Russian oil and gas exports. A new round of sanctions announced by the White House on Wednesday banned export of specific refining technologies, making it harder for Russia to modernize oil refineries.
The price of WTI crude oil—up almost 8% on Wednesday alone—has risen 47% for the year to around US$111 a barrel. On Thursday, it fell back slightly on hopes of increased supply from other oil-producing nations after Opec+ and its allies agreed to an increase of 400,000 barrels per day.
GIC and Temasek have only small Russian exposure
According to data platform Global SWF which tracks state-owned investors (SOIs), Singapore's sovereign funds GIC and Temasek have a "surprisingly'' small exposure to Russia.
A listing of SOI's Russia weightings shows Temasek with US$0.3b in holdings or 0.1% of its portfolio. GIC's exposure is listed as US$0.2b. On Tuesday, Temasek told The Business Times that its exposure to Russia and Ukraine was "insignificant''.
February PMI records sharpest fall in 2 years
Singapore's manufacturing sentiment saw its sharpest fall in 2 years in February, partly because of seasonal factors but also partly because firms were spooked by escalating Russia-Ukraine tensions.
The Purchasing Managers' Index fell 0.4 of a point to 50.2 last month, the biggest drop since April 2020. The electronics sector PMI fell 0.3 of a point to 50.5. In both cases, the readings were attributed to slower growth in the indices of new orders, new exports and factory output.
Strong Feb US jobs report strengthens case for rate hike
The U.S. economy created 678,000 jobs in February, marking a surge in job growth as the Omicron coronavirus variant eased and the services sector continued to rebound.
The strong month comes after the economy gained 481,000 jobs in January, more than previously reported, the Labor Department said Friday. And it far surpassed economists' expectations of 440,000 jobs created last month.
The report is the final one before the Federal Reserve meets later this month, and the strength it reflects in the labour market will bolster expectations for a quarter-point rate hike and shows the economy can withstand monetary policy tightening even amid the Russia-Ukraine conflict, analysts say.