Date: May 11, 2020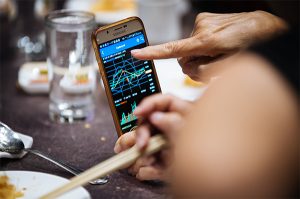 The STI lost 1.3% last week at 2,591.88;
World equities continued to be supported by central bank, Govt stimulus and news of gradual reopenings;
Wall St rose despite devastating jobs report;
Eurozone's manufacturing falls to "shocking'' levels;
UOB reported 19% 1Q earnings fall; OCBC's drop was 43%;
SIA's shares traded ex-rights, underwent large volatility; company announced it expects full-year loss
Equities ride on news of gradual reopening and official stimulus
The Straits Times Index gained almost 6% in April, so perhaps a 33 points or 1.3% fall in the first week of May to 2,591.88 was to be expected.
On the downside were disappointing earnings announcements both here, and in the US, and grim economic estimates all round, whilst on the upside was news that more countries were starting phased opening of their economies, including Singapore.
Daily trading was driven by Wall Street's volatility as it fluctuated between optimism and pessimism, with the STI moving in tandem with rises and falls in the Dow futures and overnight movements in US trading.
Overall, the optimists seem to be holding the upper hand for now, possibly banking on more central bank and government support for devastated economies.
For instance, the US Federal Reserve's balance sheet has ballooned to a record US$6.7 trillion as it rolls out an unprecedented amount of stimulus to help limit the harm of business closures and seized-up economic activity on financial markets.
As a result, markets remained relatively firm last week despite worsening economic news – the Dow Jones Industrial Average gained 2.6% whilst the Nasdaq Composite rose 6%.
Eurozone's manufacturing numbers were "shocking''
For example, last week, IHS Markit's final Composite Purchasing Managers' Index for the Eurozone, which is seen as a good indicator of economic health, plummeted to 13.6, the lowest since readings began in 1998 and nowhere near the 50 mark that separates growth from contraction.
IHS's chief economist Chris Williamson was quoted by Reuters as describing the decline as "shocking'' and that "it is likely to be several years before output lost to the virus outbreak is fully regained''.
US unemployment at 14.7%
In the US, news on Friday was that 20.5m jobs were lost in April, pushing the unemployment rate up to 14.7%, the highest since the Great Depression when the rate peaked at 24.9% in 1933. The losses over the past two months have almost wiped out all the job gains since the country's sub-prime crisis ten years ago that led to the bankruptcy of investment bank Lehman Brothers.
US newspaper Barron's described the April report as "horrific'' and in an interview before the report was released, Minneapolis Federal Reserve Bank President Neel Kashkari said the true number may be as high as 24%.
UOB's 1Q earnings were down 19%; OCBC's fall was 43%
UOB during the week announced that its Q1 net profit fell 19% to S$855m, better than analysts' estimates that the figure would be S$739m. The bank told analysts that it is keeping to its earlier credit cost guidance of 50-60 basis points.
Analysts have said credit costs are likely to remain elevated at least until the first half of 2021, given that peak non-performing loan recognition will likely be delayed until after the loan moratoriums introduced as relief measures end.
OCBC in the meantime, reported a 43% drop to $698m for the first quarter, dragged down by losses in its insurance unit and a surge in provisions due to its oil and gas exposure.
SIA's shares underwent active, volatile trading after going ex-rights
Singapore Airlines' shares were among the most actively traded counters on Wednesday after they went ex-rights. The national carrier had proposed a 3-for-2 rights issue of shares and a 10-year mandatory convertible bond (MCB) issue.
In March when the announcement was made and SIA was trading at $6.50 per share, the theoretical ex-rights price or TERP was estimated at S$4.40.
This is based on the calculation that the total cost of buying 2 shares and subscribing for 3 rights shares would have been S$22, i.e. (2 x $6.50) + (3 x $3). The cost per share after the rights issue or the TERP would therefore have been $22/5 = $4.40.
Using the same methodology and the price of SIA of $5.91 on the last day of cum-rights trading which was Tuesday, the TERP works out to $4.16. On Wed, the price opened at $4.20, then rose to almost $5 and ended at $4.40 with almost 49m traded. It ended the week at $4.41.
It appears that most in the market decided not to factor in the dilutive effect of the MCB because of the complexity of the calculations needed.
Separately, the national carrier on Friday announced that it expected to report a full-year loss, the first in its history. It said it is talks with aircraft manufacturers to adjust its delivery stream for existing aircraft orders and has tried to maximise freighter utilisation with some passenger aircraft operating cargo-only flights.