Date: February 10, 2020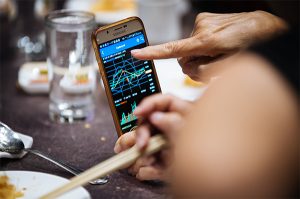 Despite Friday's selloff, STI still managed a 0.9% gain for the week;
China's stimulus helped stocks rebound after early selloff;
More local firms reporting their businesses are hit by China virus;
Medical sector stocks were in play;
SGX issued guidelines on disclosing significant litigation;
Market's capitalisation was $872b in Jan, 1.8% lower than Dec 2019
Early selloff cushioned by China's stimulus
The week started with stocks taking a hammering when China's markets plunged as soon as they reopened for trading. The Shanghai Composite Index collapsed 9 per cent upon opening, leading to spillover selling throughout the region.
The selling was also in response to a large selloff on Wall Street on the preceding Friday when worries over the impact of the Wuhan virus outbreak spread from Asia to the West.
As the week progressed however, signs emerged that markets may be less nervous than previously thought, thanks mainly to efforts by China to do whatever is necessary to cushion the outbreak's hit. By the end of the week, most markets had recovered their earlier losses.
Beijing midweek unveiled a raft of measures, including injecting 1.2 trillion yuan into the market, cutting banks' reserve ratios, and instructing banks not call in loans for companies based in the virus-stricken Hubei province. State-owned companies also bought back shares to stabilize the market.
STI plunged on Friday but still recorded weekly gain
The resulting bounce on Wednesday enabled the Straits Times Index to regain the 3,200 level that had been lost on Monday. On Friday however, the index suffered a 50.07 points or 1.6% loss at 3,181.48 when virus fears returned. Still, the STI managed to record a gain of 27.75 points or 0.9% for the week.
After the market closed, the government raised the disease response level to "orange'' which means there is expected to be moderate to high public impact, although the situation is still under control.
The Singapore situation
More firms hit by closure of China operations
On Tuesday, The Business Times reported that more locally-listed firms are reporting that the outbreak is going to hit their business ("More Singapore-listed firms reporting adverse impact on operations'' BT 4 Feb). The report said firms like Nico Steel and Powermatic Data Systems had been instructed by local government to suspend operations in Suzhou until 9 Feb, whilst KTL Global said employees of a subsidiary may not be able to work because of travel restrictions.
Elite Commercial Reit debuted
On Thursday, Elite Commercial Reit started trading, ending its debut at 0.71 GBP versus its offer price of GBP 0.68 per unit. The Reit has an initial portfolio of 97 commercial buildings located across the United Kingdom worth about £320 million.  Over 99 per cent of its gross rental income is derived from leases with the UK government via The Secretary of State for Housing, Communities and Local Government.
Medical stocks were in play
On Friday, there was a resurgence of interest in medical plays. For example, manufacturer and distributor of medical consumables Medtecs' shares jumped 2.7 cents or 35.5% to 10.3 cents on volume of 288.6 million. Also in play were shares of Singapore Medical Group and UG Healthcare.
SGX RegCo issued guidelines on disclosure of significant litigation
Singapore Exchange Regulation last week said companies have to provide the market with timely disclosure of trade-sensitive facts such as significant litigation. Its chief executive Tan Boon Gin in his latest Regulator's Column said this refers to facts that would likely influence investors' decisions on whether to trade – even when there is no material impact when the facts are made public.
For legal proceedings, companies should assess whether to disclose by asking whether the litigation would undermine its ability to continue its business operations and comply with the law, its reputation and the severity of the offence including whether it is criminal in nature. Also required is the quantum at stake relative to the company's revenue and earnings.
January's market cap fell 1.8%
The Singapore market's capitalisation for January was $872b, down 1.8 per cent from December 2019. The number of stocks whose market cap rose was 202 versus 342 whose market cap fell. The largest gain was registered by Malaysian glove maker Top Glove, whose market cap rose $1.1b to $5.1b. The biggest loss was recorded by Thai Beverage, which shed $2.4b to $20b.
Companies exposed to China, such as Dairy Farm International, Hongkong Land and Yangzijiang Shipbuilding, were also hit.