Date: March 21, 2022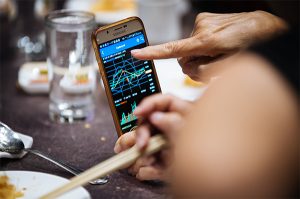 The STI rebounded 81 points or 2.6% at 3,330.63
The S&P gained 6.2%, the Dow 5.5% and Nasdaq 8.2%
Driving the rebound was hope of fresh Russia-Ukraine talks
Oil prices fell but remain volatile
China sent positive market signals which also helped
A hawkish Fed raised rates and signalled six more hikes this year
Singapore's NODX grew a disappointing 9.5% in Feb
Olam Group started trading
Hopes of fresh talks led to a fall in oil and rise in stocks
Hopes of fresh talks between Ukraine and Russia that led to a sharp drop in oil prices last week helped overshadow signs of a hawkish US Federal Reserve which signalled that fighting inflation with interest rate hikes is its main priority.
The outcome was a volatile but ultimately firm week for Wall Street that spilled over here, enabling the Straits Times Index to gain 81 points or 2.5% at 3,330.63.
Over in the US, the S&P 500 rose 6.2%, while the Dow Jones Industrial Average gained 5.5% and the Nasdaq Composite jumped 8.2%. It was the largest weekly gain for all three indexes since November 2020.
According to multiple reports, Ukrainian President Volodymyr Zelensky said mid-week that talks between the two sides were sounding "more realistic."
Also, the UK Financial Times reported that Ukraine and Russia may be making headway on a 15-point peace deal that includes a cease-fire and Russian withdrawal under the condition that Kyiv accepts limits on its military.
As a result, the price of WTI crude oil on Wednesday dropped 1.9% to around US$94 a barrel—and down 28% from a multiyear peak of US$130 hit earlier this month. However, there was a wobble later in the week when it was reported that talks had stalled, and that Russia said that talk of significant progress was wrong.
The bottom line is that markets are expected to remain volatile, depending on news out of Ukraine. For now, the best that can be said that the rebound came because a bad situation did not worsen.
China's positive market signals helped
On Wednesday, a readout from a special meeting of policy makers led by China's top economic official Liu He included vows for more market-friendly policies and proactive measures to support the economy. Government officials also left the impression that the crackdown on the internet sector was winding down and that implementation would be clearer, thus addressing one of investors' bigger fears.
The spate of reassurances acted to calm nerves that had taken a battering last week on delisting concerns, the People's Bank of China declining to cut interest rates as some had expected, and the worry that China could face devastating sanctions itself if it's unable to stay neutral in Russia's war in Ukraine.
Here, banks were at the forefront of daily trading, their gains and losses proving instrumental in determining the direction of the STI.
A hawkish Fed signalled seven rate hikes this year
The Federal Reserve said it would kick off its monetary policy tightening with a quarter-point interest rate hike, ending a period of emergency pandemic stimulus and raising rates for the first time since 2018 as inflation and the Russia-Ukraine war threaten economic growth.
The Fed, which wrapped up a two-day policy meeting Wednesday afternoon, also signalled as many as six additional rate increases this year and said it would begin reducing the size of its balance sheet "at a coming meeting," potentially as soon as May.
It marks a hawkish turn for a central bank that has long been criticized for being too slow to move to tamp down spiralling prices and suggests officials see a need now to act quickly to use its monetary policy tools before inflation gets worse.
The 2-year Treasury yield shot up to 1.92% from 1.88% just before the announcement, while the 10-year yield fell to 2.16% from 2.18% minutes before the announcement.
Singapore's NODX for Feb grew 9.5%
According to data released by Enterprise Singapore on Thursday, Singapore's non-oil domestic exports (NODX) for February eased to its slowest in 6 months at 9.5% year-on-year, down from the previous month's 17.6% expansion.
Private sector economists had expected a 16.5% increase, according to Bloomberg poll. The Business Times reported that several economists noted that the disappointing performance was due to a plunge in non-monetary gold as well as unfavourable base effects.
Hard to break up SPH: CEO
At a virtual information session organised by SIAS, SPH chief executive Ng Yat Chung replied to shareholders who asked if the company would be better off disposing of its assets rather than accepting an offer from Cuscaden Peak for S$2.36 per share by saying SPH is not in divestment mode, and that whatever it is selling now do not fit its core business.
The question arose after SPH sold sgCarMart for S$150m, which Mr Ng said was a fair offer. SPH capitalised on it by using the money to invest and manage debt levels. This "capital recycling'' can help SPH churn its balance sheet and return value to shareholders in the long run, said Mr Ng.
"Let me tell shareholders upfront, we are not in divestment mode. But even if we were, the divestments will take time'' he said.
Olam Group started trading last week
Olam Group, which represents 1 out of 3 business units of the entity previously known as Olam International, started trading last week. The other 2 units, Olam Food Ingredients and Olam Global Agri, are set to be spun off and listed separately according to different time frames.
Olan Group's shares ended the week at S$1.74 versus Olam International's last traded price of S$1.76 on 9 March.