Date: April 11, 2022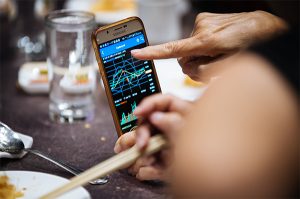 The STI lost 36 points or 1.1% at 3,383.28
Strong signals from the US Fed of faster-than-expected tightening were responsible
Those signals came from comments by Fed governors and the minutes of the March FOMC meeting
Nasdaq worst hit due to spike up in 10-year Treasury yield
Singapore's March PMI was the lowest since Aug 2020
SGX queried Yoma and Sembcorp Industries over unusual price movements
Frasers Hospitality up on privatisation talk; EC World Reit down on loan refinancing concerns
The Straits Times Index lost its grip on 3,400
The Straits Times Index came under pressure last week partly because of the ongoing Ukraine-Russia conflict and partly because of hawkish comments by US Federal Reserve governor Lael Brainard on Tuesday that sent Wall Street prices plunging on Tuesday and Wednesday.
Even though the US market stabilised on Thursday, the STI still fell, losing 20.95 points on Friday to fall below the 3,400 level at 3,383.28. For the week, it was down 36 points or 1.11%.
Average daily volume amounted to S$1.11b, ranging from a low of S$938.6m done on Monday to Thursday's S$1.25b.
Sembcorp Marine regularly topped the actives list, ending the week at $0.104 for a net gain of S$0.008 or 8.3%.
Singapore's March PMI lowest since Aug 2020
Singapore's factory activity dipped in March, in line with a region-wide drop in manufacturing sentiment amidst rising prices and supply chain disruptions. The March Purchasing Manager' Index fell 0.1 point to 50.1, the third month of decline.
The PMI had stayed in expansionary territory for 21 months – since July 2020 – but the latest figure is the lowest since Aug 2020.
The electronics sector PMI also slipped 0.1 point to 50.4, its lowest since May 2021 although this is its 20th month of growth.
Sembcorp Industries and Yoma Strategic queried by SGX
Sembcorp Industries shares on Thursday surged S$0.20 or 7.4% to S$2.91, the highest since Oct 2018, prompting the Singapore Exchange (SGX) to query the company over the "unusual price movements''. The counter closed at S$2.87 that day and finished at S$2.85 on Friday.
The company replied that it was not aware of any information not previously announced that could account for the rise. It added that there have been media articles recently that speculated on opportunities for the company.
The Business Times reported that Indian news outlet Mint on Monday had said that Sembcorp was among 3 companies shortlisted to acquire green energy producer Mytrah Energy India in a deal supposedly worth around US$2b.
On Wednesday, shares of Myanmar-focused Yoma Strategic jumped S$0.019 or 11.4% to an intraday high of S$0.186, a level last seen in Feb 2021. They ended the day at S$0.181 and the week at S$0.192.
The share price rise drew an SGX query to which Yoma replied that it was unaware of reasons why its shares were in play.
Frasers Hospitality up on privatisation talk; EC World down on refinancing worries
Shares of Frasers Hospitality Trust rose S$0.03 or 5.3% on Friday after news agency Bloomberg reported that the hotel and serviced residence trust is planning to go private amidst concerns that the price of its stapled securities does not reflect their true value.
The trust comprises Frasers Hospitality Real Estate Investment Trust and Frasers Hospitality Business Trust stapled as one entity.
Elsewhere, shares of EC World Reit slumped S$0.08 or almost 11% on Friday at S$0.655 with 10.24m traded over uncertainty surrounding its ability to refinance its loans.
The Reit's manager on Thursday said the refinancing exercise for all onshore and offshore term loans due in 2022 is in the final stages of negotiation and believes the Reit can continue as a going concern.
It was responding to SGX queries which noted that the Reit's auditors had highlighted a material uncertainty in its FY2021 financial statements on EC World's ability to continue as a going concern.
EC World's manager said the uncertainty arose because the refinancing of the loans were not completed at the time of the issuance of the financial statements.
How Wall St fared
For the week, the Dow, the S&P 500, and the Nasdaq fell 0.3%, 1.3%, and 3.9% respectively.
Nasdaq has been bearing the brunt of the selling because of a spike up in longer-term interest rates. On Friday, the 10-year Treasury yield jumped to 2.71%, a pandemic-era high. Higher long-dated bond yields make future profits less valuable, and many tech companies are valued on the basis that they'll churn out sizeable profits many years in the future.
What Fed governors Lael Brainard and James Bullard said
The Federal Open Market Committee "will continue tightening monetary policy methodically through a series of interest rate increases and by starting to reduce the balance sheet at a rapid pace as soon as our May meeting'' Ms Brainard said Tuesday in a virtual speech to the Minneapolis Fed.
"Given that the recovery has been considerably stronger and faster than in the previous cycle, I expect the balance sheet to shrink considerably more rapidly than in the previous recovery," she added.
In a speech on Thursday, St. Louis Federal Reserve President James Bullard said current Fed policy is too low by 300 basis points. That means he believes the benchmark lending rate must rise to above 3%. Markets have been expecting the Fed to lift the rate to around 2.75%.
What the FOMC minutes said
Minutes from the Fed's March meeting, released Wednesday, confirmed what Ms Brainard had said: The central bank will soon reduce the size of its balance sheet by letting its bond holdings expire without reinvesting the proceeds.
The minutes also made it seem more than plausible that an interest rate hike of a half-percentage point—rather than the standard quarter point—is in the cards in the near term.
What seems new to the bond markets this week is that the Fed is close to beginning its balance sheet reduction by US$95 billion per month. That means less money moving into Treasury bonds, lowering bond prices and lifting their yields.