Date: May 30, 2022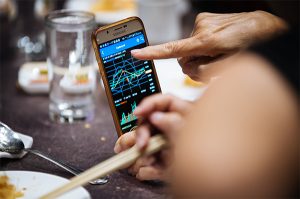 The STI first sank to 3,179 during the week before rebounding to 3,230.55
Thanks to Wall St's second half rebound, STI's net loss was only 0.3%
Singapore's 2022 growth likely to fall in lower half of 3-5% forecast range
Singtel's second half profit up 4.9% year-on-year
Hourglass's full-year profit up 86%
US indices rebound 6-7% after seven weeks of losses
Fed's guidance cited as main reason for Wall St's rebound
A torrid first half followed by a strong second half rebound
If football can be said to be a game of two halves, then so was the case for the local stock market last week. The Straits Times Index came under pressure for the first three days, losing a total of 61 points or 1.9% to an intra-week closing low of 3,179 before rebounding about 50 points on Thursday and Friday to end the week at 3,230.55.
The rebound in the second half, however, was insufficient to prevent the index from recording a net loss of 10 points or about 0.3% for the five days.
Daily movements were dictated largely by external concerns, how Wall St performed overnight and how the Dow futures moved during Asian trading hours.
In no particular order these concerns were China's lockdown, the ongoing conflict in Ukraine which is driving up commodity prices and inflation, and US Federal Reserve action to combat rising prices. In this regard, Wall St's second half rebound last week after release of the minutes of the latest Fed meeting proved instrumental in the STI's second half recovery.
Trading volume throughout the week however,was mediocre, averaging S$1.19b daily and ranging from the low of S$1.08b done on Monday and Friday to S$1.39b traded on Wednesday.
Singapore's 2022 growth likely to fall in lower half of 3-5%, depending on China's Covid policy
The Ministry of Trade and Industry (MTI) on Wednesday announced that the direction of China's Covid-19 policy will be a key determinant of Singapore's full-year growth because external demand currently looks weaker than 3 months ago.
In addition, MTI said Russia's invasion of Ukraine and inflation from higher commodity prices will mean GDP growth for this year is likely to fall in the lower half of MTI's forecast range of 3-5%.
This outlook was delivered despite Singapore's first quarter GDP growth came in above expectations at 3.7% year-on-year.
The Business Times quoted Permanent Secretary for Trade and Industry Gabriel Lim saying "as China is a key market for petroleum and chemicals products from Singapore, its economic slowdown is likely to adversely affect the growth prospects of Singapore's chemicals cluster and the fuel and chemical segment of the wholesale trade sector''.
OCBC's chief economist Selina Lim said the economic impact of the slowdown in China is still developing, the "key uncertainty being how long the Chinese lockdowns will last and whether restrictions will get tighter or looser from here''.
DBS senior economist Irvin Seah, who expects 3.5% growth this year, noted that the manufacturing sector declined by 0.2% on a seasonally adjusted, quarterly basis after 4 straight quarters of expansion.
Singtel reported 4.9% increase in 2nd half net profit
Singtel on Friday reported a 4.9% rise in underlying net profit to S$941m for its second half ended 31 March versus the same period last year. It said it is banking on a travel recovery as well as easing competition in regional markets to underpin its top line in the year ahead.
It said in its press release that it will press on with an ongoing business transformation – a so-called strategic reset – on the back of the developing 5G market, new growth areas in infocomm technology and digital services, and data centre expansion.
Singtel's shares on Friday ended S$0.03 lower at S$2.70 with 42.8m traded.
The Hour Glass's earnings up 86%
Luxury watch retailer The Hourglass on Thusday reported earnings of S$157 million for FY2022 ended March 31, up 86% y-o-y.
Earnings per share for FY2022 at S$0.2234 is 91% higher than the previous year's at S$0.1171.
"During the latest financial year and, throughout the Covid-19 pandemic, interest in watches has reached new sets of younger, highly discerning watch enthusiasts and buyers," the company said in a results statement.
Hourglass's shares, which have doubled in the past 12 months, surged S$0.20 or 9.2% to S$2.37 on volume of 4.5m on Friday. The company has declared a full-year dividend of S$0.06 per share.
Wall St enjoyed its best week since 2020
Over in the US, guidance from the Fed on its interest rate policy over the next few months provided some relief, enabling the major indices to enjoy their best week in years, reversing seven weeks of declines.
The Dow snapped an eight-week losing streak—the index's longest since 1932—with the S&P and Nasdaq breaking seven-week losing streaks, their worst since 2001.
The S&P 500 gained almost 7% for the week, after having hit its lowest intraday level of the year last Friday afternoon. The Dow and the Nasdaq saw weekly gains of 6% and 7%, respectively.
What moved Wall Street?
Comments by President Biden
Early in the week, US stocks rose, reportedly because of comments from President Joe Biden that he is considering reducing tariffs on China that had been imposed by the previous administration, while also announcing a new economic agreement on Monday with 12 Indo-Pacific nations, which represent about 40% of global GDP. The pact is aimed at countering China's influence.
Snap lowered its sales and profit guidance
US stocks later came under pressure because Snap, the parent company of the popular app Snapchat, lowered its sales and profit forecast for the current quarter, citing a deteriorating economy.
In a filing with the Securities and Exchange Commission Snap said that it will likely see sales and earnings before interest, tax, depreciation, and amortization come in at the lower end of the range it had told investors to expect for the quarter. That is because "the macroeconomic environment has deteriorated further and faster than anticipated," the company said in the filing on Tuesday. The stock closed down 43% at US$12.79 that day.
The Fed's guidance
US stocks rebounded on Wed after the Fed's minutes showed that while the central bank acknowledged it will lift interest rates further in the next couple of meetings, it also implied that it may slow down the pace of rate hikes if the economy continues to slow down.
The Fed's minutes acknowledged that there will be "ongoing increases" in the federal-funds rate going forward to combat high inflation by lowering economic demand. The Fed sees half-percentage point increases to the fed-funds rate—rather than quarter-point hikes—as likely in the next couple of meetings. Markets had expected that path.