Date: October 10, 2022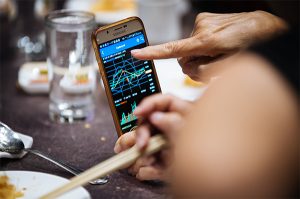 An early US helped the STI add 15 points or 0.5% at 3,145.81
The 2-year US Treasury yield first fell to 4.09% but later rebounded to 4.36%
The 10-year US Treasury yield first fell to 3.6% but later rebounded to 3.83%
Hawkish comments from Fed officials and a strong Sep jobs report drove the selling on stocks and bonds
Singapore's factory output contracted in Sep for first time in 2 years
SATS might reduce the size of its unpopular rights issue: SATS CEO
Banks were main drivers of the STI's 3Q return of 2.4%
An early bounce as rate fears receded…
Wall Street's rebound early last week was instrumental in enabling the Straits Times Index to add 15 points or about 0.5% points at 3.145.81. Underpinning the rebound were hopes that the US Federal Reserve might soon scale back on its interest rate hikes, hopes that in part were derived from relatively weak US economic data.
…that faded later in the week as rate fears returned
The bulk of the index's gain, however, came in the first few days. As the week wore on however, those hopes faded. San Francisco Fed President Mary Daly on Thursday said she doesn't see interest rate cuts next year, whilst on the same day Atlanta Fed President Raphael Bostic said the Fed should raise the federal funds rate to between 4% and 4.5% — as the central bank tries to lower the rate of inflation by reducing economic demand — and then maintain that level while monitoring the economy before cutting rates.
On Friday, a strong September US jobs report rekindled interest rate worries and sent stocks and bonds tumbling.
Volume here, however, was low, with an average of S$1.01b done daily. This compares with the daily average of S$1.7b traded in the last week of September.
Singapore's factory output contracted in Sep for first time in 2 years
Overall factory activity in Singapore contracted for the first time in two years in September, echoing a region-wide drop in manufacturing sentiment amid cooling demand and persistent price pressures.
Singapore's Purchasing Managers' Index (PMI) slipped 0.1 point to 49.9 in September, shrinking for the first time after 26 straight months of expansion, the Singapore Institute of Purchasing and Materials Management (SIPMM) said on Monday. A reading above 50 indicates growth from the previous month; one below 50 means contraction.
The manufacturing decline follows a second month of contraction in the electronics sector, which represents 40 per cent of Singapore's industrial output.
"Global markets are still grappling with the macroeconomic risks of high inflation and qualitative tightening, as well as the geopolitical uncertainties of the continuing Russo-Ukrainian war," said Sophia Poh, SPIMM's industry engagement and development vice-president.
The S&P Global Taiwan PMI tumbled 0.5 point to 42.2 in September, signalling a deterioration in overall business conditions for the fourth consecutive month. Similarly, the S&P Global Malaysia manufacturing PMI declined to 49.1 last month, from 50.3 previously.
China's Caixin PMI, derived from smaller private manufacturers, tumbled to 48.1 in September, from 49.5 the previous month. But its official manufacturing PMI score inched up 0.7 point to 50.1, moving back into the expansion range after two months of contraction.
SATS aims to reduce size of rights issue: CEO
On Thursday, the Business Times ran an interview with SATS chief executive Kerry Mok in which he said that a rights issue to fund the billion-dollar purchase of cargo firm Worldwide Flight Services (WFS) was just one of four funding sources for the deal.
He was quoted saying "We are also very clear that we need to reduce the size of the rights issue because we know the market doesn't like rights issues".
He added "I just want to reassure people that I don't need to do a rights issue to complete this transaction".
The purchase for up to 1.3b euros was announced the previous week and sent SATS's shares plunging. Before the announcement, they closed at S$3.87 versus the potential funding plan that involved issuing 609m new shares at S$2.79.
On Wednesday, SATS had sunk to a 52-week low of S$2.94, which meant they had lost S$0.93 or 24%. They rebounded to S$2.99 on Thursday after the Business Times interview appeared and ended the week at S$2.96.
An inflection point?
Wall Street is more than six months into a bear market that has taken stocks down about 25%, raising the question of when a lasting rebound might occur.
There were multiple factors driving the rally on Monday and Tuesday, but most observers have said for a lasting recovery to take place, markets have to see central banks shift to a dovish stance.
Morgan Stanley's Mike Wilson for example, last week said that the Fed would have to follow the Bank of England's lead by ending "quantitative tightening'' and restarting "quantitative easing'' for stocks to "rebound sustainably."
Bond market stability helped – but it didn't last
Early in the week what also helped was an announcement by the new UK government's that it won't be cutting taxes for the rich, news which went a little way in shoring up sentiment that had been badly dented the previous week after release of a hugely unpopular and widely-criticised "mini-Budget'' that had included large, unfunded tax cuts and massive energy subsidies.
At the start of the week yields on both sides of the Atlantic backed down from multi-year highs – the UK's 10-year Gilt Yield dropped to 3.867% Tuesday, down from its multi-year high of just over 4.5% hit at the end of September. That sent the U.S. 10-year Treasury yield down to 3.616%, below a multi-year high of just over 4.3%.
Short-term interest rates, too, moved lower. The U.S. 2-year Treasury yield, a barometer for expectations for the federal funds rate, fell to 4.097%, below its multi-year high of just over 4.3%.
The easing of pressure on bonds, however, did not last. After the release of Sep's job report, the 2-year Treasury yield, a barometer for expectations about the fed-funds rate, has since rebounded to 4.306% on Friday, which is just under the multi-year closing high it hit at the end of September.
Meanwhile, the 10-year yield rose Friday to 3.83%. It remains slightly below its multi-year high of just over 3.9%. With short rates higher than long rates, the yield curve remained inverted, which is usually taken to mean a recession lies ahead.
Banks drove STI's 3Q return of 2.4%: SGX
In a 4th Oct Market Update, the Singapore Exchange's online education portal My Gateway said the STI's 2.4% total return in 3Q22 was mainly driven by the trio of DBS, OCBC and UOB, which averaged a 7.3% total return over the quarter. During the quarter, the trio saw S$969 million of combined net fund inflows with the net fund inflows to DBS and OCBC more than offsetting the net fund outflows booked by UOB, according to SGX.
"Globally, bank stocks saw less than one-third of the declines of REITs, as the hawkish tone on US interest rates notched higher and the outlook for global growth weakened. This coincided with the S-REIT Sector seeing the most net fund outflows of the Singapore sectors in 3Q22″ said SGX.
"The sectors that saw the next highest net fund inflows in 3Q22 were Telecommunications and Consumer Cyclicals. This was mostly driven by Singtel, while StarHub also booked net fund inflows. Consumer Cyclical stocks that saw the most net fund inflows over the quarter included Genting Singapore, Jardine C&C and The Hour Glass".