Date: November 8, 2021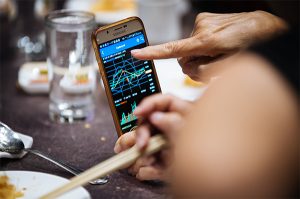 The STI added 44 points or 1.4% at 3,242.34
Gains were usually not broad-based, liquidity remained thin
Wall St's push to fresh all-time highs provided external impetus
DBS, UOB and OCBC's better-than-expected earnings provided internal impetus
US Fed announced its tapering plans, no intention of rate increases yet
Supply chain bottlenecks appear to be easing
A record-breaking Wall St helped boost sentiment
After hovering around 3,200 in the first half of the week, the Straits Times Index enjoyed a boost from consecutive all-time highs on Wall Street to push upwards in the second half. A 22.65-points jump on Friday following the closure of the market for Thursday's Deepavali public holiday meant the index posted a 44-points or 1.4% gain at 3,242.34.
The Jardine group and the banks were the main contributors to the index's ascent, though Singtel and SIA also weighed in with contributions of their own.
Gains not broad-based, liquidity remained thin
Volume however, remained mediocre. The week's highest haul came on Friday when S$1.33b was traded; the lowest was Monday's S$1.01b. The dollar average per day was S$1.2b.
The index's rises were often not reflected in the broad market – on Monday when the STI rose 20.88 points, there were 270 falls versus 220 rises, and on Tuesday when the index added 13.32 points, there were 275 falls against 206 rises. On Friday when the STI recorded its largest gain of the week, the advance-decline score was an almost even 236-238.
Among the stocks in focus were Singapore Press Holdings following news of a rival privatization bid to that tabled by Keppel, Hongkong Land and Jardine Matheson probably because of their buyback exercises, and various low-priced second liners such as Tritech, Hatten Land and Jiutian Chemical.
Wall St continued its upward March after Fed's tapering announcement
External support for sentiment came in the form of new all-time highs on Wall Street, where the Dow Jones Industrial Average closed above 36,000 for the first time ever on Tuesday.
On Wednesday, all three major US indices again ended at fresh highs despite the US Federal Reserve announcing that it would begin tapering its monthly bond purchases of US$120 billion by US$15 billion this month, and it would reduce its purchases at a faster pace starting in December. The program will end by June next year.
Fed chairman Jerome Powell also took pains to reassure markets that interest rates will not be raised soon, at least until the US labour market improves. On Friday, the major indices finished at record highs after release of a strong October jobs report.
According to reports, analysts said the market took the tapering news in its stride because it has been expecting it for many weeks now.
Moreover, the news that interest rates will remain close to zero was welcomed – even if inflation appears to be present, and notwithstanding Mr Powell's view that it is merely "transitory''.
Corporate earnings also boosted Wall St
The economic recovery from the pandemic, fuelled by vaccinations and trillions of dollars of fiscal and monetary stimulus, have driven the Dow to its current level. It is up almost 90% since March 2020, when it hit its low point in the bear market unleashed as the first U.S. lockdowns went into effect.
The main reason for the new highs over the past fortnight in the US is said to be better-than-expected corporate earnings. Aggregate third-quarter sales for the companies in the S&P 500 that have reported so far were 2% higher than expected, but earnings per share beat forecasts by 10%, according to Credit Suisse data. That means margins are much better than expected, which could indicate that companies' costs for products are lower than analysts had estimated.
Supply chain bottlenecks are easing
Also helping have been signs that problems in the supply chain created by the Covid-19 pandemic appear to be easing.
Freight costs are coming down, which indicates that bottlenecks are easing. The WCI Composite Freight Benchmark rate indicates the cost of a 40-foot shipping container fell about 9.5% from US$10,500 in September to about US$9,500 in October, according to RBC Capital Markets.
And the Baltic Dry Index, a benchmark for the cost of shipping raw materials such as grain by sea, has fallen almost 40% since early October.
US-EU settle steel dispute
Early last week, Wall St got a boost after the European Union and the US agreed to settle a trade dispute on steel. The Biden administration said it would allow an amount of steel and aluminium products to enter the U.S. from the EU without tariffs, while keeping tariffs on some amount of those goods. The EU will drop tariffs it had placed on certain American goods moving into the EU.
OCBC, UOB and DBS released 3Q results
OCBC on Wednesday reported a 19 per cent year-on-year increase in third-quarter net profit to S$1.22 billion, partly driven by lower allowances amid an improving credit outlook. This beat the S$1.19 billion average estimate of four analysts polled by Bloomberg.
Also, on Wednesday UOB reported a 57 per cent year-on-year increase in third-quarter net profit to S$1.05 billion – slightly above the S$1 billion average estimate of analysts polled by Bloomberg.
On Friday, DBS reported a net profit of S$1.7 billion for Q3 FY2021, rising 31 per cent from a year ago due to higher loans and fee income.
Maybank Kim Eng subsequently reiterated its "buy'' on OCBC and UOB. For OCBC, the broker said the bank is building a strong platform that is leveraged to several mega-trends: shifting North-South supply chains, rising Asian wealth and increasing demand for sustainable finance.
"Expanding investments here should provide a pathway to medium term growth, in our view. In the meantime, re-opening regional economies, potentially higher dividends and reserve write-backs are upside catalysts. Raise Target Price to S$14.67. Maintain BUY'' said MKE.
For UOB, it said the bank's ASEAN franchise stands to benefit from higher loan growth, better net interest margins and increasing fees with the region opening up as vaccinations accelerate.
"Asset quality should also remain supportive in such a backdrop. Concurrently, UOB's investments in its digital-first strategy could see it gaining share in the mass-premium customer segment in the region and drive higher risk adjusted returns. We raise target price to S$31.15. Maintain BUY".