Date: April 8, 2019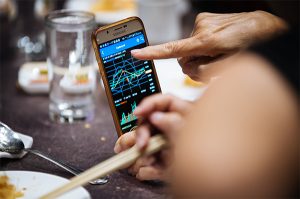 The Straits Times Index surged 110 points or 3.4% to 3,322.64;
Main push came from hopes that US and China will settle trade differences;
China's economic indicators also improved, easing slowdown worries;
Singapore banks were the largest index gainers;
Stocks in focus included SPH, Genting and Best World.
China's economy shows signs of improvement
Trading for the second quarter got off to a good start last week, thanks mainly to encouraging news early in the week about China's economy.
Data over the previous weekend showed the official Purchasing Managers' Index rose to 50.5 in March from February's three-year low of 49.2. It marked the first expansion in four months, according to data released by China's National Bureau of Statistics.
This was followed on Monday by release of the Caixin/Markit Manufacturing Purchasing Managers' Index (PMI), which came in at 50.8 for March. Analysts had expected it to come in at 49.9 for a second month.
New orders climbed to their highest level in four months, while the index for new export orders returned to expansionary territory, "showing that both domestic and external demand rebounded moderately," wrote Zhengsheng Zhong, director of macroeconomic analysis at CEBM Group, a subsidiary of Caixin.
Markit and Caixin said in a joint press release that staffing levels at factories rose in March to mark their first expansion since October 2013. Some firms also hired additional workers to support greater production and new business developments, they added.
Despite the strength of China's March manufacturing data, there are still reasons to be cautious about the country's near-term outlook, said Julian Evans-Pritchard, senior China economist at Capital Economics who was quoted in a CNBC Markets report.
The breakdown of both the official and private PMI indexes suggests a slight recovery in external demand, with most of the improvement coming from a pick-up in domestic demand, wrote Evans-Pritchard in a note last Monday.
"We suspect that this was driven by stronger fiscal support since local governments have stepped up bond issuance recently," he added. "On that note, the official PMI for the construction sector rose last month, consistent with an acceleration in infrastructure spending."
US-China trade: investors pin hopes on settlement soon
Throughout the week both US and China officials were quoted in the press saying that progress has been made towards a mutually acceptable deal. A summit is also planned between the leaders of the two countries. However the US has said there is no timetable for trade resolution and there have been reports that an agreement is still several weeks away.
Whatever the case, a push on blue chips – mainly banks – enabled the STI to not only distance itself from the difficult 3,200 mark but also penetrate 3,300. A gain of 110 points or 3.4% over the week saw the index settle at 3,322.64, albeit in low volume.
Singapore banks in play
DBS Group Research in a 2 Apr report on the banks said it think that current valuations of  about 1.1x FY19 forecast price/book value are not demanding.
"Singapore banks remain as a decent dividend yield play amid strong capital levels, benign asset quality with mid-single digit earnings growth and will likely trade range-bound up till ex-div dates. In the meantime, we continue to keep watch on developments in oil and gas provisions'' said the broker.
In a 1 April report, PhillipCapital said it is maintaining an "overweight'' on banks. "We expect further upside in net interest margin improvements from the full impact of loan repricing. Low provisions and better cost management should also provide upsides to ROE improvements'' said PhillipCapital.
"The banking sector provides an attractive dividend yield of about 5%. All three banks' robust CET-1 ratios should sustain current pay-out ratios''.
Stocks in focus: SPH, Best World, Genting
Among the other broking recommendations was a 3 April upgrade of Singapore Press Holdings to "contrarian buy'' by UOB-Kay Hian, which set a $2.82 target price.
"The rising importance of resilient assets in SPH's portfolio and new management's effort to expand the defensive business have been underappreciated'' said the broker.
"The recent acquisition of a student accommodation portfolio is a good start. Capital efficiency is also improving under the new management, from the disposal of low-yielding assets for higher-yielding ones. SPH's 2019F yield of 4.5% is higher vs the STI's 4.1% after the recent selldown''. The stock closed Friday 3 cents higher at $2.54 with 5.3m traded.
Beauty products firm Best World's shares crashed S$0.13 or almost 6% to $2.07 on Tuesday on volume of 5.6 million after CLSA issued a report saying consumer interest for the group's flagship skincare brand in China trails its strong sales revenue.
The Business Times on Wednesday reported that CLSA analyst Horng Han Low wrote "We conducted a search on free-to-use Baidu Trends to assess consumer interest in Best World's products in China. The unavailability of trend results for Best World's company name and product name, both in English and Chinese characters, contrasts with that of Best World's direct selling peers in China''. He added that the weak online footprint suggests "red flags'' and maintained a "sell'' on the stock but revised its target price from $1.29 to $1.75.
Best World ended the week at $2.05.
Casino operator Genting Singapore came under pressure on Thursday on earnings concerns after an announcement of a higher casino entry levy, higher tax rates and a $4.5b reinvestment plan for its Resorts World Sentosa. It crashed $0.10 or almost 10% that day to $0.97 despite analysts saying that the long-term future looks positive.
OCBC Investment Research maintained a "buy'' with $1.31 target price whilst UOB-Kay Hian also maintained a "buy'' but lowered its target from $1.32 to $1.26.  Maybank Kim Eng lowered its recommendation to "hold'' with $1.12 target whilst RHB downgraded Genting to "neutral'' with $1.08 target.
The stock ended the week at $0.985.