Date: January 17, 2022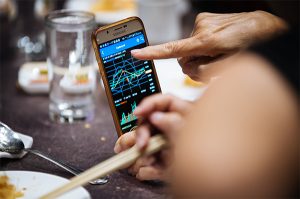 The Straits Times Index rose every day, adding 76 points or 2.4% at 3,281.97
The main push on the index came from the three banks
Also helping was a relatively firm Wall St where inflation worries lingered
UOB to buy Citi's 4 Asean assets for almost S$5b
AEM, IFast, Econ Healthcare were among the stocks in focus
Singapore is in a "sweet spot'': Maybank
Banks provided the main push for STI to rise every day last week
The three banks were in focus during a week in which rising inflation and comments by US Federal Reserve chair Jerome Powell about the state of the US economy provided the backdrop.
Overall sentiment was firm, but an air of caution could be detected, which is understandable, given that interest rates are expected to rise, possibly as early as March.
As always, direction here was set by events on Wall Street where prices were relatively stable despite Mr Powell on Tuesday saying he expects inflationary pressures to last well into the middle of this year while also vowing to use the central bank's tools—including raising interest rates—in order to rein in rising prices.
Thanks to Wall St's ability to shrug off the prospect of higher interest rates soon, the Straits Times Index rose every day last week, propelled mainly by gains in the three banks, with a notable contribution from Singtel after rumours that the telco is considering a potential stake sale in the fibre assets of its Australian subsidiary Singtel Optus.
On Tuesday for instance, gains in Singtel, UOB and DBS accounted for 16 out of the index's 19-points rise. The index eventually carved out a total gain of 76 points or 2.4% at 3,281.97.
Gains however, were narrow – on Friday for instance, when the index rose almost 25 points giving the impression that the whole market was strong, there were 248 falls versus only 209 rises in the broad market.
Daily volume averaged S$1.2b, ranging from a low of S$944m on Thursday to a high of S$1.45b on Tuesday.
UOB buys 4 of Citi's Asean consumer banking businesses for S$4.9b
On Friday, UOB announced it is buying Citigroup's banking assets in Indonesia, Malaysia, Thailand and Vietnam for almost S$5b to increase the scale of its retail franchise in Asean.
UOB will pay S$915m in cash, plus the net asset value of Citi's consumer arm , which comprises its unsecured and secured lending portfolios, wealth management and retail deposit businesses. UOB said it expects the deal to be immediately accretive to its earnings per share and return on equity. UOB's shares jumped S$0.75 or 2.6% at S$29.93 on relatively high volume of 4.47m.
Stocks in focus: AEM, IFAST, Econ Healthcare
Semiconductor testing firm AEM Holdings on Tuesday issued a Financial Guidance announcement in which it said it expects FY22 revenue to be S$670-720m and capital expenditure to be around S$10m. "For FY2022, the Group expects some margin compression in view of higher supply chain costs and an increase in R&D spend as we engage customers on new projects'' said AEM
Maybank on Thursday said the news would be perceived negatively. "Given the stock's 32% rally in the past 3 months, profit taking may ensue. As fundamentals are intact and as we see potential for further positive guidance revisions as FY22 progresses, our forecasts and target price (of S$6.23) are unchanged. We see corrections, if any, as opportunities to BUY the dip''.
Wealth management platform IFast last week said it has placed out 14m shares at S$7.50 per share, which would raise S$105m to buy a majority stake in UK digital bank BFC Bank. The market took a dim view of the news, with pressure on the stock starting the previous Friday when it plunged S$0.32 or almost 4% to S$7.85. The counter endured a volatile week, dropping as low as S$7.51 on Tuesday then rebounding before undergoing more pressure. IFast finished last week at S$7.68, for a loss of S$0.17 or 2.1% over the five days.
Econ Healthcare made the news when it announced that it expects to book a S$3.4m loss from its sale of its stake in Hong Kong-listed interior design firm Crosstec Group after the latter's shares plunged earlier in the week.
Econ said the loss will be material as its stake represented 13.8% of its net tangible assets as at 31 March 2021 and 4.7% of Econ's market capitalisation as at 12 Jan this year. After the sale, Econ's earnings per share for FY2021 would drop from S$2.22 to S$0.89.
Singapore is in a "sweet spot'': Maybank
Maybank in its Thursday newsletter said it thinks Singapore is in a sweet spot in a COVID-endemic 2022 as its 'old world', value-oriented sectors benefit from rising rates and a clear path to economic re-opening.
"At the same time, structural and policy shifts is renewing the economy towards sustainability and new economy sectors through restructuring. We think banks, consumer, industrials, transport and technology sectors could see the strongest benefit'' said Maybank.
How Wall Street fared
The US stock market underwent another wobbly, volatile week as investors struggled to come to grips with an inflationary outlook and concerns over the Fed's monetary policy.
After plunging on Monday, the major indices recovered on Tue and Wed but again came under pressure on Thursday after news that consumer prices climbed to a four-decade high for the second straight month in December, amping up the pressure on the Federal Reserve to act quickly to curb inflation.
The consumer-price index rose 0.5% in December from a month earlier, and the year-over-year rate surged to 7%, the Labor Department reported Wednesday.
The data show an increase from November's 6.8% annual pace and came in line with consensus expectations, signaling that ongoing supply chain issues, surging consumer demand, and labor shortages are likely to keep prices elevated for months to come.
In contrast to the situation in the local market, US bank stocks took a beating on Friday, reportedly because of earnings disappointments.