Date: May 6, 2019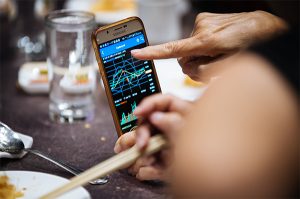 The STI gained 35.34 points or 1.05% over the week to end at 3,392.29;
Banks provided the main fuel for the rise after DBS earlier announced record profits and a shift to paying dividends quarterly instead of half-yearly;
Investors appear to have shrugged off signs of global slowdown;
The US Federal Reserve ignored Trump's urgings to cut interest rates;
Strong US jobs growth pushed US stocks higher on Friday;
Among second liners in focus was No Signboard after news of investigation.
No US-China trade settlement yet but hopes still run high
April was a noteworthy month because the Straits Times Index managed to climb above not only 3,300 but also 3,400, but so far May is turning out to be much quieter. Sentiment continued to be supported by hopes of a US-China trade deal which appear to be outweighing concerns surrounding the global economy that may have arisen after the International Monetary Fund downgraded growth in early April.
Still, helped mainly by a relatively firm Wall Street and support for the local banks, the Straits Times Index gained just over 35 points or 1.05% over the week to end at 3,392.49. Daily volume however, remained disappointingly low at around $1b on average.
US Fed held rates steady despite calls for a cut, possibly because of the latest economic numbers
Also providing support has been encouraging economic numbers out of China whilst over in the US, the Federal Reserve's Open Markets Committee on Wednesday ignored urgings by US President Trump to cut interest rates to boost growth.
Instead, the policymaking Federal Open Market Committee voted unanimously to hold the current range. The committee did, however, make a technical adjustment aimed at keeping the funds rate closer to the midpoint of the target range.
Interest paid on excess reserves that banks keep at the Fed will now be set at 2.35%, or 0.05 percentage points lower than before. Prior to two similar adjustments last year, the Fed had been raising the funds rate and reserves rate in tandem, with the latter acting as a cap for the benchmark rate.
In its view of the economy, the Fed tweaked some of the language from the statement after the March meeting to indicate that growth remains strong. The statement last week said "economic activity rose at a solid rate" while again noting that job gains "have been solid" and that the unemployment rate "has remained low."
According to some observers, there was disappointment when there was no rate cut but to be honest, no one realistically expected the Fed to lower rates, not with an economy running at close to full employment.
The UK Financial Times in an editorial last week "The burst of US growth may yet subside'' noted that although the headline US 1Q growth of 3.2% may have cheered markets, the details were less impressive. It said the expansion reflected a jump in government spending, a rebuilding of inventories and a large contribution from net trade.
"None of those factors is likely to be sustained in coming quarters. Inventories are now high compared with sales, suggesting they are more likely to be run down than increased further. Weak world trade growth suggests that the rapid expansion in exports in the first quarter was probably a one-off. The fiscal stimulus pushed through by Donald Trump and the Republican Congress in late 2017 is fading, not strengthening, and the first quarter 2019 government spending number looks more like a timing issue than anything more substantive and sustained'' said FT.
Banks were in focus – and also Jardine stocks
The main contributors towards the STI's sterling performance in April when it rose almost 6% were the banks, led by DBS. However, the stock last week fell victim to the "buy in anticipation, sell on news'' syndrome which frequently manifests itself in markets – DBS's shares jumped ahead of its earnings announcement last week but weakened once the actual numbers were released. To some extent, a fall in the stock led to money shifting to the other two banks, though this did not prove lasting.
Other index stocks that contributed to the STI's performance should by now be familiar to regular readers – the Jardine stable. On Tuesday, DBS Equity Research issued a "buy'' on Jardine Cycle & Carriage with a fair value of $39.10, saying that it likes the stock for its diversified earnings growth across the region, on top of its strategic 50.1% interest in Indonesia's Astra Group. "We remain positive on Indonesia's longer-term outlook and Jardine C&C represents an inexpensive entry into Astra International'' said DBS.
Second liners that saw action included No Signboard and Cordlife
Among the other stocks in focus was seafood operator No Signboard, whose shares came under pressure after news that its chief executive had been arrested and is now out on bail. The company said the 30 April arrest was made on "reasonable suspicion" that sections of the Securities and Futures Act on false trading, market-rigging transactions and insider trading "may have been breached".
The restaurant chain, known for its signature white pepper crab dish, is being investigated by the Commercial Affairs Department (CAD) for an abortive share buyback dated Jan 31.
Umbilical blood banking firm Cordlife's shares surged 20% or 8.5 cents to $0.505 before a trading halt. The company later said apart from ongoing reviews to enhance shareholder value it did not know of reasons for the rise. It also said there is no guarantee that any concrete transaction would materialise from its reviews.