Date: January 10, 2022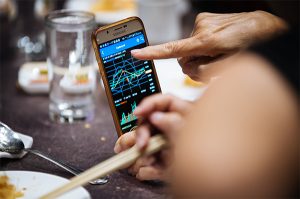 A firm Wall St helped STI add 2.6% at 3,205.26
Singapore's 2021 growth was highest since 2010
MCT fell and MNACT rose after their merger announcement
Share buybacks in 2021 crossed S$1b
FOMC minutes confirmed a hawkish Fed
Bond yields spiked up, December jobs report was disappointing
Futures market is pricing in 80% chance of March rate hike
Thanks mainly to a rising Wall Street where investors managed to shrug off signs that interest rates will be raised quicker than previously expected, the Straits Times Index got off to a firm start to 2022, rising on four of the five trading days last week, adding 82 points or 2.6% in the process to regain the 3,200 level at 3,205.26.
Volume amounted to an average of S$1.1b per day, ranging from a low of S$676.3m on Monday to a high of S$1.38b on Tuesday. As always, it was the banks that led the way – DBS for example, hit several 52-week highs during the week. Over the course of the five days, the stock gained a stunning S$1.71 or 5.2% to end Friday at S$34.37. It was consistently the top gainer each day.
Singapore's 2021 growth was the highest since 2010
Possibly also helping support sentiment was news that Singapore's Gross Domestic Product (GDP) grew 5.9% in the fourth quarter of 2021, bringing full-year growth to 7.2%, on the high side of earlier official forecasts.
It was the highest annual growth since 2010's 14.5%, though in both cases, growth was starting from a low base. Still, some private sector economists have raised their 2022 forecasts to around 5%, compared to the official estimate of 3-5%.
However, many observers have cited a slowdown in China as a key risk as it would have deep implications for local manufacturing.
MCT-MNACT merger – post-announcement share price performance
Investors sold off units of Mapletree Commercial Trust (MCT) last week whilst buying units in Mapletree North Asia Commercial Trust (MNACT) after both real estate investment trusts had announced a merger at the end of December.
On Monday, the first trading day after the merger announcement, MCT plunged to a 14-month low, down S$0.08 or 4% at S$1.92 on volume of 53m. MNACT in the meantime, gained S$0.04 or 3.6% at S$1.15 with 63m units traded. MCT's weakness continued as the week wore on and it ended Friday at S$1.83. while MNACT finished at S$1.09.
The merged entity will be named Mapletree Pan Asia Commercial Trust (MPACT) and will have a theoretical market capitalisation of S$10.5b.
After the announcement, Maybank maintained a "buy'' on MCT, saying it sees "strategic merits from an increased assets under management diversification, stronger distribution per unit (DPU) growth and potentially lower cost of capital''.
Meanwhile, CGC-CIMB and UOB-Kay Hian said MCT unitholders can expect to benefit significantly from immediate DPU and net asset value accretion''.
However, OCBC Investment Research said it is not "overly excited'' about the merger from MCT's perspective as it exposes the Reit to riskier markets such as China and Hong Kong.
Share buybacks exceeded S$1b in 2021
The Singapore Exchange's investor education portal My Gateway said that in 2021, 85 primary-listed Singapore stocks bought back shares with consideration totalling S$1.186 billion, following on from 100 primary-listings buying back S$1.035 billion in shares in 2020, and close to 80 primary-listings buying back S$590 million in shares in 2019.
For December, My Gateway said CapitaLand Investment led the buyback consideration tally for primary-listed STI stocks, buying back 33.6 million shares at an average price of S$3.35 per share. Raffles Medical led the buyback consideration tally of non-STI stocks, repurchasing 2.4 million shares at an average price of S$1.33 per share.
Hawkish FOMC minutes caused Wall St to wobble
On Wednesday, minutes from the Federal Reserve's December policy meeting underpinned officials' hawkish pivot and suggested earlier and faster rate increases in addition to a quicker start to normalizing the central bank's massive balance sheet—itself a form of policy tightening.
Participants "generally noted that, given their individual outlooks for the economy, the labor market, and inflation, it may become warranted to increase the federal funds rate sooner or at a faster pace than participants had earlier anticipated," the minutes say.
Several participants, meanwhile, "viewed labour market conditions as already largely consistent with maximum employment."  Taken together, those passages suggest the first rate increase could come as soon as March.
The latest minutes follow the Dec. 15 meeting where policy makers signalled three rate increases this year and three the following year as inflation concerns deepened.
US Bond yields spiked up
The 10-year Treasury yield rose Thursday to as high as 1.75%, but ended the day just below that level, after closing 2021 at 1.51%. The yield's highest level of the day was also level is its pandemic-era high, last achieved in March of 2021. On Friday, the yield shot up briefly to 1.8% before settling at 1.77%.
A weak US December jobs report but March rate hike still expected
US hiring disappointed in December but the unemployment rate slid to a new pandemic low of 3.9%, reflecting an ongoing labour shortage and underscoring expectations that the Federal Reserve will lift interest rates in March.
Employers added just 199,000 jobs last month, well below the 424,000 increase economists projected and even weaker than the upwardly revised 249,000 increase in November.
Fed funds futures pricing in rate hike in March
Following release of the latest Fed meeting, futures on the federal funds rate on Wednesday priced in a roughly 80% chance of a quarter-percentage-point rate hike by the US central bank at its March meeting.