Date: January 16, 2023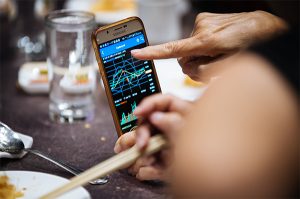 The STI managed a second week of gains in 2023, up 0.5% at 3,293.75
Helping fuel the rise was benign US inflation data
Wall St rose, with Nasdaq up six days in a row, gaining 4.8%
US Treasury bond yields eased off on expectations that the Fed will slow its rate hikes
Proxy advisers Glass Lewis recommended SATS shareholders approve WFS purchase
New rules on remuneration disclosure, independent directors' tenure
Twitter's potential exit from CapitaGreen to have immaterial impact on CICT's revenue
DBS: Investors should go for Asean consumer staple and discretionary stocks
US inflation data helped the STI to a second week of gains in 2023
The rally that the local market enjoyed in the first week of 2023 continued last week with the Straits Times Index gaining 17 points or about 0.5% at 3,293.75. Underpinning the gain was a firm Wall Street that rose because of data that suggested inflation may be moderating.
Average daily volume stayed just above the S$1b mark at S$1.14b, with most of the focus on banks, Singtel, SIA and Keppel Corp.
How Wall St fared
Over in the US news that the consumer-price index (CPI) gained 6.5% year over year in December, in line with economists' consensus estimate and lower than November's result of 7.1% was greeted positively by Wall Street. Core CPI, which strips out the more volatile food and energy prices, rose 5.7%, below the prior result of 6%.
It was yet another result that shows cooling inflation, with the CPI comfortably down from its just over 9% peak hit in the middle of last year. That increases the chances that the Federal Reserve could soon pause its interest rate hikes, which are meant to temper high inflation by reducing economic demand.
Meanwhile, the bond market is signalling that the Fed could indeed be near the end of its rate-hiking campaign. The two-year Treasury yield, a barometer of expectations about the federal funds rate, was down to 4.120% from just over 4.2% minutes before the inflation result. The 10-year yield was down to 3.425% from about 3.55% before the data.
For the week, the Dow, the S&P, and the Nasdaq posted gains of 2%, 2.7%, and 4.8%, respectively.
Friday marked the sixth consecutive trading day that the Nasdaq has closed higher. It's also the index's longest winning streak since the 11 trading days ending Nov. 8, 2021, according to Dow Jones Market Data.
Proxy adviser recommends Sats shareholders approve WFS deal
Proxy advisory firm Glass Lewis has recommended that shareholders of airline ground handler and cargo firm Sats approve the purchase of Worldwide Freight Services as the rationale is "largely sound''.
"The deal should provide the company with enhanced scale, expanded geographical reach and greater business diversification'' said Glass Lewis. "The deal should also put the company in a better position to accelerate its growth as it seeks to become a leading global air cargo handler''.
Glass Lewis calculated that the transaction has a last 12-month (LTM) earnings before interest, tax, depreciation and amortisation (EBITDA) multiple of 12 and an LTM adjusted EBITDA of 11.1. In its assessment of 14 completed transactions announced since 2018 in the airport services or air freight industries, the deal's LTM EBITDA and LTM adjusted EBITDA ranks in the 55th and 52nd percentile respectively.
On Thursday, shares of Sats jumped S$0.07 or 2.5% to S$2.88 on volume of 5.4m. They added a further S$0.01 on Friday to end the week at S$2.89.
New SGX rules on disclosure of remuneration, independent directors' tenure
Listed companies will soon have to disclose the exact amount and breakdown of the remuneration paid to their chief executive officers and directors. On Wednesday (Jan 11), Singapore Exchange Regulation (SGX RegCo) announced this, adding that the new rule takes effect for annual reports prepared for financial years ending on or after 31 Dec 2024.
SGX RegCo also said that with immediate effect, it is removing the two-tier voting mechanism that allows companies to retain long-serving independent directors (IDs) who have served for more than nine years.
Issuers will have a transition period during which IDs whose tenures exceed the limit can continue to be deemed independent until the issuer's annual general meeting held for the financial year ending on or after 31 Dec 2023.
In announcing the new rules, SGX RegCo chief executive Tan Boon Gin said "These changes provide an opportunity for companies to inject new skills, experience and knowledge into their boards, all of which will be invaluable in guiding their business for the long term''.
Twitter's potential exit from CapitaGreen to have "immaterial'' impact
The Business Times on Saturday reported that according to real estate investment trust (Reit) CapitaLand Integrated Commercial Trust (CICT), Twitter's potential exit from its office space at CapitaGreen will have an "immaterial'' impact on CICT's revenue.
According to the newspaper, Twitter in 2015 occupies an office space of 22,000 square feet in CapitaGreen, which is a 40-storey Grade A office tower located in the Central Business District and had leased an additional floor in Q4 2021.
A CICT spokesperson was quoted saying CapitaGreen contributed 6.7% to the Reit's 1H 2022 property income. In its Q3 business update, CICT said no single tenant contributes more than 5.1% of its total gross rental income. BT said Twitter's contribution to the Reit's gross rental income was less than 1% in Q3.
There have been recent media reports that workers at Twitter's Singapore office were told to empty their desks, vacate the premises and resume duties remotely.
DBS: Investors  should go for Asean consumer staple and discretionary stocks
In a report last week, DBS Group Research noted that consumer staple and consumer discretionary stocks have generally fared well even as prices and interest rates rose in 2022. This is because the former is deemed a defensive sector and the latter is seen as a beneficiary of the reopening of economies.
The research house said there is potential for significant "revenge spending'' during the upcoming festive season as restrictions are relaxed in many countries, including those in Southeast Asia.