Date: September 10, 2018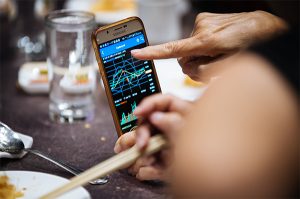 Emerging market worries continue, STI last week lost 2.5%;
Trump's proposal to add US$267b in tariffs on China added to concerns;
Indonesia's rupiah slide attracted plenty of attention;
Dairy Farm added to STI, Starhub dropped;
Strong US jobs report on Friday pushed US 10-year yield back to just under 3%;
US 2-year yield at 10-year high of 2.7%

Emerging market concerns sweep stocks lower
Our most recent market reports have discussed the contagion worries that have emerged since Turkey's economic problems hit the headlines on 10 August, followed by Argentina on 30 August asking for early release of emergency IMF (International Monetary Funds) money.
Those fears then shrouded all emerging markets last week, dragging regional stocks sharply lower. Over the five days, the Straits Times Index lost just over 79 points or about 2.5% at 3,134.39, the biggest loss coming on Wednesday when it plunged 54.23 points or 1.7% in tandem with a 2.6% selloff in Hong Kong.
Pressure in Hong Kong and on China's stock markets was not just because of emerging market contagion worries but also because of trade frictions with the US.
In addition to conditions worsening in Turkey and Argentina, news out of other emerging markets last week was not encouraging. South Africa unexpectedly dipped into recession in the second quarter, with weak growth exacerbating continued jitters about the rand and raising the risk of a credit downgrade.
Meanwhile, inflation in the Philippines jumped to 6.4% in August, from 5.7% in July, exceeding most economists' expectations and pressuring the central bank to raise interest rates–a troubling prospect as economic growth slows, whilst over in Indonesia, the rupiah has now lost 9% for the year so far and is closing in on the levels it traded during 1998's Asian Financial Crisis.
DBS Group Research in a report on Indonesia cited a widening current account deficit, sizeable foreign ownership of domestic bonds and high corporate dollar debt as "pain'' points.
Morgan Stanley strategist Sean Gardiner was quoted in a Friday story in Business Times warning of the danger that continuing rupiah weakness will spill over into corporate activity whilst Aberdeen Standard Investments director Bharat Joshi was quoted in the same story as saying unless policymakers build the impression of a credible approach towards stabilising the currency, foreign investors will stay away.
US's ongoing trade wars add to incentive to sell
Adding to emerging market woes are concerns over the impact the US's trade wars with several parties such as China, the European Union and Canada might have on global growth. The iShares MSCI Emerging Markets Index is down about 14% over the past six months.
On Friday, US President Donald Trump said tariffs on an additional US$267b worth of China's goods were "ready to go'' on top of the US$200b already proposed. US stocks fell as a result, although possibly adding to pressure was news that US nonfarm payrolls grew 201,000 in August versus the 191,000 that the market had expected.
This raised the likelihood of more US interest rate hikes – the current probability that rates will be raised at the September 25th meeting is now 100%. The news pushed US Treasury yields higher, with the 10-year jumping 6 basis points to 2.939% whilst the 2-year closed at 2.7%, the highest close since 30th July 2008.
Indonesian-linked SGX-listed stocks hard hit
Using data from the Singapore Exchange's (SGX's) investor education portal My Gateway, the Business Times on Thursday reported that the 10 largest capitalised stocks on the Singapore Exchange (SGX) which derive more than 10% of revenue from Indonesia have seen their average total return for the first eight months of 2018 fall by 8.8%, in line with a 9.2% per cent in the Jakarta Composite Index's total returns over the same period in Sing dollars.
Indonesia-exposed Golden Agri Resources, for example, has seen its shares drop 20% this year. Others that have been hit include Jardine Cycle & Carriage, First Resources and Sinamas Land.
Although prices have drifted lower in the local market though, activity has been muted. Optimists might describe the selling as "well-absorbed'', though this would only offer a little comfort to a broking community that has seen daily volume grind lower with each passing week over the past 3-4 months. Last week, daily dollar volume ranged from a low of S$823 million on Monday to a high of S$1.05b on Wednesday.
Dairy Farm added to STI, Starhub dropped 
As part of its regular review of the performance of STI components, SPH (Singapore Press Holdings) on Thursday announced that pan-Asian retailer Dairy Farm, which is part of the Jardine group, will take the place of telco Starhub, effective 24 Sep onwards. This move will raise the weightage of Jardine stocks in the index to 15.4%.