Date: July 18, 2022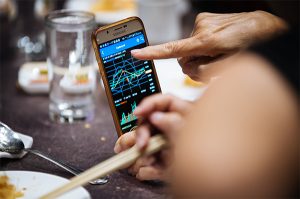 The STI lost 32 points or 1.02% at 3,099.15
Main reason was continued US inflation and interest rate worries after news that CPI in June rose a higher-than-expected 9.1%
Wall St is worried that July's rate hike will be 100 basis points
US Treasury yield curve remained inverted
Philippine liquor firm Emperador started secondary trading here
mm 2 Asia's auditor flagged going concern worries, company's Board reassured investors that steps have been taken
Genting Singapore's shares up on takeover speculation
China's economy slowed sharply in Q2
Bank of America: US earnings estimates are too optimistic
The STI fell 32 points or 1.02% on US inflation, interest rate concerns
Given the market's current ongoing obsession with US inflation and interest rates, it would be fair to say the pivotal session as far as Wall Street was concerned last week came on Wednesday when the US Labour Department announced that year-over-year consumer price growth reached 9.1% in June, which shocked the market as it was three-tenths of a percentage point higher than the consensus forecast.
The resultant selling on Wall St and other equity markets led to a 32-points or 1.02% loss for the Straits Times Index at 3,099.15. The fall came in low volume with daily average dollar turnover coming in at just S$934m, below the ballpark breakeven figure of S$1b for the broking industry.
Probability of 100-basis points hike next week at 30%
On Wed, the futures market immediately priced in a 90% probability of a 100-basis point – or a full percentage point – increase in the Federal Open Market Committee's target interest rate at its July 27th meeting, to a range of 2.5% to 2.75%. On Tuesday, the chance of a 100-points hike was just 7.6%.
On Thursday though, the probability of such a large rate hike fell to 42% after Fed governor Christopher Waller said markets had gotten ahead of themselves in thinking that the rate hike would be 100 basis points. On Friday, the probability fell further to 30%.
The Fed hasn't increased rates by 100 basis points in a single move since the 1980s, and the idea would have seemed far-fetched a few months ago. But so did a 75-basis-point hike, which is exactly what the Fed announced at its last meeting in June. That was the biggest increase since 1994 and followed a half-point increase in May.
US Treasury yield curve remained inverted
The 2-year yield, which is more sensitive to changes in monetary policy, on Friday fell 2 basis points to 3.124%. The yield on the benchmark 10-year Treasury note fell 3 basis points to 2.926%. Yields move inversely to prices.
An inverted yield curve is one where the long yield is lower than short yields. It has been interpreted in the past as heralding a recession.
Philippine liquor firm Emperador started secondary trading here
Manila-listed liquor company Emperador started trading on SGX's mainboard at 43.5 cents on Thursday. The company opted for a secondary listing by way of introduction and did not sell new shares.
It is the first Philippine Stock Exchange-listed company to conduct a secondary listing on the SGX. The stock closed at 45 cents with 6.1 million shares traded. Emperador said it is the biggest whisky company in the Philippines and the largest brandy company in the world.
mm2 Asia's auditor raised going concern worries
The auditor of entertainment firm mm2 Asia has flagged a material uncertainty that may cast significant doubt on the company's ability to continue as a going concern.
In its report on the financial statements of mm2 Asia for the financial year ended Mar 31, 2022, Nexia TS Public Accounting Corporation noted that the group incurred a net loss for the financial year, and its current liabilities exceeded its current assets.
mm2 Asia incurred a net loss of S$42.1 million for FY2022 and as at Mar 31, 2022, its current liabilities exceeded its current assets by S$76.3 million. Its auditor also noted that the group has borrowings amounting to $154.4 million which are due within the next 12 months from the end of the financial year.
However, the accounts were prepared on a going concern basis with the assumption that mm2 Asia "will be able to meet its liabilities as and when they are due''.
In a press statement, the company's Board said it is of the opinion that there are no worries as to mm2 Asia's ability to operate as a going concern as the company has taken steps to address the issue.
For example, the firm has issued 390m placement shares at S$0.05 each to raise S$19.5m whilst its wholly-owned subsidiary mm Connect on May 12 and Jun 22 also entered into agreements to issue unsecured convertible bonds worth S$12 million carrying a 5 per cent coupon rate. The bonds mature 2 years from their respective dates of issue.
Genting Singapore's shares up on takeover speculation
Shares of casino operator Genting Singapore shot up on Friday after Bloomberg reported that US rival MGM Resorts International has approached Genting's controlling family to express interest in a deal.
While those discussions didn't lead to an agreement, other potential suitors have also been in the preliminary stages of studying Genting Singapore, said the report.
Genting's shares rose S$0.055 or 7.3% to S$0.805 on volume of 112.8m, making it Friday's most active counter. Trading was halted during the midday break. The company has since been queried by the exchange as to reasons for the sharp rise in its share price.
China's economy slowed sharply in Q2
China's economic growth for the second quarter was just 0.4% year-on-year, the lowest rate of growth since the first 3 months of 2020 when the country shut down to fight Covid-19.
The National Bureau of Statistics spokesman was quoted saying "Looking at the next stage, the risk of stagflation in the global economy is rising''. Stagflation is a combination of slowing growth, high unemployment and rising inflation.
Goldman Sachs responded to the data by saying the figure surprised on the downside, leading to the bank revising its full-year GDP growth for China down from 4 to 3.3%. "We maintain our view that fiscal and credit easing may play a more important role in coming months'' it added.
Bank of America lowered its target for the S&P 500 – earnings estimates have to be cut
On Thursday, Bank of America strategists lowered their year-end price target for the S&P 500 to 3600, below the index's current level of just under 3800. The strategists are also giving more weight to their worst-case scenario for the index—a 50% chance of the index falling to 3250.
They raised the probability of a drop to the worst-case scenario because the risk of a recession is rising, which means corporate profits are at risk.
The target starts with the assumption that profit forecasts must decline. Bank of America says the aggregate analyst estimate for S&P 500 earnings in 2023 could fall to US$187. That implies analysts have to cut estimates by about 24% from the current US$247.