Date: October 14, 2019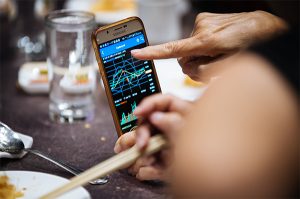 The STI rose 35 points or 1.2% to 3,113.97 on hopes of trade deal;
A partial deal was announced on Friday so a Monday bounce can be expected;
In local news, Motley Fool will cease operations here;
Koon Holdings announced debt moratorium;
Auditor says "material uncertainty'' over ASL Marine's ability to continue as a going concern;
Volume in Sep was 3% down year-on-year
US-China trade resumed pole position
After a short break during which markets obsessed about the health of the US economy, the attention returned last week to developments on the US-China trade front. The outcome would be familiar to most readers – the main indices tracked announcements about trade, even though there was nothing concrete that emerged for most of the week.
On Monday, markets took their cue from reports that China was not interested in a broad-based deal with the US, preferring instead to narrow the scope of issues it wishes to resolve.
Shortly after, the US expanded its trade blacklist to include more Chinese companies and government agencies for what the Trump administration said was due to China's treatment of Muslim minorities in Xinjiang province. Predictably, China rebutted the claim and said it would retaliate.
On Wednesday, Wall Street rebounded from a large Tuesday loss after a Bloomberg news report quoted a Chinese official who said that China was open to a partial trade similar to those it has sought since 2017 — as long as no more tariffs are imposed by President Donald Trump, including two rounds of higher duties set to take effect this month and in December.
In return, Beijing would offer non-core concessions like purchases of agricultural products without giving in on major sticking points, the official said, without offering further details.
On Thursday after the first round of talks, reports emerged that some progress had been made and this helped push Wall Street prices higher. This helped push down prices in the US Treasury market, with the result that yields rose.
On Friday, the Straits Times Index rose sharply in anticipation of a partial deal being struck, which in fact was the case later that day. As a result, the index managed a 35.61 points or 1.2% gain for the week at 3,113.97. Wall Street's bounce on Friday should mean another spike up in the STI on Monday, but some observers have warned that there are many other problem areas.
Much more needs to be done
DBS Group Research last week said a trade deal can only offer interim relief because the antagonism between the two countries is in fact widening. The broker also said there are many areas of confrontation that have emerged beyond agriculture purchases and market access.
Motley Fool to stop operating here
On Thursday, The Business Times reported that investment advisory firm The Motley Fool will cease operations here because of regulatory issues. The newspaper said the company is classified as a financial institution and operates with a financial adviser's license under the Financial Adviser's Act, which means it has to maintain a paid-up capital of S$150,000 and net assets of at least three months' expenses subject to a S$112,500 minimum.
Chief executive officer David Kuo was quoted as saying these requirements are too financially onerous and were what lay behind the firm's decision to close operations here.
Koon Holdings applied for debt moratorium
The mainboard's Koon Holdings last week applied for a 90-day debt moratorium in order to devise a scheme of arrangement with their creditors. The construction firm reported a net loss of S$50m for the 6 months ended 30 June and its auditors, Ernst and Young in Sep issued a disclaimed of conclusion over Koon's financial results whilst stating there was "material uncertainty'' as to whether the company could continue as a going concern. Koon's shares have been suspended from trading since Aug 30.
ASL Marine may not be able to continue as going concern
Marine and investment firm ASL Marine said on Friday that its independent auditor Ernst & Young, has raised a "material uncertainty'' over whether ASL can continue as a going concern. The group had incurred a net loss of S$146m for the year ended 30 June, whilst its current liabilities exceed its current assets by S$20.8m. ASL has total borrowings of S$173m.
DBS on Singtel
Singtel may have to cut its dividend payout in order to maintain its credit rating, said DBS Equity Research last week. The broker said in a report that it expects Singtel to report core Ebitda (earnings before interest, tax, depreciation and amortisation) of below 30% over the next 2 years, partly due to pricing pressures in Australia and Singapore's mobile markets.
As a result, the telco might reconsider recalibrating its dividend policy from a fixed payout to one that is pegged to underlying earnings to relieve the burden on the balance sheet, said DBS.
Turnover was 3% lower in Sep
SGX reported that total securities market turnover increased 2% y-o-y to S$19.7 billion in September, while securities daily average value (SDAV) was down 3% y-o-y at S$940 million.
"The benchmark Straits Times Index (STI) generated total returns of +0.5% during the month, against declines in most Southeast Asian markets. The top 10 dividend-yielding STI stocks averaged +4.5% price returns year-to-date compared with the STI's +1.7%. Utilities, banks and real estate excluding REITs were the top-performing sectors for the month'' said SGX.