Date: September 20, 2021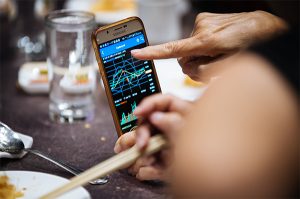 The STI fell 27 points or 0.8% to 3,071.23 during the week
Daily volume averaged S$1b but more than doubled on Friday
Friday's activity was lifted by news of joint government efforts to boost local stock market
Wall St underwent volatile week, trading was driven by economic reports
All eyes on next week's FOMC
Equity markets to correct 5-10% before year-end: Deutsche survey
Low volume, not much activity – until Friday
It was another relatively nondescript trading week that just passed for the local stock market, one in which the Straits Times Index traded within a tight band whilst not displaying much impetus to break upwards through the 3,100 level nor fall back below 3,050.
As always, the index owed most of its daily gyrations to the banks, Jardine group and Singtel. Only a few stocks enjoyed notable attention and there was initially hardly any reaction to a Wednesday report by Bloomberg news agency that said Temasek and GIC are poised to boost the domestic stock market through a billion-dollar fund.
However, once an official announcement was made on Friday that the effort involved Temasek, MAS, EBD and SGX, there was an uptick in interest that manifested itself in volume traded – the daily average volume done between Monday and Thursday was S$1b, whilst Friday's turnover more than doubled to S$2.6b.
However, the 6.69 points rise in the Straits Times Index on Friday was not enough to make up for losses early in the week, with the result that the index recorded a 27-points or 0.8% fall to 3,071.23.
Trading on Wall St was driven by economic news
Over in the US, the major US indices underwent a relatively volatile week, bouncing along with the release of economic data which suggested that US economic growth is either proceeding nicely or possibly stalling.
On Tuesday for instance, US stocks dropped sharply after release of the latest consumer price index which although it fell, had sufficient signs of core strength to suggest to some analysts that the weakness might prove short-lived.
As economists at Citi put it, August's report looks like "transitory weakness." They added: "We continue to see signs that inflationary pressure will be more persistent than Fed officials or markets expect."
However, Wall St rebounded smartly on Wednesday after strong industrial production numbers suggested that growth is on track and perhaps not stalling and this was a view reinforced by better-than-expected retail sales data on Thursday. The momentum was not maintained as prices dipped once again on Friday.
The focus in the week ahead will be very much on the US Federal Reserve's Open Markets Committee meeting on Tuesday and Wednesday. Investors will be watching for signs of when the Fed will begin to reduce its US$120b per month bond buying programme which is adding liquidity to markets whilst helping keep interest rates low.
They will also be looking out for the Fed's assessment of the economy and for clues as to where interest rates might be headed.
Singapore Inc plans to boost local stock market
Activity on Friday improved after an announcement of a large-scale effort by many government agencies to boost the local stock market.
Headlining the package of initiatives is a co-investment fund established by the government and Temasek. The fund's first tranche of S$1.5 billion will go towards supporting "promising high-growth enterprises and market leaders" in their initial public offerings (IPOs) in Singapore, including secondary and dual listings on the SGX.
Called Anchor Fund @ 65, the fund will be managed on a commercial basis by Temasek's wholly owned investment platform 65 Equity Partners. It will also provide pre-IPO financing to catalyse the growth of target enterprises and support them in their journey towards an eventual public listing.
At the same time, EDBI, the investment arm of the Singapore Economic Development Board (EDB), will establish a new Growth IPO Fund to invest in later-stage enterprises that are two or more funding rounds away from a public listing.
Starting with a fund size of up to S$500 million, EDBI will partner companies to grow their operations in Singapore and work towards an eventual public listing in Singapore.
Meanwhile, the Monetary Authority of Singapore (MAS) will expand the scope of support under its Grant for Equity Market Singapore (GEMS) scheme that helps defray listing costs and hiring of research talent.
The Singapore Exchange (SGX) said it will develop bespoke capital market solutions – ranging from private fundraising, liquidity and profile building, and augmenting future growth drivers – to support the unique needs of high-growth companies.
Equity markets to correct 5-10% before year-end: Deutsche survey
On Monday, Deutsche Bank strategist Jim Reid and his team published a monthly survey of more than 550 global finance professionals showing that 58% expect an equity correction of between 5% and 10% before the end of the year. Another 10% saw a market correction of more than 10% ahead.
The survey, which was conducted between 7 and 9 Sep, found that the biggest risk to the current relative market stability was new variants of COVID-19 that bypass vaccines, with 53% of those surveyed most concerned about this factor.
This was followed by concerns over higher-than-expected inflation, weaker-than-expected economic growth, a central bank policy error, and waning vaccine efficacy.
The survey also found that 44% of global investors expect lockdown restrictions to continue as they are, whilst a third (34%) believe further restrictions are to come but without a full-scale lockdown.