Date: April 22, 2019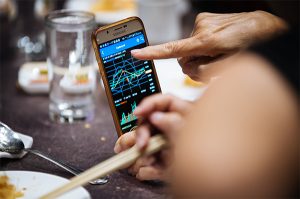 The STI rose 0.5% in quiet trading in a holiday-shortened week;
China's robust growth in the 1Q helped support prices;
Singapore's NODX surprisingly plunged in March;
Local stocks in focus included Best World, whilst Hyflux's problems continued;
Outlook for the market is marginally positive
The STI gained 16 points over the week
It was a relatively quiet four days of trading in local stocks last week, with the Straits Times Index's movements driven largely by the banks and Jardine group. In common market parlance, it might be said that the market appeared to be "searching for fresh leads'' but didn't manage to find any.
News on Wednesday that China's economy posted better-than-expected growth in the first quarter helped bolster sentiment and gave traders and excuse to push prices up, but the mood overall was still cautious, possibly because of the looming threat of a US-Europe trade war. Not surprisingly, prices fell back the next day.
Meanwhile, the US-China trade talks have not been settled although both sides continued to make positive noises.
China's growth was the main positive
China's gross domestic product rose 6.4 percent in the first three months from a year earlier — matching last quarter's pace and beating economists' estimates. Factory output in March jumped 8.5 percent from a year earlier, much higher than forecast. Retail sales expanded 8.7 percent while investment was up 6.3 percent in the year to date.
China's rate of growth is closely-watched for the potential knock-on effect on the global economy. Beijing has taken steps to boost its slowing economy, including tax cuts, while trying not to inflate debt. The world's second-largest economy also faces softer global demand for its products and a trade war with the US.
Bloomberg quoted observers saying the data strengthens China's hand in its US trade negotiations.
The news agency quoted Michael Hirson, Practice Head, China and Northeast Asia at Eurasia Group and a former U.S. Treasury Department official  as saying President Trump and other U.S. officials spent much of the last year saying that China's slowdown was making Beijing desperate for a deal.
"Now that China's growth is recovering, Trump and team will be getting more questions from pundits and the media about whether his leverage is slipping away."
 Singapore's exports dive unexpectedly
On Wednesday came news that Singapore's non-oil domestic exports plunged 11.7% in March from last year, a shock drop that was attributed to regional slowdowns, especially Japan, Taiwan and Hong Kong. The slide was the worst since Oct 2016 and compared with private sector expectations of 2.2% growth.
In other local news:-
Best World
Beauty products firm Best World has been in the news lately following questions over its sales model in China. The company last week announced it is applying for a 2-month extension of the deadline for its annual general meeting to 30 June, pending the results of an independent review of its China franchise model.
PricewaterhouseCoopers was appointed on 18 March after a Business Times article raised issues over how it sells its products in China. Best World's shares rallied strongly in response to the announcement.
Hyflux,  PUB and SMI – problems mount
The Public Utilities Board on Wed issued a takeover notice to Tuaspring to take over the latter's desalination plant. The national water agency also terminated its water purchase agreement with financially-strapped Hyflux Ltd.
PUB will acquire the loss-making desalination plant for zero dollars, leaving Hyflux to own and run the Tuaspring power plant which sits on the same site.
Hyflux on 4 April terminated a rescue deal with Indonesia's SMI and investors are currently waiting to see if another white knight might emerge.
However, after Hyflux terminated its SMI deal, it then sued the latter for withdrawing from the restructuring agreement. On Friday, SMI countersued, saying it does not accept Hyflux's "purported termination'', adding that SMI only ended the agreement on Friday in accordance with the relevant terms. At stake is the S$38.5m that SMI deposited in an escrow account in Oct last year when it agreed to invest S$530m in rescuing Hyflux.
Separately, Hyflux announced that its only secured creditor, Maybank, has terminated its collaboration agreement with Hyflux and Tuaspring, and intends to appoint receivers and managers over the assets of Tuaspring apart from the desalination plant and shared assets.
Under the collaboration agreement dated 5 July 2018, Maybank would refrain from enforcement proceedings against Tuaspring in return for Hyflux agreeing to continue seeking potential investors with a view to selling its interest in Tuaspring's integrated water and power project.
The outlook for local stocks
Stock market observers said last week that they were encouraged by the STI's ability to hold on to its key resistance level of 3,350, which was taken to suggest investors are not overly pessimistic about what the future holds. All eyes are expected to be still on whether the US-China trade talks can reach an amicable settlement and whether the US actually does introduce tariffs on Europe as was threatened last week.
The main issue, one that has dogged the market here for many months now, is liquidity. Trading last week hovered close to $1b per day, a level taken to be an official breakeven amount for the local industry.