Date: December 19, 2022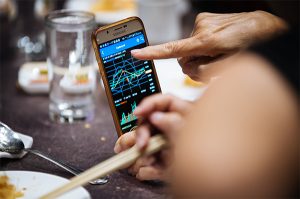 All eyes were on the FOMC meeting at which a 50-points rate hike was widely expected
The Fed delivered the 50 points but there was no dovish shift
Fed's "dot plot'' shows higher end rate next year, above 5%
Wall St sold off, though the STI only lost 5 points or 0.15% at 3,240.81
Singtel and the banks recorded highest net institutional buying this year
Private sector economists have downgraded 2023 growth
NODX contracted worse-than-expected 14.6% in Nov
Wednesday's FOMC meeting was the week's main event
The week's most significant market-moving event was the US Federal Open Markets Committee meeting that ended on Wednesday. Prior to the meeting, markets had expected a 50 basis points rate hike since this had been widely telegraphed by the Fed, so they real significance lay in other areas such as where the US central bank sees its ultimate target to be.
In the run-up to Wednesday's meeting markets had been gradually rising on hopes that once rates were actually raised by the expected 50 points, the Fed would signal a dovish shift.
These hopes were bolstered by news on Tuesday that November's US consumer price index posted the smallest monthly increase in more than a year, suggesting that the worst of inflation may have passed.
Markets were disappointed that there was no dovish shift
As it turned out, investors were to be disappointed – officials increased their target interest rate by 50 points but flagged a higher peak rate in 2023. The central bank's "dot plots" signalled the federal funds rate will settle above 5% in 2023 instead of the previous 4.6% — and stay there for the year. The reason is that though inflation is coming down, the rate isn't anywhere close to the Fed's 2% target.
"Euphoria from Tuesday's tamer-than-expected November CPI [inflation] report gave way to Wednesday's still-hawkish comments from Fed Chairman Powell," wrote Christopher Harvey, chief U.S. equity strategist at Wells Fargo.
"US stocks are declining as investors can't shake off all the hawkish rhetoric that came from central bankers this week and as the private sector clearly entered a strong downturn," wrote Edward Moya, senior market analyst at Oanda. "Recession risks will only grow now that Powell has signalled that we should expect 'ongoing increases''.
Wednesday's increase was the central bank's seventh rate hike of 2022 and follows four straight 0.75 percentage-point bumps. It brings the fed-funds rate target range to 4.25% to 4.50%.
Not surprisingly, US stocks and bonds came under selling pressure. For the week, the Dow, the S&P 500, and Nasdaq Composite dropped 1.7%, 2.1%, and 2.7%, respectively.
On Thursday, the Bank of England followed the Fed's lead on the inflation front. The bank lifted short-term rates by half of a percentage point and signalled more to come. The European Central Bank did the same.
In the bond market, Treasury yields rose as their prices declined. The yield on the 2-year U.S. Treasury note jumped 0.05 percentage point, to 4.26%, after having been down slightly before the FOMC release.
The futures market is currently pricing in a 75% chance that the next rate hike in February 2023 will be 25 basis points.
Singtel and the banks recorded highest institutional buying this year
The Singapore Exchange's investor educational portal My Gateway said close to 300 Singapore-listed stocks have been recipient to net institutional inflows in the 2022 year through to 9 Dec.
"The 20 stocks currently listed for trading that booked the highest net institutional buying over the 49 weeks, were led by Singapore Telecommunications, Overseas Chinese Banking Corporation, Keppel Corporation, City Developments and Sembcorp Marine''.
"The 20 stocks contributed 85% of the combined net institutional inflows of the close to 300 stocks recipient of year-to-date net institutional inflows. These 20 stocks also averaged 35% (18% median) total returns for the 49 weeks, with 17 of the 20 stocks outpacing the STI's 8% total return and all 20 stocks outpacing the FTSE Asia Pacific Index decline in total return'' said My Gateway.
Singapore's 2023 growth forecast downgraded by private sector economists
According to the latest quarterly survey of professional forecasters published by the Monetary Authority of Singapore, private sector economists have cut their 2023 forecast for Singapore's economic growth from 2.8% to 1.8% while raising their inflation forecasts.
Headline inflation next year is expected to be 5.2% – up from 3.5% in the last quarter's survey – and core inflation is forecast to be 4%, up from 3.1%.
For this year, respondents raised their full-year growth from 3.5 to 3.6%.
Singapore's NODX fell worse-than-expected 14.6% in Nov
Singapore's November non-oil domestic exports (NODX) contracted by 14.6% from a year ago, much worse than the median 6.5% decline forecast by economists in a Bloomberg poll.
On a seasonally-adjusted basis, NODX decreased for the fourth consecutive month, down 9.2% in Nov following October's 4.2% drop.
The Business Times quoted Oxford Economics' senior Asia economist Alex Holmes saying "Singapore's external sector has graduated from a slowdown to a slump'' adding that "NODX is now almost 10% below the pre-pandemic level in Dec 2019 and nearly 16% lower than a year ago''.
The shipment of electronic products fell 20.2% year-on-year in Nov versus the previous month's 9.3% contraction.