Date: April 27, 2020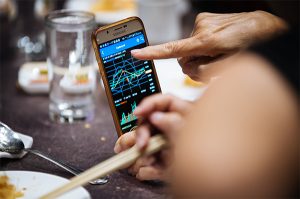 Negative oil and Gilead disappointment drag 3.7% off STI;
Some European countries start partial reopening;
US jobless claims continued to rise;
Singapore banks will start earnings reporting this week;
SIA responded to SIAS
Last week will probably be remembered for oil prices crashing into negative territory, a development which has shocked investors and brought the sellers out in global stocks.
Also dampening sentiment was an announcement on Thursday by US drug company Gilead that it did not have conclusive evidence that its experimental drug was effective in treating Covid-19 since it had terminated a trial in China early. Markets had earlier in the month risen sharply on hopes that Gilead's drug might lead to a vaccine.
However, on the upside, providing support for equities was news of a partial reopening for some European countries, notably Germany.
The ensuing tug-of-war meant the Straits Times Index finished a generally soft and volatile week with a 96.44 point or 3.7% loss at 2,518.16. Sentiment was also probably affected by an announcement that the lockdown in Singapore is being extended from 4 May to 1 June.
Oil prices undergo a volatile week
Despite large production cuts by the Organisation of Petroleum Exporting Countries or Opec, the huge oversupply in the past two months has brought prices crashing. On Monday, they sank to -US$37 per barrel and despite a modest rebound mid-week, analysts fear the rout is not over.
Markets Insider on Friday quoted Paul Sankey, an analyst at Mizhuo Securities, as saying the price of US West Texas Intermediate Crude could fall to negative US$100 per barrel next month.
"Will we hit -US$100/bbl next month? Quite possibly," Mr Sankey wrote. "If you had a stinking barrel of oil in your backyard, would you pay someone US$100/bbl to take it away? Yes, and you would probably be relieved you were not charged $300/bbl," Sankey wrote.
West Texas Intermediate crude oil for June delivery rose 19.7% on Wed, at US$16.50 a barrel. Front-month futures for Brent crude, the international benchmark, settled up 4.7% at US$21.33 a barrel.
Lockdowns being slowly lifted give markets hope
Germany on Monday allowed bookshops, florists, fashion stores, bike and car outlets and other shops smaller than 800 sq m to reopen on Monday morning. In Berlin a few schools allowed final-year students to sit exams. According to news reports, pupils arrived wearing face-masks, and took their seats at widely spaced desks.
US jobless claims continued to rise
Some 4.4 million Americans filed for unemployment insurance last week, a touch below economists' expectations for 4.5 million. This brings the total to 26m who have lost their jobs over the past month as the coronavirus pandemic has forced large parts of the US economy to shut down.
The news had little impact on US Treasury bonds, although this could be because yields are already so low – the 10-year currently yields around 0.628%.
Singapore banks to start earnings reporting this week
This week will see the start of earnings reporting by the three local banks. In a report on what to expect, Maybank Kim Eng noted that DBS will be reporting on 30 April followed by UOB on 06 May & OCBC 08 May.
"Credit charges should see a notable acceleration, but a brunt of the charges may likely come from 2Q20 onwards reflecting the full effect of lockdowns in Singapore and the region. We expect loans to see healthy growth, partly as customers increased liquidity reserves to face escalating Covid-19 uncertainties, but NIMs should see continued contraction as a result of weaker interest rates'' said MKE.

"Non-interest income may see growth in trading related segments, but wealth management, credit card fees may likely be softer. This is the first time the banks will be reporting abridged financials following SGX moving to half-yearly reporting. So there will be additional focus on the detail and quality of guidance under this standard. OCBC is our preferred pick''.
COVID-19 stocks in play
Although the market has been weak for the past month, some stocks have enjoyed attention for their COVID-19 connections. On Friday for example, when the STI dropped 24.21 points or about 1%, Catalist-listed Singapore eDevelopment was the most actively traded counter, rising 1 cent or 25% to 5 cents on volume of 75m.
On Thursday, the company's US subsidiary, Impact BioMedical, said its effective ownership in a suite of antiviral and medical technologies that have shown "encouraging COVID-19 testing results'' is valued at S$542m.
SIA responded to SIAS
Singapore Airlines (SIA) on Friday responded to an earlier query by the Securities and Investors Association of Singapore (SIAS) on the national carrier's $15b cash call that is divided into a renounceable rights issue and mandatory convertible bonds (MCBs).
SIA said the worsening environment for travel has made it difficult for airlines to tap the deb markets, while secured financing and sale-and-leaseback transactions would create more cash outflow obligations.
Raising capital through rights shares and rights MCBs allows SIA to treat the capital raised as equity, thus strengthening its balance sheet.