Date: November 23, 2020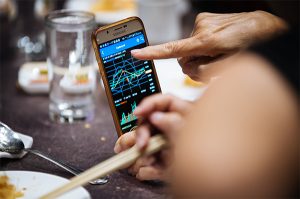 The Straits Times Index gained 3.8% over the week at 2,813.01;
Main drivers were a new trade deal and vaccine news;
Wall Street dipped on Friday as Treasury and Fed disagree on emergency funds;
DBS India to merge with troubled Lakshmi Vilas;
Starburst's bosses under investigation;
Penny stocks in play included Oceanus and Blumont;
SPH's shares surge 22% on Friday on restructuring speculation
RCEP and vaccine news provided main backdrop
News of the freshly signed Regional Comprehensive Economic Partnership (RCEP), a mega free trade deal backed by China and involving 14 other Asia-Pacific countries including Singapore was one big driver of the local stock market in the early part of the week.
The other driver was hope that there might be a viable vaccine soon to combat COVID-19, the virus that has paralysed the world's economy for most of this year. Biotechnology firm Moderna last week announced that its vaccine called mRNA-1273 has a 94.5% efficacy.
"A review of solicited adverse events indicated that the vaccine was generally well tolerated. The majority of adverse events were mild or moderate in severity'' said Moderna. However, it added that "as more cases accrue leading up to the final analysis, the Company expects the point estimate for vaccine efficacy may change''.
The news was greeted positively by markets, coming as it did a few days after Pfizer announced it too was close to a vaccine. The outcome here was a 102 points or 3.8% per cent rise in the Straits Times Index to 2,813.01.
Federal Reserve and Treasury Secretary clash over emergency funds
Wall Street stocks were weak on Friday after Treasury Secretary Steven Mnuchin on Thursday declined to extend emergency loan programs that were set up with the Fed and due to expire at the end of the year. He also asked the central bank to return the unused funds to the Treasury.
The US Federal Reserve voiced its objection to the move and said it would prefer that "the full suite of emergency facilities established during the coronavirus pandemic continue to serve their important role as a backstop for our still-strained and vulnerable economy''.
The 10-year Treasury yield dropped three basis points, or hundredths of a percentage point, to 0.83%. It has fallen significantly from its 0.96% level hit on Nov 10 as investors have gotten jittery about near-term growth.
DBS India to merge with troubled Lakshmi Vilas Bank
Last week, the Reserve Bank of India (RBI) announced a draft scheme to amalgamate cash-strapped Lakshmi Vilas Bank (LVB) with DBS Bank India Ltd. It also superseded the LVB board and placed the bank lender under a 30-day moratorium ending on December 16.
In a regulatory filing on Tuesday, DBS said it will pump 25 billion rupees (S$463 million) into its India unit, if the RBI's plan is approved. This will be funded from DBS' existing resources, it added.
RBI's proposed plan would give the expansion ambitions a fillip as it would vastly increase the footprint of DBS in India, where it only has 35 branches in 25 cities. Chennai-headquartered LVB, by contrast, has a vast network of more than 550 branches and 900-plus ATMs across India.
Starburst's bosses under investigation
Starburst Holding executive chairman Edward Lim Chin Wah and managing director Yap Tin Foo are being investigated in relation to "corrupt transactions with agents", the Catalist-listed firm said on Wednesday, in response to queries from the Singapore Exchange on Monday.
Starburst designs firearms-training facilities and shooting ranges, and installs anti-ricochet ballistic protection systems for firearm shooting ranges and tactical training mock-ups for law enforcement, military and security agencies as well as civil authorities in Southeast Asia and the Middle East.
Penny stocks in play included Oceanus and Blumont
Friday's most actively traded stocks was Oceanus, which added $0.004 or 22% at $0.022 on volume of 642.7m. The stock has been in play and rising since 9 Nov after the seafood company posted its highest revenue for the nine months ended 30 Sep 2020 since FY2011 as well as a return to profitability in Q3.
Also in play were shares of Blumont Group after businessman Mark Wee triggered a mandatory unconditional cash offer to buy over the company at $0.0004 after acquiring a 50.8 per cent stake in the company.
Unlike most offers which are at premiums to the prevailing trading prices, Mr Wee's offer carries an approximately 80 per cent discount to Blumont's share price, whether for the one-, three- or six-month period leading up to its last trading day before the offer.
He is currently the executive chairman and major shareholder of WHT Capital, an investment management and holding company, in Malaysia, and the executive deputy chairman and CEO of Bursa-listed hospitality firm Landmarks Berhad.
SPH's shares jumped 22% on Friday on restructuring speculation
Shares of media and property company Singapore Press Holdings (SPH), which had been on a downtrend for several months and recently sank below $1, surged as much as $0.23 or 22% to an intraday high of $1.28 on Friday, drawing a query from the Singapore Exchange.
The stock, which is trading cum-dividend, eventually ended the session at $1.25, $0.20 or 19% higher for the day on volume of 85.6m shares traded. According to a Business Times report, about 110 large trades, each valued at more than $150,000 were done. The company will pay a dividend of $0.01 on 18 Dec.
The same newpaper report also quoted a note from OCBC which said there has been talk of imminent corporate restructuring news that might be announced soon, although it added that it was unable to verify the accuracy of the source.
In response the exchange's query, SPH replied that it regularly evaluates opportunities that could enhance shareholder value but stressed that there is no guaranty that any of the discussions would lead to concrete agreements.