Date: November 29, 2021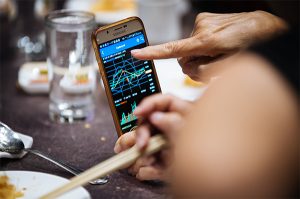 Sudden news of South African virus variant cut 2% off the STI at 3,166.27
Biggest selling came on Friday when index tumbled 1.7%
Wall St also took a hit, major indices down 2.3-2.5% after earlier rise in the week on Powell's re-appointment as Fed chair
Bonds benefited from flight to safety, US 10-year Treasury yield plunged from 1.64% to 1.48%
Travel and hospitality stocks were the losers, healthcare and glove maker stocks were the winners
Economy is expected to grow 3-5% next year
October's manufacturing up 16.9%
New virus, new problems
A large, unexpected plunge on Friday because of news of a new Covid-19 variant cut 55.35points or 1.7% off the Straits Times Index at 3,166.27 meant that for the week, the index sustained a loss of 66 points or 2%.
During Asian trading hours on Friday, the futures for the Dow Jones Industrial Average fell 650 points, while those for the S&P 500 fell 1.5%. Nasdaq 100 futures were also in in negative territory. Later when Wall St opened, the Dow  plunged 950 points or 2.53% to 34,899 whilst the S&P 500 lost 2.27%.
The selling throughout all markets came after World Health Organisation officials on Thursday warned of a Covid-19 variant detected in South Africa. The United Kingdom suspended flights from six African countries due to the variant.
Flight to safety benefited bonds
Bond yields tumbled amid the flight to safety. The yield on the benchmark U.S. 10-year Treasury notes on Friday slid 16 basis points to 1.48%. Bond yields and prices move in opposite directions.
Travel-related and hospitality stocks were sold
Not surprisingly, travel-related counters here took a hit – Singapore Airlines' shares on Friday tumbled S$0.20 or 3.8% to S$5.05 on volume of 23m whilst SATS dropped S$0.09 or 2.2% to S$3.98 on turnover of 4.3m.
Also in the firing line were hospitality counters such as Genting Singapore, which lost S$0.035 or 4.22% at S$0.795 on volume of 56.4m. Also ending sharply lower were CDL Hospitality Trusts, Frasers Hospitality Trust and Far East Hospitality Trust.
Healthcare and glove-making counters were bought
On the other hand, healthcare counters and pandemic favourites such as glove makers and protective gear manufacturers emerged as the top gainers led by Top Glove, which jumped S$0.11 or 15.2% to S$0.835 with 29.3m traded. Similarly, Medtecs International, UG Healthcare and Riverstone all ended higher.
Up to Friday, daily turnover had been weak, averaging S$974m. On Friday, business done rose to 1.99b units worth S$1.76b. The largest dollar contribution came from DBS's $0.54 drop to S$31.57 on volume of 5.6m which was valued at S$176.7m. SIA was the second biggest contributor, its fall adding S$118m to the daily total.
Singapore's 2022 forecast at 3-5%
Earlier in the week the Ministry of Trade and Industry (MTI) announced that next year's official growth forecast for the local economy will be 3.5% while this year's figure is likely to be around 7%.
MTI also said Singapore's uneven recovery will persist in 2022, with prospects staying strong for outward-oriented sectors and certain services.
Manufacturing output rose 16.9% in Oct
On Friday, the Economic Development Board announced that Singapore's factory output returned to expansion in October as biomedical production rebounded and all manufacturing clusters posted growth that was partly boosted by a low-base effect.
Manufacturing output rose 16.9 per cent last month from a year ago, after a revised 2.2 per cent decline in September and excluding the volatile biomedical manufacturing cluster, output grew 9.7 per cent in October.
The Straits Times quoted UOB economist Barnabas Gan, who said the low-base effect does not detract from the stronger production momentum seen in the year to date, especially for industries that were previously hit by the pandemic.
"Most importantly, the growing demand for semiconductors and its related products underpinned Singapore's electronics and precision engineering clusters, and we continue to see these sectors supporting Singapore's overall manufacturing landscape," he said.
How trading went on Wall Street
The week kicked off on a relatively firm note when US President Joe Biden selected Jerome Powell for another term as chair of the Federal Reserve. Observers said markets took the news positively because Mr Powell is a known quantity and is not expected to make any major policy changes on the interest rate or bond-buying fronts.
Stocks continued to rise despite a spike up in Treasury yields that took the 10-year's yield to 1.68% on Tuesday. Its 2021 high was 1.75%. However, tech stocks were worse off with the Nasdaq Composite weakening that day when both the Dow and S&P 500 ended stronger.
Higher bond yields often hurt tech stocks the most. Higher yields make future profits less valuable in current terms, and many tech companies are investing heavily today to produce large profits many years down the line.