Date: January 6, 2020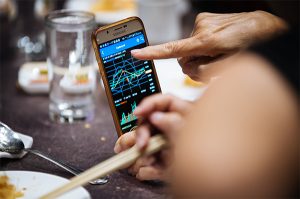 STI gained 12 points or 0.4% at 3,238.82 over the week;
Main reason was that US-China aim to sign Phase One trade deal by 15 Jan;
China's central bank cut its bank reserve ratio;
Helping apply the brakes was news that US has killed a top Iranian general;
North Korea dialed up rhetoric after US refused to lift sanctions;
Property developers were the main play here;
SGX RegCo to review retail bonds framework
Geopolitical tensions nipped rally in the bud
Trading in the local stock market got to a bang in 2020 when the Straits Times Index jumped almost 30 points on the first day of the year to end at 3,252.00, led mainly by property stocks like CapitaLand and City Developments.
Investors responded to positive signs from overseas, mainly news from the US that it expects a Phase One trade deal with China to be signed by 15 Jan. That news meant that Wall Street, which ended 2019 at an all-time high, continued to push higher during the first few days of 2020, thus helping boost sentiment in equities around the globe.
Add to that the lifting of uncertainty surrounding Brexit following the resounding win by the Conservative party at UK's general elections in December and news at the start of last week that the People's Bank of China has lowered its reserve ratio for banks, and the picture according to most observers becomes positive for stocks.
Despite the improving outlook however, the second day's trading for 2020 was more sobering – a 13.18 points loss for the index, one that cut its gain for the year to about 16 points or 0.5%. The main reason for this was news that the US has killed a top Iranian general, whilst North Korea raised its nuclear rhetoric after its leader Kim Jong Un said efforts to get the US to lift sanctions have failed.
The outcome was that oil prices surged to a 3-month high, whilst a flight to safety meant the 10-year US Treasury yield tumbled 9.4 basis points to 1.788%.
Growth in 2019 was slowest in a decade
On Thursday, the Ministry of Trade and Industry said the local economy expanded just 0.8% in the final quarter of 2019 according to flash data, a slight improvement over the third quarter's 0.7% and matching private sector economists' forecasts in a Bloomberg poll.
In November, MTI said it expected full-year GDP growth to be between 0.5 and 1%, reflecting tentative optimism after two earlier downgrades that had at one point included expectations of zero growth. Still, the latest figures meant the economy grew at the slowest pace in ten years, and compares unfavourably with 2018's growth of 3.1%.
Analysts were cautious about 2020's prospects. According to The Business Times, Barclays expects growth this year to be 0.9%, DBS Group Research forecasts 1.4% whilst UOB's estimate is 1.5%. Economists from Citi and Maybank Kim Eng were the most optimistic with a forecast of 1.8%.
Developers led the way
According to DBS Group Research, Singapore's property developers are projected to deliver strong return on equity for fiscal 2020-21 on the back of recent merger and acquisition activity and continued asset recycling activities. The broker picked CapitaLand and City Developments, raising its target prices to S$4.50 from $4 and S$13 from S$11 respectively.
"CapitaLand's management has shown fast execution on its asset recycling strategy and we believe that China, Japan and Singapore are on the cards in 2020'' said DBS. For CDL, it said the developer achieved better-than-expected sell-through rates of 50% across all launched projects despite weak sentiment.
SGX RegCo to study retail bonds framework
Early in the week, Singapore Exchange Regulation or SGX RegCo said it has formed a working group of industry professionals and investors to review the regulatory framework for retail bonds.
"The group will discuss matters such as the admissions criteria for retail bond listings, the continued obligations of issuers of such bonds, and ways to protect bondholder interest in the event of a default or restructuring'' said SGX RegCo.
It added that it studying the possibility of requiring a minimum subscription by institutional investors, requiring a credit rating and ways for bondholders to organize themselves in times of distress.
STI returned 9.4% in 2019
The Straits Times Index gained 154.07 points or 5% at 3,222.83 in 2019, but in terms of total returns which includes dividends reinvested, the gain was 9.4%.
According to the Singapore Exchange, the return would have been 11% had Mapletree Commercial Trust and Mapletree Logistics Trust been included in the index from the start of the year. Both joined the index in Sep and Dec respectively.
Last year's performance was in line with the index's 10-year average of 9.2% and was better than the FTSE Asean 40 Index's gain of 7.3% for 2019. Taking into account the 2019 year end market capitalization in proportion to net institutional inflows, the top index performers were SGX, UOL, ComfortDelgro, City Developments and ST Engineering.