Date: November 12, 2018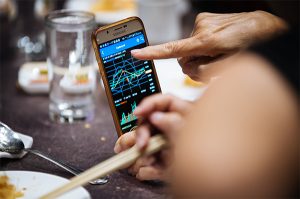 STI dropped 39 points or 1.3% over the week; volume remains low;
US mid-term elections and FOMC meeting were main focus;
Political gridlock thought to be good for markets;
Oil enters an official bear market, down 20% from peak;
10-year Treasury above 3.2%;
Stocks in play include Singtel, ComfortDelgro and Genting Singapore.
Last week was all about two market-moving events – the US mi-term elections and the Federal Open Markets Committee meeting. The former yielded no surprises and played out as the polls had predicted, so Wall Street duly responded with a "relief rally'' since there were no surprises. The latter also yielded no surprises as the US central bank, which has been on a tightening path this year, left rates unchanged.
The Straits Times Index underwent a volatile week, with double-digit moves daily. It finished with a 15-points loss on Friday that meant it fell 39 points or about 1.3% for the week at 3,077.97. Daily volume hovered just above S$1 billion – not a particularly inspiring statistic.
US mid-terms
The mid-term elections held on Tuesday saw the Democratic party win control of the House of Representatives, whilst the Republication party or GOP as it is popularly known, retained control of the Senate. This was what had been widely expected, so the US market rose in response.
However, it is unclear whether the rally will last. On the one hand, the US government is headed for gridlock, which traditionally is thought to be good for markets as it means less political interference in the economy. On the other hand, Schroders' chief economist Keith Wade in "US mid-term elections: is gridlock good?'' said going forward, gridlock means less fiscal support for the economy as Democrats are unlikely to back further tax cuts.
"This could create a problem for US growth in 2020 when the existing package fades and is not replaced by further measures. It is possible that the president and the Democrats could strike a deal on infrastructure spending, but they may hesitate to take measures that could help get Trump re-elected as president'' said Mr Wade.
Frank Thormann, Portfolio Manager, Multi Regional Equity said: "Democrats now have a much larger ability to put a check on the president's power and have promised to intensify investigations into allegations such as the Russian 2016 election interference''.
"Because both houses are required to pass legislation, future policy will require much greater bipartisan support, which is a dramatic change from the past two years and is likely to materially alter the remainder of the Trump presidency. One immediate impact of this is a lower likelihood of further fiscal stimulus."
Prospects of less fiscal stimulus is also thought to relieve the pressure on the Fed to keep raising interest rates and add downward pressure on US Treasury yields and the dollar.
Some analysts had said a fully Republican Congress could have meant increased trade tension and a larger deficit.
US dollar,  bond yields and the FOMC meeting
As it turned out, the dollar weakened slightly, though US Treasury yields rose – the 10-year yield edging just above 3.2% on Wednesday. The 10-year peaked this year at 3.261% in early October, its highest level since May 2011. On Friday, it ended at 3.182%.
The Fed has triggered some of the rise in bond yields as it hiked rates and wound down its US$4.5 trillion balance sheet. The central bank has raised the federal funds rate eight times since December 2015 as a booming economy warranted a move away from an expansionary monetary policy in the wake of the US sub-prime crisis.
On Thursday however, the FOMC left interest rates unchanged, issuing what some observers describe as a bland accompanying statement, though it did indicate that it is on course to hike in December. In response, Wall St stocks finished mixed, giving up most of their intraday gains. They then closed sharply lower on Friday, led mainly by technology stocks.
There was no mention of the volatility that has gripped financial markets since mid-October in the central bank's statement.
Oil prices enter an official bear market
Crude oil prices fell into bear-market territory, as prices fell more than 1% in Thursday trading. Crude has been weighed down by signs of eroding global economic growth, wilting demand and the US's decision to offer waivers on sanctions of Iran.
US newspaper Barron's on Thursday reported that Brent crude dropped 2% to US$70.65 a barrel, while West Texas Intermediate, or WTI, front month crude futures slid 1.6% to US$60.67 a barrel before further weakening to US$59.87 on Friday. That put WTI down just over 20% from its Oct. 3 high, meeting the definition of a bear market
Stocks in play – Singtel, ComfortDelgo and Genting Singapore
Singtel on Thursday announced a 77% drop in net profit for its second quarter ended 30 Sep to $667 million, making it the worst quarterly performance since 2003. The stock, which had been drifting downwards over the past few weeks, lost $0.06 that day to end at $3.08 with about 42 million traded. The telco said profit had been hit from negative currency movements, as well as challenges such as lower national broadband network migration revenues in Australia, and lower contributions from Airtel and Telekomsel.
Transport firm ComfortDelgro's shares on Thursday took a $0.16 or almost 7% hit to close at $2.20, a fall widely attributed to a Deutsche Bank "sell'' based on the impending entry of ride-hailing firm Go-Jek later this month. Deutsche predicted declines of 12-27% in Comfort's taxi fleet next year and 2020 if taxi drivers switch to private-hire cars instead.
Shares of casino operator Genting Singapore jumped $0.06 or 6.7% to $0.95 with 90.4 million traded on Friday after analysts issued a slew of "buy'' recommendations following release of company's 3Q results.
Deutsche Bank set a target price of $1.40, CIMB's target is $1.28 and DBS Group Research, in setting a target of $1.55, said the stock deserves better investor recognition.