Date: February 15, 2021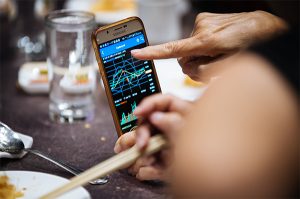 The STI gained 18 points to end a holiday-shortened week at 2,925.48;
Absence of major news meant players turned to penny stocks;
Average value per unit traded was around S$0.50;
DBS reported 33% 4Q drop in profit, 26% down for full year;
Companies in the news: Yangzijiang and iFast;
Wall St remained well-supported by stimulus hopes despite sobering economic data;
US Fed chief Jerome Powell reiterated that rates will remain close to zero
Small-caps and second-liners take center stage
Penny stocks continued to occupy most of the local market's energies in a holiday-shortened week in which the Straits Times Index climbed 18 points or 0.6% to 2,925.48.
The daily top volume list was peppered with low-priced stocks such as Jiutian Chemical, AsiaMedic, Oceanus and on Friday, it was led by Thomson Medical which rose S$0.008 or 11.27% to S$0.079 with about 254m shares traded.
Thursday's half-day session's turnover was 1.2b units worth S$633m for an average unit value of S$0.52 – roughly in line with daily averages of the past fortnight.
Thomson Medical alone accounted for 21% of the session's unit volume. On Monday, the company announced a net profit of S$8.1m for its first half ended 31 Dec 2020, a reversal compared to a S$1.9m loss a year earlier.
According to news reports, there was not much in the way of macro or earnings news to stimulate trading, which left traders to turn their attention to smaller, more speculative stocks.
Small caps have been in play for about two weeks now following an explosion of interest in such counters overseas, particularly the US, that occurred in the wake of the GameStop episode.
GameStop is a failing video game company whose shares had swung wildly after hordes of retail players bought the stock in order to engineer a "short squeeze''. The plan to do so had been hatched on Internet chat forum Reddit.
Otherwise, trading on Wall St continued to be supported by stimulus hopes amidst the release of indifferent economic data. Thursday's jobless claims data for instance, suggested a sluggish economic recovery and that much still remains to be done. A total of 793,000 claims were recorded for the first week of February versus the 760,000 that economists had forecast.
DBS reported a 33% 4Q profit drop, full-year profit down 26%
DBS Group reported a 33 per cent plunge in fourth-quarter earnings to S$1.01b as the bank's net interest margin fell and it set aside higher allowances for potential bad loans amid the Covid-19 pandemic.
For the full year, the bank's net profit dropped 26 per cent to S$4.72 billion because of a decline in net interest margin and a quadrupling of loan allowances to S$3.07 billion. It is the bank's first annual earnings decline in four years.
The board has declared a final dividend of S$0.18 a share, down from S$0.33 for the year-ago period, to which the bank's scrip dividend scheme will apply.
Stocks in the news: Yangzijiang
Shares in Chinese shipbuilding firm Yangzijiang surged last week after the company said it has secured new orders worth US$1.3b that involved 29 vessels, including 22 container ships.
On Tuesday after the news had been released, the counter finished S$0.065 or 6.7% higher at S$1.04 on volume of 80.7m. Analysts from CGS-CIMB, DBS and UOB Kay Hian reiterated their "buy'' calls on the company, with DBS setting the highest price target of S$1.40.
The Business Times reported DBS analyst Ho Pei Hwa saying that although we are only into the second month of the year, Yangzijiang has already met 65% of the company's own annual order target of US$2b. DBS's order target is US$2.5b whilst UOB-Kay Hian's is US$1.8b.
Stocks in the news: iFast
Elsewhere, wealth management platform iFast was also in the news when broking firm UOB-Kay Hian issued "sell'' on the stock on the basis that iFast's recent surge had left it looking overvalued. Earlier in the week, iFast had in an earnings call said it is looking to balance dividend growth with corporate expansion.
UOB-Kay Hian analyst Clement Ho maintained a S$5.12 price target for the stock, saying that at the then-price of S$6.21, the forward price-earnings ratio of 51.1 was expensive. Earnings from the implementation of the company's Hong Kong e-MPF platform have yet to be added into the forecasts.
In contrast, DBS is more bullish, last week maintaining its "buy'' on iFast and revising its target price from S$6.40 to S$7.64. "We are more optimistic on iFast given its scalable business model and drive towards digitalisation to propel the group to greater heights'' said DBS. iFast ended at S$6.20 on Thursday.
US interest rates to stay close to zero
US Federal Reserve Chairman Jerome Powell last week painted a sobering picture on the state of US employment, saying continued aggressive policy support is needed to fix the myriad issues still facing workers.
Addressing the issue will require a "patiently accommodative monetary policy that embraces the lessons of the past" regarding the benefits that low interest rates bring to the labour market, the central bank chief told the Economic Club of New York.
He added that although the official unemployment rate is 6.3%, the true figure is probably closer to 10%.