Date: February 21, 2022
To: Mapletree Commercial Trust Management Ltd., manager of
Mapletree Commercial Trust
Through: Ms. Sharon Lim, Executive Director and Chief Executive Officer
Questions to Mapletree Commercial Trust ("MCT")
On December 31, 2021, MCT and Mapletree North Asia Commercial Trust ("MNACT") announced a merger to create a flagship commercial REIT, to be named Mapletree Pan Asia Commercial Trust ("MPACT"). MCT will acquire all the issued and paid-up units of MNACT by way of a trust scheme of arrangement. On paper, the scheme consideration is $1.1949 per MNACT unit with the scheme issue price of new MCT units at $2.0039. MNACT unitholders will have the option to receive 16% in cash ($0.1912), along with 0.5009 new units per MNACT unit.
In order to help MCT unitholders better understand the proposed merger, SIAS has prepared the following questions for MCT:
The market's reaction
Since the announcement of the proposed merger, the unit price of MCT has declined by about 10% from $2 to as low as $1.78 in early February. With this proposed merger, MCT has to expand its mandate to include key Asia gateway markets from the current focus on Singapore. This proposed merger comes as a surprise to some unitholders who have invested in MCT for exposure to the stable and resilient Singapore market.
Is MCT acting outside its mandate to acquire MNACT which has assets in North Asia?
Can the manager provide clearer justification on this proposed merger with MNACT given that the market has reacted negatively to it?
Growth at what cost?
The proposed merger was also justified on the basis that it will enable MCT to grow quickly, rather than incrementally. MCT already has $8.8 billion in AUM.
For MCT, the benefits of the proposed merger include access to key gateway markets of Asia and enhanced diversification anchored by MNACT's "high quality portfolio". (See Appendix A) The proposed merger has no apparent operational synergies and the key assets, namely Festival Walk and Gateway Plaza, saw their rental reversion accelerate to negative 30% and negative 24% respectively for the 6 months ended 30 September 2021 from negative 21% and negative 7% in FY20/21 respectively. MNACT has also disclosed that a major tenant at Gateway Plaza is up for renewal in December 2023.
Is this acquisition critical to MCT? What can the enlarged REIT achieve due to its larger scale that MCT would not be able to do on its own? Has MCT considered the operational challenges of the two largest assets in MNACT's portfolio?
What is the fair price for MNACT?
The CEO of MNACT has said that MNACT has historically traded below its NAV because of its geographical exposure. On the other hand, MCT has consistently traded above its NAV – the units were trading at as high as 1.28 times its Price-to-NAV ratio in the past six months. Since the announcement, the premium has fallen to 1.05 times and MCT has lost over $660 million in market capitalisation.
Is MCT overpaying for MNACT's portfolio when even MNACT has openly stated that the market has historically valued MNACT's units at below NAV?
What is the basis of the scheme consideration of $1.1949 per MNACT unit? MCT's offer is at a 14-18% premium to the 1-month to 12-month VWAP of MNACT and is in-line with MNACT's NAV. How does this proposed merger create value for MCT unitholders when there are no operational synergies and MCT is paying MNACT its full NAV?
Management fee structure
The manager has also proposed to change MCT's management fee structure. The new base fee will be 10% of distributable income (originally 0.25% of total assets). The new performance fee will be 25% of the y-o-y growth in DPU (originally 4% of net property income):
If MCT were to apply this fee structure in the past three years (or even five years since the last two years would not have been representative due to COVID), would the total management fees have been higher or lower?
Should the merger be successful, will MCT be honouring the performance fee waiver that the manager of MNACT has given to its unitholders? The manager of MNACT has waived its entitlement to any performance fees until such time that the DPU of MNACT (on a standalone basis) exceeds the threshold DPU of 7.124 cents.
David Gerald
President and CEO
SIAS
Click here to see reply from MCT
---
Appendix A: Rationale and key benefits of this proposed merger
The rationale and key benefits of this proposed merger as shown in the REITs' joint announcement are as follows: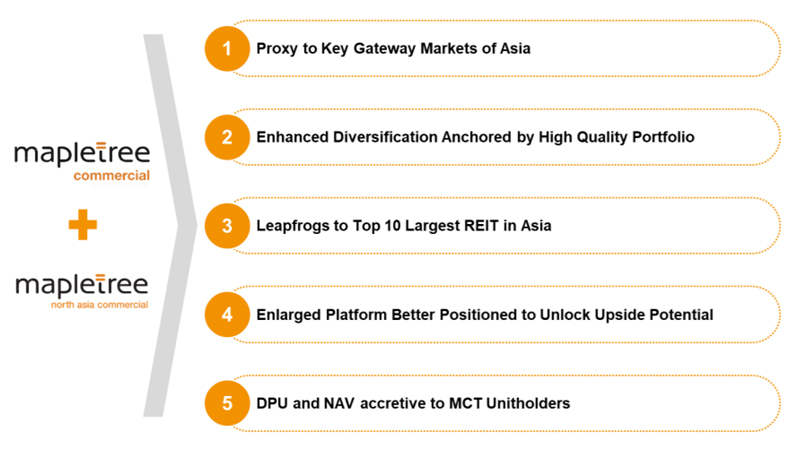 (Source: Joint announcement by MCT and MNACT dated 31 December 2021)