Date: June 15, 2020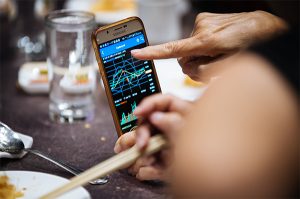 Markets plunge on worries of second COVID-19 wave;
The Dow suffered its 4th worst loss in history on Thursday;
US Federal Reserve delivered sobering assessment of US economy;
SembCorp Industries and SembCorp Marine to demerge;
Top Glove was one the market's top performers
Markets fall on second wave worries; US Fed reality check
Stock markets around the world last week received a reality check when sudden fears of a second wave of COVID-19 infections sent Wall Street crashing over Wednesday and Thursday.
Also dampening sentiment in the US market was a sobering assessment of the US economy by Federal Reserve chairman Jerome Powell, who although made it clear that interest rates would remain depressed, said it would take years for a return to the strong labour market that existed before the pandemic started.
As a result, the Straits Times Index fell 66.87 points or 2.4% over the week to end at 2,684.63, most of this coming on Thursday when it plunged 96.36 points. This was then followed by steep plunges in the US later that day, continuing a pattern that should be familiar to market watchers, one where the selling starts in this part of the world before it hits Wall Street.
The outcome was that despite the Dow Jones Industrial Average recording its fourth-worst day in history when it collapsed 1,862 points or almost 7% at 25,128 on Thursday, the STI only fell 19.58 points on Friday in response. The top three worst days for the Dow came in March.
The selling on Wall St started on Wednesday after the Federal Open Markets Committee released its forecasts following its latest scheduled meeting. While policymakers expect the economy to begin to recover from its government-imposed lockdown in the second half of the year and see rates as staying at current levels until 2022, they see unemployment falling slowly, to 9.3% at the end of this year from May's 13.3%, and don't envisage it returning to anywhere near its pre-Covid-19 rate of 3.5% by the end of 2022.
Sembcorp Industries and Sembcorp Marine to part ways
Semcorp Industries (Sembcorp) and Sembcorp Marine (Sembmarine) last week proposed a major plan to rescue the latter with a S$2.1 billion cash call and to "demerge" from each other as the pandemic takes a toll on operations.
In a joint statement on Monday, the companies said the plan will strengthen both companies' financial positions and unlock shareholder value and is in the best interests of their respective shareholders.
Sembmarine is proposing to raise S$2.1 billion under a five-for-one renounceable rights issue at an issue price of 20 Singapore cents per share. Of that, Sembcorp has irrevocably undertaken to subscribe for S$1.27 billion (its pro-rata entitlement) plus take up an additional S$230 million, if necessary – a total commitment of up to S$1.5 billion.
Sembcorp said it plans to do this by setting off a S$1.5 billion subordinated loan that it had extended to Sembmarine in June 2019. Temasek Holdings has agreed to sub-underwrite the remaining S$600 million of the rights issue. The demerger will be accomplished when Sembcorp then distributes its shares in Sembmarine as dividends to Sembcorp shareholders.
The deal is subject to approvals from shareholders at extraordinary general meetings which will be convened at later dates.
The latest on Hyflux
It emerged last week that a group of banks will seek to place troubled water treatment firm Hyflux under judicial management after two years of a court-sanctioned debt restructuring process that has not yielded any results. The group plans to revive an earlier application to be carved out of Hyflux's debt moratorium that ends on July 30.
Top Glove – top performer
Malaysian glove maker Top Glove last week reported a 365% jump in net profit to RM348m and a 42% rise in revenue to RM1.69b for its third quarter ended 30 May thanks to a surge in demand for its gloves because of the virus pandemic.
Earnings per share was up from 2.92 sen to 13.59 sen. Its shares jumped 14 Singapore cents to S$5.70 on Friday on cum-dividend trading. The company is paying an interim dividend of 10 sen on 9 July.