Date: June 6, 2022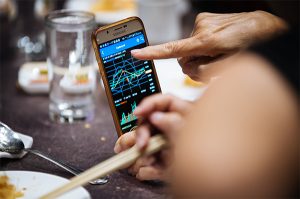 The STI ended the week flat in cautious trading
A spike up in oil prices initially brought pressure
For Wall St, good news for the economy is bad news for stocks
Strong ISM and jobs reports sent US stocks tumbling
Fears have risen that the Fed will tighten more than expected
US bond yields have started climbing again
Raffles Education said India allegations are without legal merit
Morgan Stanley: Singapore market is a safe haven
A flat week for the STI as traders turn cautious
The Straits Times Index lost 3.6% throughout the month of May but kicked off the first week of June on a mixed and cautious note, with investors casting a wary eye in Wall St's direction, where concerns over monetary tightening to contain rising inflation were once again the main focus.
A spike up in oil prices on Wednesday brought on mid-week weakness, the spike coming after news that although Opec and its allies have made an in-principle deal to increase output, it isn't enough to make up for a drop in production from Russia stemming from international sanctions targeting the country's oil exports. Brent crude, the international benchmark, rose 0.2% to US$116.56 per barrel after reports came out about the agreement.
After rising 11.5 points on the first trading day of June which fell on Wednesday, the STI then dropped sharply on Thursday before a modest rebound on Friday meant it ended the week at 3,231.97, a net gain of just one point over the five days.
Average daily volume was S$1.53b, boosted by the S$3.4b done on Tuesday, probably thanks to portfolios being rebalanced or window-dressed on the last trading day of May. Friday's volume was a low 1.45b units worth S$792.2m.
How Wall Street fared – good news for the economy is bad news for stocks
Wall St appears to now have entered a phase in which good news for the economy is bad news for stocks because it would mean the US Federal Reserve will raise interest rates faster and by a greater amount than expected.
Pressure on US stocks started on Tuesday and Wednesday with selling coming after the Institute for Supply Management's manufacturing index came in at 56.1 for May, up from 55.4 in April, with any reading above 50 representing growth in activity.
Analysts pointed out that new orders grew, suggesting manufacturers are expecting strong demand even with rising interest rates, and that this could easily portend inflation remaining fairly high. If so, then it could mean the Fed sticks to its plan of lifting interest rates far faster than it typically has in recent years.
On Friday, news of a 390,000 increase in nonfarm payrolls for this past month, above economists' guesses of around 320,000, brought waves of selling pressure – the Dow Jones Industrial Average declined 349 points, or 1.1%, while the S&P 500 was down 1.6%, and the Nasdaq Composite dropped 2.5%.
For the week, the S&P 500, Dow and Nasdaq ultimately dropped 1.2%, 0.9% and 1%, respectively, as Friday couldn't bring gains on the indexes. Friday's job report ruined the stock market's recent rally, which lasted several weeks and saw big gains.
US bond yields have started climbing again
The bond market certainly sees a slightly higher likelihood that the Fed will keep raising rates at a brisk pace. The 2-year Treasury yield, which attempts to forecast the level of the federal-funds rate a couple of years from the present, rose from a 2.63% close on Thursday to 2.67% on Friday.
The 10-year yield, meanwhile, rose from 2.92% just before the jobs report to 2.95%. In May, the 10-year yield almost reached 3.2%.
Raffles Education says allegations in India are "without legal merit''
Raffles Education (REC) last week said advice from its legal counsel is that summonses issued by an Indian magistrate against the company, certain current and former directors and a consultant are without legal merit.
The case was first announced in Oct last year and was registered with the Economic Offences Wing of the Delhi Police. REC had previously announced that a closure report had been filed but in its announcement last week said the case has been reopened.
Singapore market is a safe haven: Morgan Stanley
In a column published in Business Times on Wed, Morgan Stanley's Singapore strategist Wilson Ng said Singapore stocks are seen as a safe haven amidst choppy global markets in the next 12 months, with bank stocks likely to lead the way.
"Singapore's FTSE Straits Times Index is among the few major indices within Asia Pacific, and within developed markets globally, that have remained in positive territory so far this year'' said Mr Ng.
"Whilst interest and inflation rates in Singapore have risen more quickly than expected, Singapore's macro conditions appear relatively robust'' thanks to reopening of the economy.
He added that "Singapore stocks in aggregate are likely to sustain around 20% per annum earnings growth through 2024'' based on Morgan Stanley's earnings per share forecasts for the MSCI Singapore Index, which exceeds many developed markets and regional economies.
"Singapore's 3 major local banks offer an average 1-year forward dividend yield of 5%, on average growing dividends by more than 10% each year over the next 3 years, according to our bank analyst's forecasts''.