Date: February 28, 2022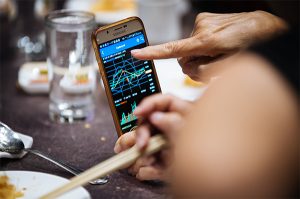 The Straits Times Index lost 134 points or 3.9% at 3,294.47
Russia's invasion of Ukraine brought the sellers out in force
Concerns surround the impact on commodity prices, inflation and growth
DBS, UOB and OCBC led the index lower
SIA reported 3Q profit
SIAS queried MCT and MNACT over their merger plans
Wall St's Friday rebound came after hopes that Russia will hold talks with Ukraine
The STI plunged almost 4%  for the week, mostly on Thursday
Support for the Straits Times Index, which had been strong despite increasing worry in the previous fortnight that Russia was about to invade Ukraine, finally gave way on Thursday last week after Russia did in fact attack Ukraine.
The STI's loss that day amounted to 116.94 points or 3.5% at 3,276.06 and dragged the index below the 3,400 level that it had only just regained on the 8th of February as well as 3,300 that it had reclaimed five days earlier. Volume done on Thursday was the highest for the week at 2.6 billion units worth S$2.9b, almost triple the week's low of S$767.4m done on Monday.
On Friday however, thanks mainly to Wall Street's Thursday recovery from an alarming intraday plunge, the STI managed to reclaim some lost ground, though it was not enough to cross the 3,300 level. Still, the 18.41 points rebound helped limit the index's loss for the week to 134 points or 3.9% at 3,294.47.
Markets jittery over West's response
Behind the selling was Russia's invasion of Ukraine, and speculation about the Western response. The attack could compel Western nations to impose heavy sanctions on Russian oil, though US President Joe Biden said on Thursday that the latest package of measures the US is rolling out are designed to allow payments for crude to continue.
Targeting Russia's oil exports would reduce the supply of crude available on the international market, causing the price to rise even further. Inflation is already high, and the Federal Reserve has made it clear that it is likely to lift interest rates several times this year, not to mention reducing its bond holdings, in response. The combination of tighter monetary policy and a rising price of oil could put significant pressure on economic growth.
Ukraine and Russia are also big exporters of precious/industrial metals, as well as grain, but a military blockade could risk significant shipments from Black Sea ports. Aluminium topped its 2008 peak by climbing nearly 3% to US$3,388 a ton in London, while gold hit its highest level in more than a year, rising 3.3% to US$1971.30.
Nickel also advanced 2.4% to US$25,085 a metric ton on the news, palladium climbed 4.4% to US$2,547 a troy ounce in New York, while wheat futures soared 5.7% to US$9.35 a bushel in Chicago and corn prices rose 5.1% to US$7.16.
Banks led the index higher, so now they led it lower
The three banks had been supporting the STI throughout the index's push to fresh 30-month highs and so it came as no surprise that they suffered the most in last week's selloff.
Over the five days, DBS dropped S$1.50 or 4.1% to S$34.95, UOB lost S$2 or 6.1% at S$30.57 whilst OCBC's fall was S$1.42 or 10.7% at S$11.85.
On Wednesday, OCBC reported a 14% drop in Q4 net profit to S$973m from a year ago. For the full year, net profit was 35% higher at S$4.86b, fuelled by growth in non-interest income and lower allowances which offset a decline in net interest income.
OCBC declared a final dividend of S$0.28 per share, which brings the total dividend for FY2021 to S$0.53, in line with 2019 levels and represents a payout ratio of 49%.
SIA reported 3Q net profit of S$85m
SIA reported 3QFY22 net profit of S$85m, beating street estimates due to significant growth in passenger numbers as vaccinated travel lanes unlocked pent-up demand for air travel. Revenue rose 117.1% YoY to S$2.3b on the back of robust demand and strong yields in the cargo market.
The national carrier also reported an operating cash surplus of S$322m for the nine months to Dec 2021, reversing the operating cash burn that it had been experiencing since the start of the pandemic.
SIAS queried MCT and MNACT over merger plans
The Securities Investors Association of Singapore on Monday sent a series of questions to Mapletree Commercial Trust (MCT) and Mapletree North Asia Commercial Trust (MNACT) on their proposed merger plan.
In a press statement, SIAS said the plan comes as a surprise to some MCT unitholders who had invested in the real estate investment trust or Reit for its stable and resilient Singapore property exposure. SIAS also asked why a merger is needed given there are no apparent operational synergies between the two Reits.
In addition, SIAS pointed out that MNACT has performed better than MCT over the past year and asked if MNACT and its unitholders would be better off forging ahead on its own and consider a merger only at a price above its net asset value.
How Wall St fared
The Dow Jones Industrial Average had its best day of the year on Friday, rising 835 points, or 2.5%. The index briefly fell into a correction on Thursday, 10% below its all-time high. The S&P 500 added 2.2% on Friday, while the Nasdaq Composite advanced 1.6%.
The S&P 500, the Dow and the Nasdaq were down 5.6%, 4.9% and 7%, respectively, for the week on Thursday before their turnaround began later that day. As of Friday's close, the S&P 500 and the Nasdaq posted weekly gains of 0.8% and 1.1%, respectively, while the Dow was flat.
The bounce came after Russian spokesperson Dmitry Peskov told reporters that Moscow could send a delegation to Belarus to speak with Ukrainian leadership.
That was key for the Dow's superior performance Friday, as the index is heavily comprised of economically-sensitive stocks. If markets believe that the conflict will eventually end, investors will bet less on an economic slowdown.
The rebound also began for the three major indexes began when President Joe Biden addressed the media on Thursday and declined to announce any sanctions on Russian oil exports.