Date: May 18, 2020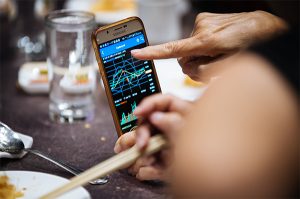 The STI lost 2.6% over the week, possible after Fed chief Powell's reality check on economic outlook;
US economic data continued to be grim;
SIA reported S$732m Q4 loss, analysts turned bearish;
MSCI dropped 4 stocks and added one to MSCI Singapore Index;
SGX to do away with Minimum Trading Price from 1 June;
US-China Phase One trade deal on brink of collapse.
US Federal Reserve chairman Jerome Powell delivered reality check
For most of the past two months, stocks have been supported by optimism that central banks and governments will do whatever it takes to ensure that financial markets will not crash.
One major source of this optimism was a declaration by US Federal Reserve chairman Jerome Powell at the end of March that the Fed is prepared to indulge in unlimited "quantitative easing'', which has now been dubbed "QE infinity''. So far, it is estimated that the Fed has committed around US$6 trillion in stimulus money.
However, it was Mr Powell who last week delivered a sobering message to Wall Street and through it, the rest of the world when he told US Congress that the US economy could become stuck in a painful multiyear recession if Congress and the White House do not authorize more aid to address the pandemic's economic fallout.
The US economy contracted by 4.8 percent in the first three months of this year, and the economy is expected to perform even worse in the three-month span between April and June.
On Friday, advance reading from the Census Bureau showed US retail sales plummeted by 16.4% from the prior month in April, the largest decline since this data series began in 1992.  It was also 21.6% lower compared to April 2019.
The drop was far worse than economists had expected, and it was significantly steeper than the revised 8.3% sales decline in March.
As a result of Wall Street pulling back from a stimulus-fuelled rally, the Straits Times Index dropped 68 points or 2.6% over the week at 2,523.55. Daily volume remained well above the S$1b mark, which according to news reports, was thanks to the entry of hundreds of retail investors over the past few months, many of whom are new account holders.
SIA reported S$732m Q4 loss; analysts turn bearish
Singapore Airlines on Thursday reported that it suffered a S$732m loss for its fourth quarter ended 31 March, including S$198m in fuel hedging losses. SIA also booked S$710m in marked-to-market losses from surplus hedges that arose because capacity cuts resulting from COVID-19 have meant that SIA's fuel consumption needs in the next fiscal year will be lower than anticipated.
The national carrier also said the prospects for a recovery in international air travel in the months ahead depend on when border controls and travel restrictions ease but that there was "no visibility'' as to when this might occur. Over the course of the week, SIA's shares lost 51 cents or 11.6% at S$3.90, although they did manage a 9 cents bounce on Friday.
Friday's rise in SIA's shares came despite analysts turning bearish on the company. In a Friday note, Credit Suisse analysts maintained a "neutral'' rating on the stock but cut their 12-month target price to S$3.35, pegged at 0.8 times the adjusted net asset value per share of S$4.19 for the year ended 31 March 2021.
Citi Research reiterated a "sell'' on SIA, saying it sees further downside risk to its S$4 target. "Our sell thesis anchors on our view that SIA will soon be overcapitalised (due to a much larger equity base after its ongoing rights issue) where returns would be depressed even under normalcy'' said Citi.
Four stocks dropped from MSCI Singapore Index, one added
On Thursday it was announced that ComfortDelgro, Sats, SPH and SembCorp Industries would be dropped from the MSCI Singapore Index, whilst Mapletree Logistics was added.
SGX to drop MTP rule
SGX RegCo, the regulatory arm of the Singapore Exchange (SGX) on Monday announced that from 1 June, companies will no longer have to observe the minimum trading price (MTP) rule. Since 2016, companies on the mainboard have had to ensure a 6-month volume-weighted share price of 20 cents and average daily market value of at least S$40m.
Also on Monday, SGX RegCo said it is tightening its exit criteria for its financial watch list. This list puts on notice companies that have not held the 6-month daily average market value and have posted pre-tax losses for their last three financial years.
US-China Phase One trade deal on brink of collapse
US President Trump last week said he is considering severing ties with China and imposing new tariffs as retribution for the virus pandemic. This places in jeopardy the Phase One trade deal announced in January that took months to negotiate and which had sent Wall Street to several all-time highs.