Date: April 18, 2022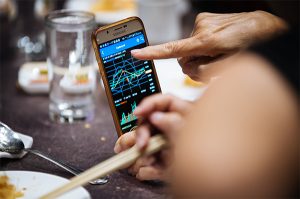 The Straits Times Index fell 48 points or 1.4% to 3,335.85
Reasons were the ongoing war in Ukraine, risk of recession and a hawkish US Federal Reserve
Singapore's Q1 GDP growth was 3.4%, most private sector economists still optimistic
WT Semiconductor offered to take over Excelpoint at S$1.93 per share
TraceTogether token maker iWOW debuted on Catalist
Wall St fell over the week as bond yields rose
The Straits Times Index fell most days last week, only rising on Wed
After holding its ground in the face of mounting headwinds throughout March, the Straits Times Index (STI) – together with Wall Street – spent most of last week under pressure, only managing to rise on Wednesday. With the US market also slipping, possibly because of a sharp spike up in US Treasury yields and increasing inflation worries, the STI lost 48 points or 1.4% over the four trading days to end the week at 3,335.85.
In a nutshell, the reasons why investors could "sell in May and go away'' – an old market adage that some place their faith in – remain the same as those which prevailed throughout March, namely the ongoing war in Ukraine, worries of an economic slowdown and a US Federal Reserve determined to play catch-up in terms of combating surging inflation by raising interest rates and reducing its monthly bond purchases.
Singapore's GDP eased in Q1 to 3.4%, most private sector economists optimistic
The local economy grew 3.4% in the first quarter, below consensus estimates of a 3.8% expansion and much slower than the 6.1% growth posted in the fourth quarter of 2021.
However, according to The Business Times, private sector economists are optimistic about the overall economic outlook and expect growth to improve from the next quarter onwards.
The newspaper quoted OCBC chief economist Selena Ling saying she expects the opening of the economy and the easing of Covid-19 restrictions to benefit the services sector and sees Q2 growth at 4.7% year-on-year.
Meanwhile, Barclays' regional economist Brian Tan was said to have maintained his full-year GDP forecast at 4.7%, which is close to the top end of the Government's official estimates of 3-5%.
However, Maybank's economists took a different view, stating they expect the Ministry of Trade and Industry to downgrade its full-year GDP forecast to 2-4% when the final Q1 figures are released.
Excelpoint Technology valued at S$232m in takeover offer
Electronics components distributor Excelpoint Technology has received a cash offer of S$1.93 per share from WT Semiconductor Holdings, which is a subsidiary of Taiwan's WT Microelectronics.
The offer values Excelpoint at S$232.2m and the eventual aim is to delist the company.
According to a joint announcement made by Excelpoint and WT Semiconductor, the offer exceeds the former's net asset value per share of US$0.9046 as at the end of 2021, as well as the stock's closing prices over the past 10 years. The counter closed at S$1.96 on Thursday.
iWOW Technology debuted on Catalist, closed at one cent premium
Local Internet of Things solutions firm iWOW Technology ended its Thursday debut at S$0.26, one cent or 4% above its S$0.25 offer price. It traded at a high of S$0.28.
Its initial public offer comprised a placement of 26m shares. The company is one of the makers of the TraceTogether tokens. For FY 2021 ended March, iWOW posted net profit of S$3.7m compared to S$220,000 a year earlier, thanks mainly to its manufacture of the tokens.
Rising bond yields took their toll on US stocks
Wall St came under pressure for most of last week, mainly because Treasury bond yields kept rising. The 10-year yield started the week rising to 2.77% on Monday, then climbed higher to close at 2.83% on Thursday.
Over the course of the week, the S&P 500 dropped 2.1%. The Nasdaq Composite fell 2.6%. The Dow Jones Industrial Average was the relative winner, slipping just 0.8%.
US newspaper Barron's offered this reason why Wall St's stocks are coming under pressure from rising bond yields:
"The math works like this. The S&P 500 had a price/earnings ratio of 19.35 at Friday's close (April 8th). Flip the P/E to get the E/P, or earnings yield, in this case, 5.17%, subtract the rounded 2.78% 10-year yield, and you get an equity risk premium of 2.4%.
"Now, compare that to the start of the year, when the 10-year traded at 1.5%, and stocks traded at 21.5 times earnings, or an earnings yield of 4.65%. That meant that stocks, even at a higher valuation, offered 3.15% more than a Treasury, meaning that investors earned a higher risk premium, despite the S&P 500's higher P/E at the time''.