Date: August 29, 2022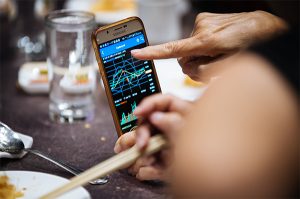 The Straits Times Index rose 3 points to 3,249.53
Traders were cautiously optimistic that Fed chief Powell's Jackson Hole comments would be dovish
Instead, US stocks plunged by 3% on Friday on Powell's hawkish comments
US futures market now pricing in 61.5% chance of 75-points rate hike in Sep, up from 42.5% a week before
Singapore's July factory output growth only 0.6%
Singtel to sell 3.3% stake in Airtel, expects S$600m gain
Tuan Sing made privatisation offer for SP Group
First Reit to buy back S$60m of perps
The first half was promising, but..
For most of the week stock markets traded within a tight range as traders and investors waited for Friday's testimony by US Federal Reserve chairman Jerome Powell on the state of the US economy and where US interest rates might be headed.
Sentiment during the first four days was relatively optimistic, with Wall St rallying strongly on Thursday ahead of Mr Powell's speech on hopes that his comments would be dovish, ie. suggesting rate hikes would not be aggressive. As a result, the Straits Times Index managed a 3-points rise over the week to 3,249.53, the small gain a reflection of the cautious optimism pervading most markets.
Wall St then plunged into a Hole on Friday
Instead, in his 10-minute speech at the annual Jackson Hole Economic Symposium on Friday, Mr Powell said returning the economy to price stability will take "some time" and will require bringing "some pain to households and businesses," which he called the "unfortunate costs of reducing inflation''.
He also referenced previous attempts by the Fed to bring down inflation and said history has taught the central bank that not acting quickly on prices will likely only mean a bigger hit to the labour market in the long run.
And reversing course too quickly would also backfire, Mr Powell said—implicitly playing down investor expectations that the central bank might soon start to pause or reverse course after a series of steep interest-rate increases.
"The historical record cautions strongly against prematurely loosening policy," Powell said.
US stocks fell sharply in response to these hawkish comments, with all three major indices plunging between 3.03-3.94%. In the case of the Dow Jones Industrial Average, the loss was 1,008 points at 32,283.
US futures now pricing in 61.5% chance of 75-points hike in Sep
In response, the futures market is now pricing in a 61.5% probability that the Fed will raise rates by 75 basis points at its September meeting. A week earlier, this probability was 42.5%.
Singapore's factory output growth slowed to only 0.6% in July
Manufacturing output in Singapore rose by just 0.6 per cent in July as lower export orders from China and global softening demand hit the electronics and biomedical sectors.
July's low growth was also well below the 5.3 per cent increase forecast by economists in a Bloomberg poll. It comes after factory output grew a revised 2.6 per cent in June – also below analyst predictions.
Excluding the volatile biomedical manufacturing sector however, output grew 2.9 per cent in July, according to data released by the Economic Development Board (EDB) on Friday.
Singtel to sell 3.3% stake in Bharti Airtel, expects net gain of S$600m
Singtel has agreed to sell a 3.3 per cent direct stake in its regional associate Bharti Airtel for S$2.25 billion to help fully fund its 5G and expansion plans.
In a statement on Thursday the telco said it expects to net a gain of $600 million from the sale of the stake to Bharti Telecom, its joint venture with India's Bharti Enterprises.
This will leave Singtel with a 29.7 per cent effective stake in Airtel comprising a 19.2 per cent indirect stake through Bharti Telecom, and a 10.5 per cent direct stake.
Singtel has been streamlining its portfolio as it focuses on 5G operations and seeks new growth engines. It is disposing of advertising platform Amobee and is said to be weighing options, including selling its cyber security business Trustwave Holdings and a possible stake sale in some fibre assets.
If the deal had been completed on 31 March 2022, Singtel's pro forma consolidated net tangible assets would have risen from S$16.14 to S$16.8b, whilst net tangible assets per share would have risen from S$0.98 to S$1.02.
Singtel's shares rose S$0.05 to S$2.67 on Thursday but lost S$0.02 on Friday to end the week at S$2.65.
On Wednesday, Singtel reported a 41.3% increase in net profit for its first quarter ended 30 June to S$628m due to better operational performance and "exceptional gains'' from Airtel. However, earnings before interest, taxes, depreciation and amortisation fell 2% to S$977m whilst operating revenue for the quarter fell 5.6% to S$3.6b.
Tuan Sing made privatisation offer for SP Corp
Real estate investment company Tuan Sing and commodities trading firm SP Corporation jointly announced last week that Tuan Sing is proposing to buy and privatise SP Corp via a scheme of arrangement. The offer price is S$1.56, which is equal to SP's book value per share as at 30 June 2022.
The last time SP traded at that level was July 2010. Just before the announcement, the stock traded at S$0.59.
The companies said the scheme is an opportunity for shareholders to exit their entire investments without incurring brokerage and other trading costs which may be difficult because SP is and illiquid counter.
Business Times reported that local brokers Lim & Tan have recommended shareholders accept the offer given that SP is currently making a loss and is not actively traded.
First Reit made cash offer for S$60m in perps
Healthcare real estate investment trust (Reit) First Reit last week launched a tender offer to buy back S$60m of its Series 002 subordinated perpetual securities ("perps'') in cash at 70% of the principal amount.
First Reit said the move is to "provide liquidity to the securityholders given the illiquid nature of the outstanding securities'' and to optimise its debt capital structure. Those holding perps have until 2 Sep to submit their tended application forms, ahead of the 9 Sep settlement date. On 19 Aug, the last quoted price of the perps was S$62.613.