Date: September 5, 2022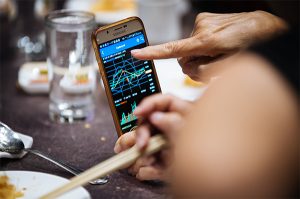 STI lost 44 points or 1.35% at 3,205.69 for the week
Main concern was rising US interest rates after Jackson Hole speech
However, a cool jobs report meant probability of 75-points rate hike in Sep is now down from 75 to 56%
ComfortDelgro dropped from STI, replaced by Emperador
Brokers remain positive on ComfortDelgro
GuocoLand's 2H net profit up 122% to S$325.2m
Privatisation offer for GYP Properties raised to S$0.188 per share
Private sector economists downgrade full-year GDP growth to 3.5%
Electronics PMI contracted for first time in 2 years
STI held up well in Aug bust lost 1.35% last week
The Straits Times Index has held up reasonably well in the face of turmoil on Wall Street brought on by fear that the US Federal Reserve will raise interest rates more aggressively than previously thought.
With support mainly for the banks, Jardine group, Keppel Corp and Singtel, the STI fell only 0.3% throughout the month of August. Last week however, it succumbed to the pressure when it fell 44 points or about 1.35% to 3,205.69.
The pullback on Wall St came as US Federal Reserve Chairman Jerome Powell said at the annual Jackson Hole Symposium that the Fed intends on lifting interest rates aggressively, rather than slowing down the pace of rate hikes. The central bank is prioritizing the fight against inflation, potentially at the expense of economic growth.
Probability of 75-points rate hike down after cool Aug jobs report
As of Thursday, the federal funds futures market was pricing in a 74% chance that the Fed will raise rates by 75 basis points at its meeting later this month.
However, on Friday it was announced that the US economy added 315,000 jobs in August, slightly below expectations of 318,000 and a deceleration from July's growth of 526,000 payrolls. The June and July jobs results were revised down by a total of 107,000. The increase in wages in August was 5.2% year-over-year, below expectations of 5.3%.
On Friday, the chance of a 75-basis points rate hike fell to 56%. Even if the Fed does implement the larger rate hike, markets are now wondering if the central bank will slow down after September.
ComfortDelgro dropped from STI, replaced by Emperador
Transport company ComfortDelgro was last week dropped from the STI and was replaced by recently-listed Philippine liquor company Emperador.
The change came after the latest quarterly review of the STI and takes effect at the start of business on 19 Sep.
Companies gain entry into the STI at quarterly reviews if they rank 20th of higher among eligible securities by full market capitalisation; conversely, those that rank 41st or below among all eligible securities are deleted from the list.
Emperador, which is primary-listed on the Philippine Stock Exchange and is a subsidiary of Filipino billionaire Andrew Tan's Alliance Global Corp, gained a secondary listing here in July.
On Friday, Emperador's shares gained S$0.015 or 3% at S$0.51 on volume of 11.43m done. ComfortDelgro on the other hand, finished S$0.02 lower at S$1.38 with 18.32m traded.
Brokers remain positive on ComfortDelgro despite its loss of STI status
Brokers however, remained positive on ComfortDelgro. DBS, which has a target price of S$1.95, noted unchanged fundamentals, an improving outlook and the upside from easing of pandemic restrictions. "We also highlight a possibility to bottom-fish near or around Sep 19 when the constituent change takes effect, said DBS.
CGS-CIMB reiterated its "buy'' on the stock with a S$1.75 target. "We expect further earnings recovery in coming quarters, driven by improved monetisation of its Singapore taxi business, higher rail ridership and increased charter activities as tourism recovers'' said the broker. "ComfortDelgro also offers an attractive dividend yield of 5.9%''.
GuocoLand 2H net profit up 122% to S$325.2m
Property developer GuocoLand reported a 122% increase in net profit for the second half ended 30 June 2022 to S$325.2m despite a 4% drop in revenue to S$512.8m. The slide in revenue came as reduced revenue from GucoLand's Martin Modern project in River Valley Road offset gains from the progressive recognition of sales from certain other Singapore residential projects. For the full year ended 30 June, net profit was up 132% at S$392.7m, translating to an earnings per share of S$0.3368.
Privatisation offer for GYP Properties raised to S$0.188 per share
Special purpose vehicle Rumah & Co last week raised its voluntary cash offer to take real estate developer GYP Properties private from S$0.168 to S$0.188 per share.
Rumah is made up of Rumah Property, Oregold, Global Cities Consult and Silverstone Ventures. If its offer is successful, Rumah plans to delist mainboard-listed GYP. It cited familiar reasons for the move – granting management more flexibility to manage the business, to optimise the use of the company's resources and ease of implementing any operational change.
UOB-Kay Hian fined S$375,000
Local brokers UOB-Kay Hian have been fined S$375,000 for failing to comply with business conduct requirements under the Securities and Futures (Licensing and Conduct of Business) Regulations as well as anti-money laundering and countering the financing of terrorism requirements as set out by the Monetary Authority of Singapore.
Private sector economists downgraded full-year GDP growth to 3.5%
Private sector economists have downgraded their expectations for the Singapore economy and are now forecasting GDP to grow 3.5% for the year, slightly lower than the 3.8% projection they made in June.
The latest survey is based on the views of 21 respondents polled by the Monetary Authority of Singapore. Respondents also raised their inflation forecasts, with full-year headline inflation now expected to hit 5.7%, and core inflation to reach 3.8%.
Singapore's electronics PMI contracted for first time in 2 years
Singapore's manufacturing sentiment fell in August to its lowest in 2 years, with the Purchasing Managers' Index (PMI) for the electronics sector recording its sharpest contraction since the start of the Covid-19 pandemic.
Electronics PMI fell 0.9 to 49.6 in Aug, entering contraction territory for the first time since July 2020. A reading below 50 indicates contraction from the previous month, whilst one above 50 indicates growth.
Overall PMI slipped 0.1 point to 50, the lowest since June 2020. The Business Times quoted OCBC's chief economist Selena Ling saying the speed at which the electronics industry has hit "air pockets'' is disconcerting, even though the direction had been clear whilst noting that tech research consultancy Gartner had recently slashed its global semiconductor revenue forecast.
"Adding to the challenges are the US's efforts to curb chip exports to China, with Nvidia Corp and AMD in the limelight recently due to company warnings after receiving notices from the US government. Other companies like Seagate and Dell have also warned of more cautious customer buying behaviour'' said Ms Ling.