Date: October 17, 2022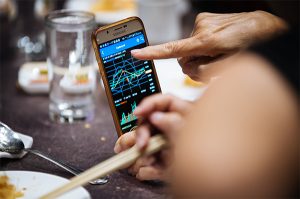 Continued interest rate worries cut 3.37% off STI, which closed at a 19-month low of 3,039.61
Singapore tech manufacturers hit by chip slowdown, US sanctions
No sign of let-up in US rate hikes after US Sep CPI data
Bond yields remained volatile, US 2-year Treasury yield at new high of 4.507%
UK financial turmoil bears watching – finance minister sacked, creating more uncertainty
Singapore's Q3 GDP surprised on the upside at 4.4% growth y-o-y
Foreign funds' cash holdings highest in more than 20 years
STI slid to 19-month low, below 3,100
Stock markets everywhere, Singapore included, weakened last week in the face of the threat of rising inflation, higher interest rates and an impending economic slowdown.
On the one hand, risks have risen considerably – the war in Ukraine has pushed commodity prices up, central banks starting with the US Federal Reserve have jacked up interest rates to combat rising inflation and the strength of the US dollar is creating turmoil in the financial markets.
On the other hand, stocks have already fallen sharply – Nasdaq last week entered bear market territory and on Tuesday closed at a new low for the year, so there are many cash-rich players waiting to re-enter the markets.
The signal that all are waiting for is a sign from the Fed that it will scale back its interest rate hikes, which would then ease pressure in the bond market where yields have been spiking up recently.
Thus far, those signs have not been forthcoming. The Straits Times Index on Wednesday last week lost its grip on the 3,100 mark when it ended at 3,083 that day. An unexpectedly large Thursday bounce on Wall St that came despite negative inflation data helped push the STI up 30 points on Friday during trading, but the momentum did not last, and the index eventually lost all this gain.
It finished a nett 0.84 of a point weaker for the day at 3,039.61 for a loss of 106 points or 3.37% for the week. Average daily volume was a low S$1.15b.
For the week, the Dow edged out a 1.2% gain, but the S&P 500 fell 1.5%, and the Nasdaq lost 3.1%.
US CPI numbers show inflation is still a big problem
The US Consumer Price Index (CPI) rose 0.4% in September, up from 0.1% in August, and above estimates for 0.2%. Core consumer prices, which don't include food and energy, rose 0.6%, above forecasts for 0.4%, and unchanged from August.
CPI rose 8.2% year over year, down a tick from 8.3%, but core CPI climbed 6.6%, from 6.3%. Other than car and apparel prices falling, there was little in the report that inflation was anywhere near tamed.
Probability of 75-points rate hike in Nov jumped to 99%
Prior to Wednesday's CPI release, the probability that the Fed would raise interest rates by 75 basis points at its 2 Nov Open Markets Committee meeting was hovering around 60%. After Wednesday, the chance has surged to 99%.
Turmoil in the UK financial markets bears watching
The Bank of England (BOE) said it would widen its emergency bond buying to include index-linked gilts throughout the whole week in an attempt to calm markets. It also warned of a "material risk" to U.K. financial stability.
The UK central bank purchased a total of £17.8 billion worth of bonds through Thursday in a two-week intervention program, triggered after U.K. government bond yields were sent soaring after a package of tax cuts and spending measures were unveiled by Chancellor Kwasi Kwarteng.
Bond yields remained volatile, US 2-year yield at new high
The bond buying hasn't quite been working. While the 10-year gilt yield didn't do much on Tuesday, it did rise to around 4.439% from just over 3.9% five days earlier, only furthering the strain on the U.K. financial system and economy. That pushed the U.S. 10-year Treasury yield up to 3.938%, just under its multi-year high, hit in late September.
The market is likely to remain fragile until the government can win back the trust of the markets, while the BOE's credibility as an independent institution which can battle inflation via monetary tightening against a backdrop of looser fiscal policy is under pressure.
On Friday, UK Chancellor of the Exchequer Kwasi Kwarteng, who a fortnight ago presented a hugely unpopular mini-budget that led to a collapse in the British pound and turmoil in the markets, was sacked by Prime Minister Liz Truss, creating even more uncertainty.
The Prime Minister's latest steps "are arguably cosmetic and too late to repair the damage that has already been inflicted on investor confidence in the U.K.," said Simon Harvey, head of FX Analysis at Monex Europe. "The near-term instability will only further deter foreign investment."
Bonds yields, which were initially lower before the announcement rose, with the yield on the 30-year gilt 26 basis points up at 4.816%, whilst the 10-year yield ended at 4.37% and the 2-year ended at 3.934%.
Over in the US, Thursday's September inflation result "raises the risk that the Fed will hike 75 basis points again in December rather than slowing to 50 basis points," wrote Citi economist Andrew Hollenhorst.
That's reflected in the bond market, with the two-year Treasury yield closing at 4.507%, a new multi-year high. While most of the Fed's expected rate hikes are priced into the bond market, the fear is that there are more hikes to come.
Singapore tech manufacturing stocks encounter selling
Singapore tech manufacturers in particular, stood out as they slumped in line with an overall decline among chipmakers worldwide after the US imposed fresh export controls aimed at restricting China's ability to buy and manufacture high-end chips with military applications.
AEM, which provides advanced chip testing solutions, stood out last week when it slumped to a 2-year low, losing 11.4% or S$0.42 at S$3.25 on Thursday. It lost a further S$0.07 on Friday, ending the week S$3.18 on volume of 5.5m.
The selling came amidst media reports that key customer Intel is planning job cuts. DBS Group Research downgraded AEM from "buy'' to "hold'' and nearly halved its price target from S$5.88 to S$3.19.
Other tech stocks that suffered were UMS, Frencken, Aztech Global, Valuetronics and Nanofilm.
In its report downgrading UMS, Maybank said "As we have seen in many cycles, downswings in the semiconductor cycle can be swift and deep''.
Singapore's GDP grew 4.4% in Q3
Singapore's Gross Domestic Product (GDP) expanded 4.4% year-on-year in Q3, slightly lower than the revised 4.5% in the previous quarter. It was much higher than the 3.5% growth that private sector economists polled by Bloomberg had been expecting.
Quarter-on-quarter growth was 1.5%, beating expectations of a 0.7% expansion and thus meant that Singapore avoided a technical recession, defined as two consecutive quarters of a contraction, since GDP shrank 0.2% sequentially in Q2.
Foreign funds' cash holdings highest in more than 20 years
The Business Times on Friday reported that foreign institutions have been pulling their money out of stocks, pushing their cash holdings to the highest in 20 years as fears of a global recession intensify.
Sunil Koul, Asia-Pacific equity strategist at Goldman Sachs was quoted saying "It has been a broad-based risk-off as macro headwinds from higher rates, slowing growth and a stronger dollar have intensified in Sep, prompting outflows, notably across emerging markets''.
According to the report, in the last week of Sep, foreign funds withdrew an estimated US$1.8b from emerging Asia, with India, Taiwan and South-east Asia suffering the brunt of the selling.