Date: December 13, 2021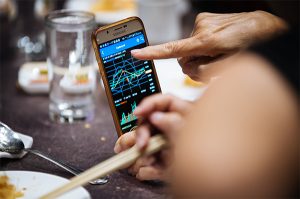 Signs that Omicron may not be that virulent helped push the STI up
Wall St hit a new all-time high on Friday despite strong inflation data
Volume here was weak, averaging just over S$1b daily
Traders also watching China Evergrande after Fitch report
Travel, aviation, hospitality and healthcare stocks were in play
DBS: "reopening stocks'' may be close to their bottom
Keppel shareholders vote in favour of SPH acquisition
As Omicron fears fade, stocks recovered
The Straits Times Index rose 34 points or about 1.1% to 3,135.61 last week, helped by a firm Wall Street that rebounded strongly on early indications that the Omicron variant of Covid-19 may be less deadly or dangerous than first thought.
On Friday, the S&P 500 closed at a new all-time high of 4,712 despite the release of consumer price index (CPI) data that showed a 6.8% increase year-on-year for November, the fastest annual increase since 1982.
However, liquidity was not great
Volume on the local bourse, however, sank to mediocre levels, with an average of S$1.01b traded per day, ranging from a low of S$863.8m done on Friday to S$1.1b traded on Monday.
Sectors in play: aviation, hospitality and healthcare
Not surprisingly, travel- and hospitality-related counters were in focus, particularly Singapore Airlines, SATS and Genting Singapore. Those involved in producing medical equipment such as Top Glove, UG Healthcare and Riverstone also saw active daily trading, though in Top Glove's case, it lost S$0.075 or almost 10% on Friday at S$0.705 with 18.4m traded after the company reported a 92% fall in net profit for its first quarter ended 30 Nov to RM185.7m.
Throughout the week traders and investors kept a lookout for the latest scientific developments surrounding Omicron, which first surfaced at the end of last month in South Africa. So far, preliminary studies suggest that although the variant is more transmissible that others such as the Delta variant, it could be less severe.
Over in the US, top infectious diseases expert Anthony Fauci last week said studies so far show Omicron is not worse that previous strains and is possibly milder, although he did caution that many more weeks will be needed to reach any firm conclusions.
China Evergrande is in default: Fitch Ratings
Also on the radar of investors were developments surrounding property giant China Evergrande, following a declaration by ratings agency Fitch Ratings that the company is in default of its debts.
Fitch said in a statement that it has placed Evergrande in its "restricted defaults'' category which means that had formally defaulted but has not yet entered into any kind of bankruptcy filing or liquidation that would stop its operations.
DBS: Reopening stocks are near their bottom
DBS on 8 Dec said it thinks Singapore's "reopening stocks'' are either at or near their bottom provided Omicron doesn't prove to be more virulent than thought.
"Reopening stocks'' refers to stocks in the aviation or aerospace sectors such as SIA, SATS and SIA Engineering, and hospitality real estate investment trusts such as Ascott Residence Trust and Far East Hospitality Trust, and counters linked to a domestic reopening such as ComfortDelGro, Frasers Centrepoint Trust and Mapletree Commercial Trust.
Keppel shareholders gave their nod for SPH takeover
Keppel Corp shareholders on Thursday voted in favour of a proposal for the company to take over Singapore Press Holdings (SPH). Keppel's final offer for SPH is S$2.351 per share, consisting of 0.868 per share in cash, 0.596 of one unit of Keppel Reit and 0.782 of one unit of SPH Reit.
At the extraordinary general meeting, about 98.2% of shareholder votes was in favour of the deal. Keppel said the result shows "strong support'' from its shareholders for the acquisition, which it called a "win-win proposition''.
Keppel is up against Cuscaden Peak, a consortium comprising businessman Ong Beng Seng and two Temasek-linked entities. Cuscaden has tabled two options – either S$2.36 in cash, or S$2.40, comprising S$1.602 in cash and 0.782 of an SPH Reit unit.
SPH's board has said Cuscaden's offer is superior.
How Wall Street fared
Perhaps the most surprising session in the US last week came on Friday after stocks surged following release of the Nov CPI data that strongly suggested the US Federal Reserve will taper its bond purchases at a faster-than-expected rate, and also probably raise interest rates sooner rather than later.
According to reports, Friday's jump was because the CPI data contained no real surprises because the market has known for some time that inflation was running high.
Friday's rally extended a run that started on Monday, when Dow surged 647 points, or 1.9%, for its best one-day point gain since November 2020 and the largest percentage increase since last March. The S&P 500 closed up 1.2% and the Nasdaq Composite rose 0.9% that day.
The stock market surged Tuesday, receiving a double booster. The Chinese central bank moved to loosen monetary policy, while fears around the Omicron Covid-19 variant continued to ease.
The Dow Jones Industrial Average rose 492 points, or 1.4%, building on Monday's 646-point rally. The S&P 500 gained 2.1%, while the technology-stock-heavy Nasdaq Composite surged 3%.
Monday, the People's Bank of China said it will reduce the percentage of cash banks are required to reserve to 8.4% from 8.9%. That will free up almost $200 billion for lending. China is trying to combat a slowing domestic economy, though the move boosts markets in other geographies.
"A Chinese RRR [reserve ratio requirement] cut, promises of further support for the economy and hey, presto, the mood is lifted, as if by magic," wrote Societe Generale's Kit Juckes.