Date: July 6, 2020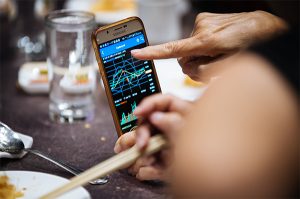 The Straits Times Index added 48 points or 1.8% at 2,652.94;
Hong Kong property play helped keep sentiment here firm;
US jobs report supported stocks, but record virus infections put pressure on bond yields;
Singapore market's capitalisation rose 2.1% in June to S$761.6b;
Singapore companies bought back S$663m in the first half;
Analysts see limited STI upside for remainder of year and next 12 months
A firm start to the second half
The second half got off on a firm footing as the disconnect between the economy and the market which has prevailed for several months continued to hold sway. There was also added impetus on Thursday when the Hong Kong market shot up in speculation that property developers would benefit from new security legislation.
Over in the US, Wall Street remained supported by hopes that monetary and fiscal measures by the authorities would enable the economy to recover quickly, despite the fact that the number of new COVID-19 infections surged to new daily highs last week.
Overall, the Straits Times Index rose 48 points or 1.8% over the five days to 2,652.94, with Friday's session yielding a gain of 16.25 points. Volume on Friday was 1.75b units worth S$931m – low by the standards set in the second quarter but perhaps to be expected given that volatility has eased off in recent weeks.
US jobs report provided support, but record virus cases a worry
Over in the US, stocks were supported, and bonds were sold, after the US Labor Department reported the US economy added 4.8m jobs in June, above the market's forecast of 3.9 million. The unemployment rate fell to 11.1%, dropping for a second month in a row.
However, US Treasuries bounced back after news of daily record-high COVID-19 cases. The yield on the 10-year Treasury note, a key benchmark for borrowing costs on everything from mortgages to student loans, initially climbed above 0.71% on Thursday but it then retraced the move, settling at 0.670%, compared with 0.682% on Wednesday. Bond yields rise as prices fall.
June market cap rose 2.1% to S$761.6b
The market capitalisation of the Singapore market amounted to S$761.6b in June, 2.1% higher than May's S$746.1b. There were 340 counters that gained during the month compared to 194 falls.
The market cap of the 30 STI constituents rose 3.9% to S$457.5 in June, led by the three banks which were the month's top gainers. Malaysian glove maker Top Glove was also among the month's top performers.
On the downside, Jardine Cycle & Carriage, Sembcorp Marine, Singtel and SIA were among the bigger losers for June.
Which were the most defensive stocks in the first half?
In its 2 July Market Update titled "Singapore's Most Defensive Stocks in 1H20'', Singapore Exchange (SGX) Research said global indices such as the S&P 500 Index and FTSE World Index with strong Technology and Healthcare Sector representation were amongst the strongest performing Indices in 1H20, outperforming Indices more skewed to bank and real estate sector representation.
"Of Singapore's most 100 traded stocks in 1H20, the 20 most defensive stocks included four of the current STI constituents, with Technology and Healthcare supply and equipment stocks also amongst the strongest performers'' said SGX Research.

"The four STI stocks that ranked amongst these 20 most defensive stocks were Mapletree Industrial Trust, Mapletree Logistic Trust, Ascendas REIT & Venture Corporation. Together the four stocks averaged 10% total returns in 1H20, adding to their average 34% returns in 2019''.
First half share buyback was S$663m
In a 1 July report, SGX Research reported that 81 Singapore primary-listed stocks conducted buybacks in the first half with a total consideration of S$663 million, up from S$325 million in 1H2019, and less than S$836 million in 1H2018. Three quarters of the 1H20 consideration was bought back in the month of March.
"DBS, OCBC and UOB led the 1H20 buyback consideration, after OCBC, DBS and Keppel REIT led the consideration tally for the full 2019 year. The three non-STI stocks that led the buyback consideration tally in 1H20 were Silverlake Axis, Global Investments and Golden Agri-Resources'' said SGX Research.
Analysts' forecasts for next 6-12 months laced with caution
According to a survey by The Business Times last week, analysts have turned cautious over the outlook for the STI, with most of those surveyed forecasting an index level of below 3,000 by the end of the year or in 12 months' time. ("Liquidity driving STI towards June peak, but forecasts turning cautious'') 3 July 2020)
The most bullish STI forecast of the eight houses surveyed was 3,000 from Phillip Securities whilst the lowest target was Maybank Kim Eng's 2,200. Citi has a 12-month target of 2,986 but is wary of downside surprises from earnings downgrades. Other risks the broker flagged are dilutive capital raising, impairment of assets and higher credit spreads.
Phillip in the meantime, thinks a bottom has already been formed and that a second wave of infections should be avoided because health authorities are on high alert and because of better informed social behaviour. UOB-Kay Hian, which has a year-end target of 2,760 for the STI, was among the many houses bullish on Reits because interest rates are projected to stay close to zero until 2022.